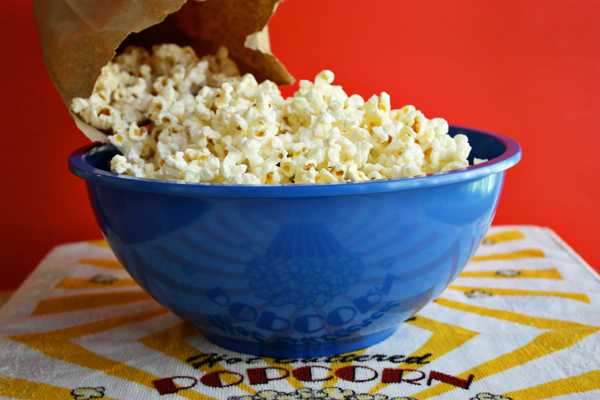 Yes, there is a better way to make popcorn. It's fast. It's cheap. It's easy. And it's as healthy as you can make it. Forget the packaged microwave stuff with unhealthy fats and additives, and forget the stove-top way – it's too much work. All you need is a paper lunch bag and a stapler. Yes, you CAN put staples in the microwave – watch my video. It takes all of three minutes to make popcorn this way and you can do it with no fat at all or you can add a little oil into the bag before popping.
Popcorn is a healthy snack that provides fiber, some protein, and I just learned that the hulls have antioxidants so as long as you don't load it with butter, you can enjoy a big bowl of popcorn guilt-free. Make sure to use plain popping corn with nothing added. This is the only way I make popcorn these days.
I've been a popcorn lover all my life. Here are all the different ways I have made it:
In the 60's – Shaking the pot on the stove.
In the 70's – Jiffy Pop that came in a foil pan that ballooned up when you popped it.
In the 80's – Air popper.
In the 90's – Whirley Pop, the big silver pot with the crank handle.
In the 2000's – An electric appliance that didn't work so I returned it.
In the 2010's – Paper bag microwave popcorn! Click here for the recipe. – Jenny Jones