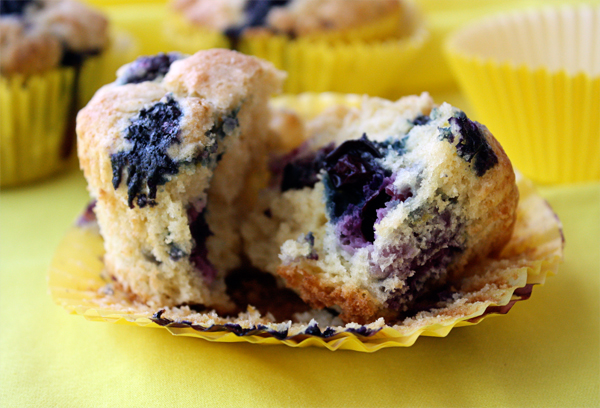 Note to self: "Pick up two lemons at the grocery today… and some buttermilk… and oh yes: blueberries!" That combination will make the most delicious lemon blueberry muffins you've ever had. I'm a big fan of muffins because they're quick and easy to make and you also have a portable snack. I takes just 30 minutes to make these healthy muffins made with lots of fresh lemon peel and that well known brain food… blueberries.
Blueberries are one of the top antioxidant-rich super foods so I put lots of them in this easy muffin recipe. Then I boosted the health benefits even more by using whole wheat flour and heart-healthy olive oil. Yes! I do lots of baking now with extra light olive oil but you can also use canola or another oil of your choice. There's no butter in this healthy recipe since I'm always working on baking without butter.
Now that berries are in season (and you don't need a loan to buy them!) is the best time to try these easy and healthy muffins. Have them as part of a healthy breakfast or a mid-day snack with a cup of green tea. They are really, really good! Click here for the recipe.