Apr 4, 2021
Apr 1, 2021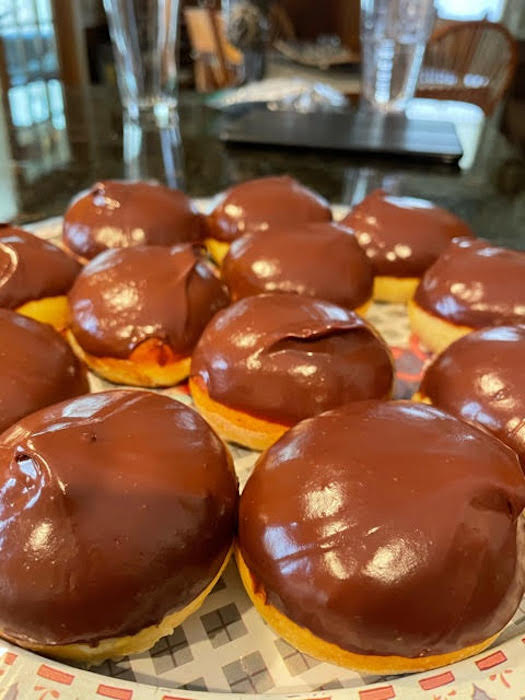 It's paczki again! I've never seen paczki done this way and I love Boston cream pie. The idea for "Boston Creme Donuts" came from Erika last month, who said she made them for her husband's birthday.  I am so trying this! Thank you, Erika.
Click here for my Pączki recipe.
p.s. I've been super busy and have not posted any new recipes but I will soon. I'm working on a couple of new ones and just need time to fine tune them and take the photos.
Apr 1, 2021
I love seeing pictures of my recipes all over the world so please say where you're from – include yourself in the photo too! (I post these manually so you won't see it right away.) Use this link to send your photo: YourPhotos@JennyCanCook.com
MARY ANN MADE MY 2-HOUR FASTEST NO KNEAD BREAD
MARK (from Texas) MADE MY CHOCOLATE-DIPPED COCONUT MACAROONS
BETH MADE MY ENGLISH MUFFINS
BEV (from Canada) MADE MY ENGLISH MUFFINS
DIANE MADE MY PACZKI
SERGIO (from Mexico) MADE MY NO KNEAD BREAD
CAROL (from Maine) MADE MY ENGLISH MUFFINS
BEV (from Canada) MADE MY PACZKI
FRANCINE MADE MY NO KNEAD BREAD
JANE MADE MY 2-HOUR FASTEST NO KNEAD BREAD
NASRIM MADE MY NO KNEAD BREAD
BEV (from Canada) MADE MY PACZKI
RICK (from Canada) MADE MY WHOLE WHEAT SANDWICH BUNS
BONNIE MADE MY FOCACCIA BREAD
F.W. MADE MY BREAD
GAIL MADE MY PACZKI
CECIL MADE MY BRAIDED CINNAMON RAISIN BREAD
GAIL (from Scotland) MADE MY POPPY SEED ROLL
BARBARA MADE MY WHOLE WHEAT BREAD