My thanks to everyone for sending in your photos of my recipes. Please say where you're from and you can include yourself in the photo too! (I post these manually so you won't see it right away.) Use this link to send your photo: YourPhotos@JennyCanCook.com
(**DON'T FORGET TO ATTACH YOUR PHOTO!**)
BETH'S GRANDDAUGHTER (from Canada) MADE MY CHOCOLATE PUDDING
"Hi Jenny, My granddaughter is watching you make chocolate pudding while she was eating lunch and then she made it for a treat. After making chocolate pudding in the sandbox she asked to make the real thing. It was so delicious and we forgot to take a finished photo. I have to say Jenny I have so enjoyed your recipes and especially baking without butter section. And now I am addicted to the bran muffins too and use whole wheat pastry wherever I can.    I could send you numerous pics since I take many food photos for reference.  Another time.
I did have a question about flour weights.  I bake sourdough bread from wild yeast only so I'm a bit of a weigh scale snob.  😉 I am from Ontario so i know US and Canadian flours do not weigh the same.  I prefer to weigh and for certain recipes i have used the Candian weight. 150 grams/ 1 cup. Thats for white flour.  I adjust to whatever flour Im using.  Should I follow this rule for all the baking recipes?   Ive had the burger buns turn out a bit heavy I would say. Sincerely,
Beth Stewart."
– What a joy to see this darling little girl cooking! I hope she enjoys a lifetime of fun in the kitchen. Thank you for sharing these adorable photos and tell her congratulations on such as good job!  –  jenny
p.s. I'm from Ontario too but did not realize that these flours don't weigh the same. For other baking besides bread, I suggest trying less flour, no more than 130 grams per cup – see my metric chart above. I hope that helps.
KATHY MADE MY SIMPLE WHOLE WHEAT BREAD
"Hi Jenny, It is the best bread recipe I have made so far.  Thanks, Kathy 😀"
– That looks great and beautifully tall. Thank you.  –  jenny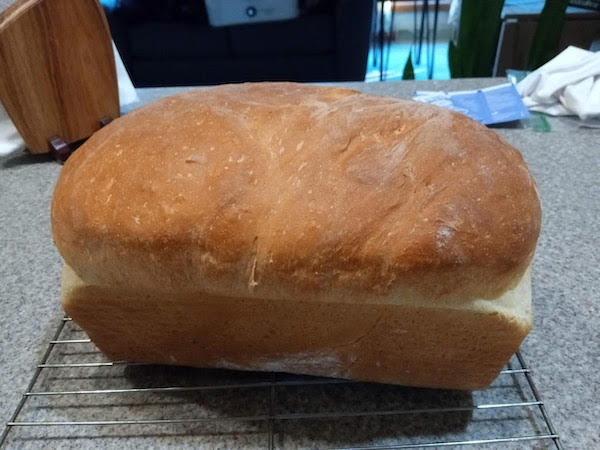 BEATA (from Slovakia) MADE MY NO KNEAD BREAD
"Hi Jenny, This recipe for the bread is my favorite. Comes out perfect every single time. I have served it with Hungarian goulash soup today. Regards, Beata (from Slovakia) 😀"
– I'm so happy to hear from you all the way from Slovakia! Thank you for taking time to share your delicious photos!  –  jenny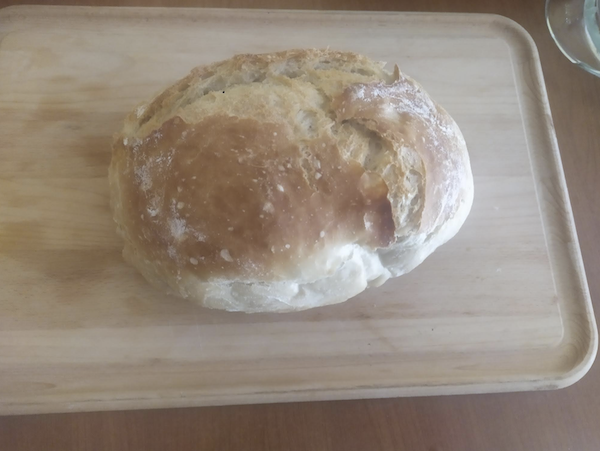 CLARIBEL MADE MY NO KNEAD BREAD
"I don't have a dutch oven and used instead a stainless steel bowl and aluminum foil cover. I turns out good just as described in your video and recipe.
Thank you so much for making it easy. Indeed this bread is very forgiving 😀"
– This is really helpful for people with no Dutch oven. They can see  for themselves that you don't need a Dutch oven to make this fabulous bread. Thank you! –  jenny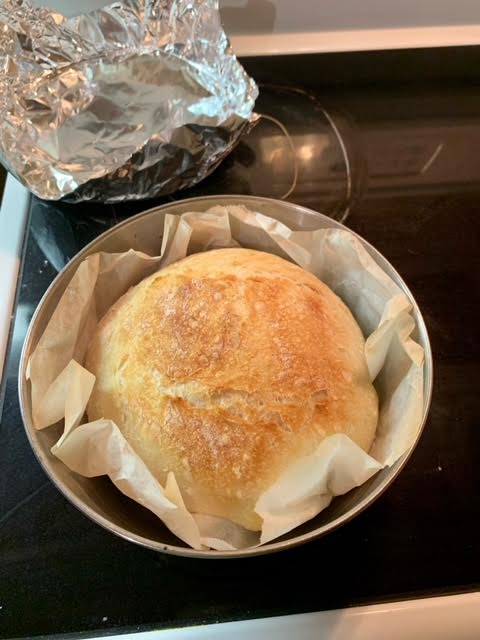 LORI MADE MY 2-HOUR FASTEST NO KNEAD BREAD
"My daughter and I tried you quick method, skipping the extra 15 minute rise time. Wow! Just wow!  It smells so good in the house and the bread is beautiful! Thank you so much for the recipe!"
– Thank you for your great photo. I agree it is a beautiful thing! –  jenny