Jul 30, 2013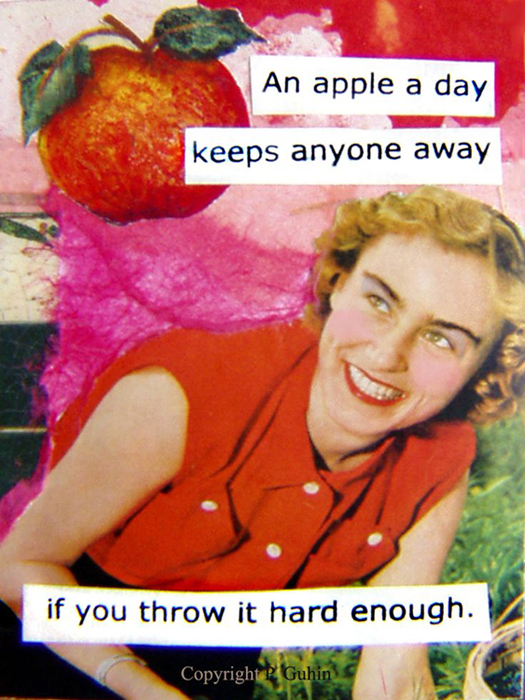 Jul 29, 2013
Marilyn asks… Hi Jenny , Are there any other kinds of cucumbers that can be used to make the Cold Water Pickles ?. I love your recipes ! 🙂
My Response…
The only kind I can ever find are Persian and Kirby and I have used both. If you can find any other kind (or grow them) they have names like Kirby, Liberty, Gherkin, Cornichon, or Lemon Cuces. They should not be waxed since you don't peel them and should be as young and firm as possible. I would love to grow them myself, but then rabbits suddenly appear! – Jenny Jones
Jul 28, 2013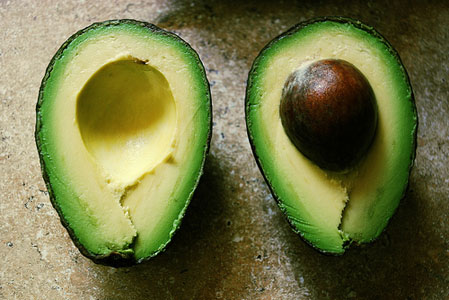 Did you know you can substitute avocado for some of the butter in cookies? Not all – but some – and it's a good thing. This simple change eliminates some of the saturated fat in favor of the heart-healthy monounsaturated kind.   You won't taste the difference although your cookies might be a little green. But if they're chocolate cookies, who's gonna know? You can swap up to half of the butter in a cookie recipe with mashed avocado. This simple change will reduce the fat content and calories and you'll still get the creaminess of butter and the fatty taste.
You would substitute an equal amount of mashed avocado for butter but since it doesn't melt the same way, it won't coat your dry ingredients the same. For that reason you need to increase your wet ingredients a little to compensate. To test it out, start slowly, like 2 tablespoons of avocado for 2 tablespoons of butter. Anytime I can reduce any of the butter in baking, I'm on it! – Jenny Jones
Jul 23, 2013
Edmundo asks… I use to live in CA, now I am in Peru, my country, and  I would like to get the donuts molds, can you tell me how to get those molds , or where to buy them. Thank you. I like your videos.
My Response…
I bought the mold at Bed, Bath, & Beyond but I see they do not ship internationally. I was unable to find a source that ships internationally – I'm sorry. – Jenny Jones
Jul 23, 2013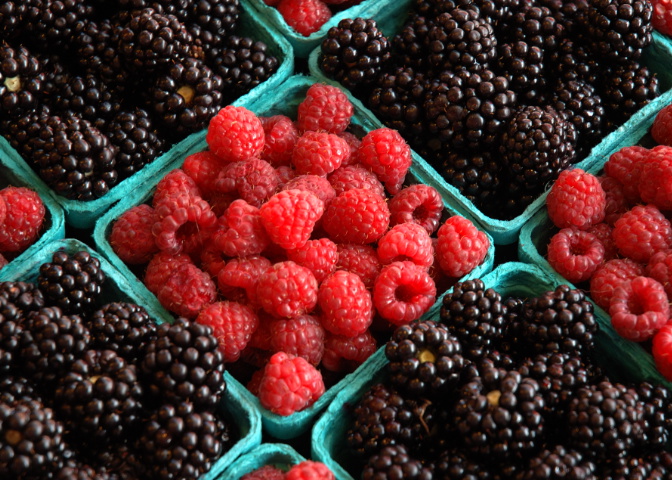 Berries are in season right now but they don't always last very long. If you don't eat them in that "window of freshness opportunity" they can spoil pretty fast. So here's a way to make them stay fresher longer… wash them in vinegar and water. Make a mixture of 10 parts water to 1 part vinegar in a bowl (use white or cider vinegar). Let the berries soak for a few minutes and gently swish them around a little. The vinegar kills mold spores and other bacteria. Drain and rinse the berries and let them dry completely on paper towels. You can also spin them dry in a salad spinner lined with paper towels. Once they are dry, refrigerate and enjoy them… even longer. – Jenny Jones
Jul 22, 2013
Here's how to share any of my recipes. Just above each recipe on the right side look for these buttons:

With the first two buttons, you can share a recipe on your facebook page or email it to anyone, even yourself. And when you click on the 

 you will see this:
Now you can share on any of the apps that pop up. But wait, there's more. When you click on the
 look what else pops up: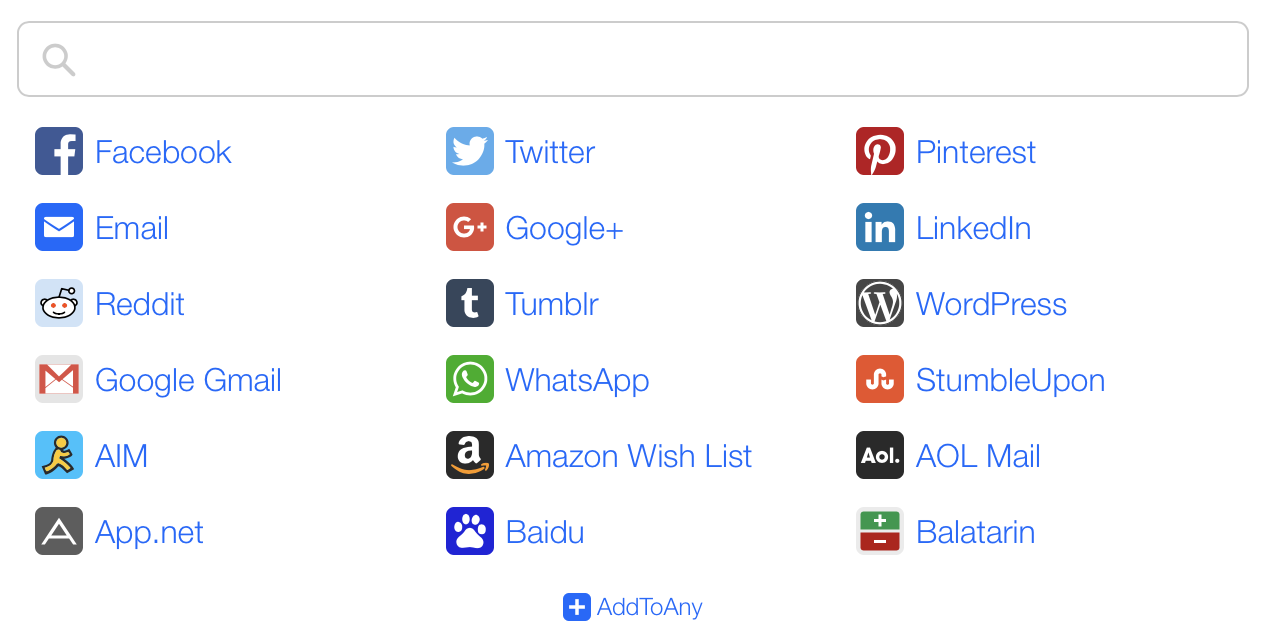 How exciting! I'd be even more excited if I knew what they all were. 🙂 But if yours isn't here, it probably doesn't exist. So now you can share any of my recipes you like. The more people cooking at home, the better! – Jenny Jones
Jul 18, 2013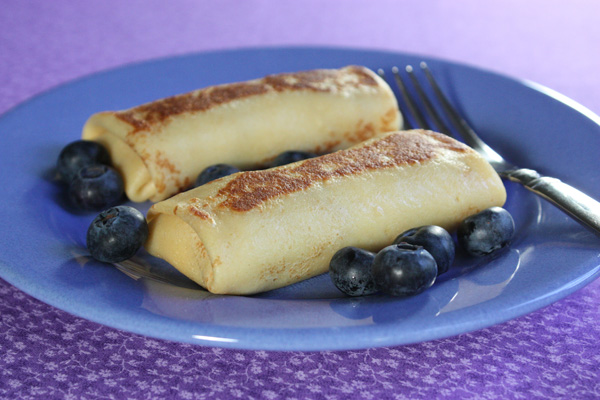 I make my own cheese blintzes because I have to! I love blintzes and every time I've ordered them in a restaurant or deli they arrive so greasy it's almost like they're deep fried. So now I make my own and there is no comparison. Mine are soft, never greasy, and lightly browned with lots of delicious filling made with farmer's cheese (I get Friendship brand), reduced fat cream cheese, sugar, and just a hint of vanilla. Farmer's cheese is a dry and crumbly cheese and it makes the best blintzes. It can be hard to find but it's worth looking for.
I make 12 blintzes at a time, keep some refrigerated for a few days, and just brown what I need, usually two for breakfast. I've had them with every kind of fruit from berries, to cantaloupe, to peaches, papaya or mango. My dad used to make cheese blintzes for dessert sprinkled with cinnamon and sugar. Okay, sometimes, I have one with fruit for breakfast and the other one with cinnamon & sugar. No matter how you serve these healthy cheese blintzes, once you make them yourself you will never order them in a restaurant again. Click here for the recipe. – Jenny Jones
Jul 15, 2013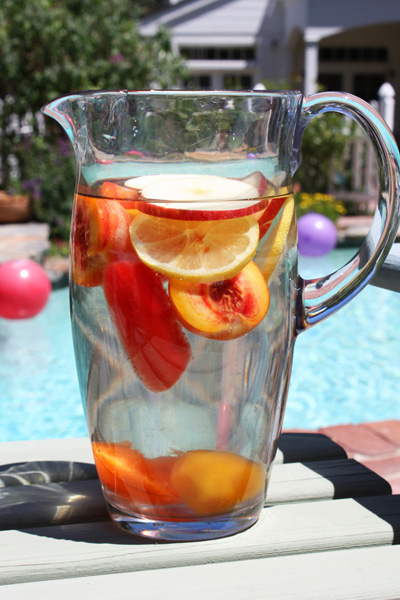 Here's an easy, healthy way to cool down in the summer without drinking sugary drinks. Just take a pitcher of fresh water and add some sliced fruit. After about an hour in the fridge, the fruit gives it a really nice, subtle and refreshing taste and it sure beats plain water. Plus it looks great, too. Today I added some sliced apple, lemon, watermelon, peach, mango, and apricot.
Fresh fruit is more affordable and better tasting in the summer so this is easy to do right now with any of your favorite fruits, or you could even add a refreshing vegetable like cucumber slices. Try it with my combination or create your own. I'm always trying to drink more water and this makes it easy because it tastes so good. It's a healthy way to stay hydrated and now you can say, "Anyone for an aguas frescas?" – Jenny Jones
Jul 14, 2013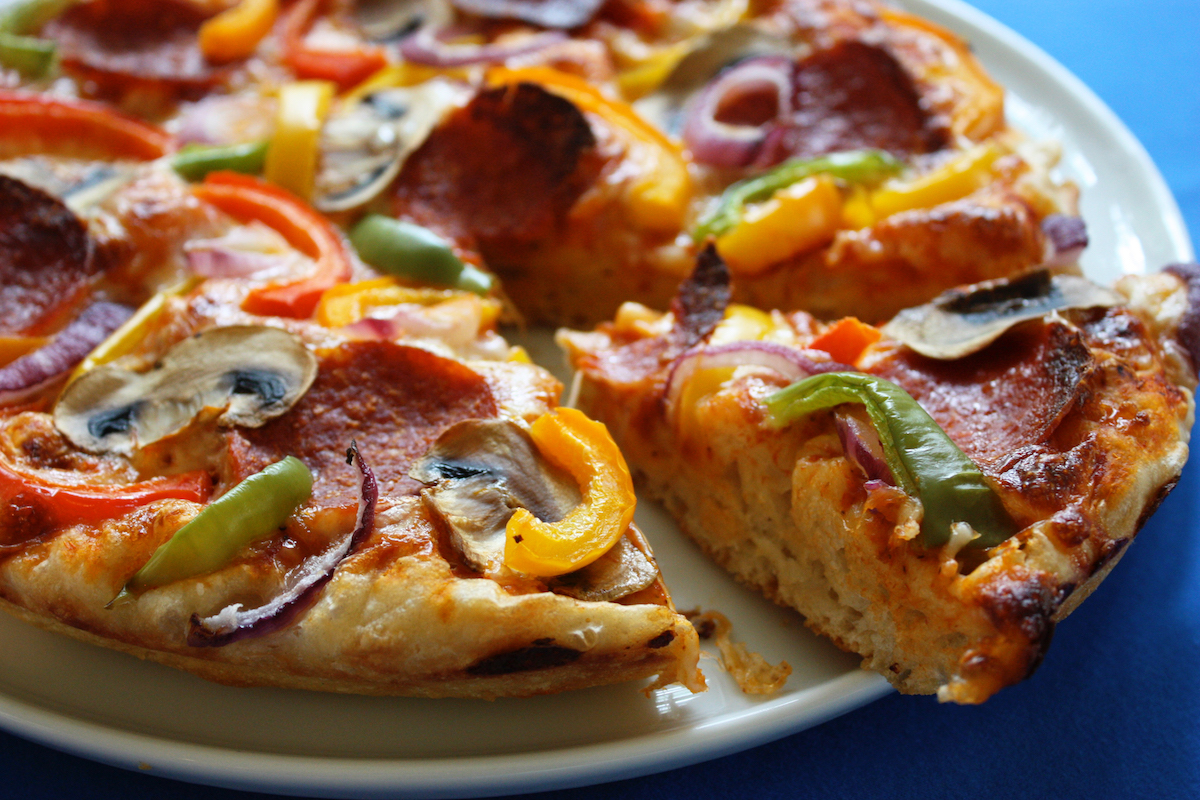 Anyone with a cast iron pan can make this easy, healthy, low fat, delicious pan pizza at home. Pizza in a cast iron pan? Absolutely! The crust is key to a good pizza and using cast iron is a foolproof way to get the easiest, golden, crispy crust, ready to hold all the toppings of your choice. There's no kneading, no rolling… no work at all to make this easy pan pizza dough. You can either start it the night before or a few hours ahead.
The dough slowly rises and then you just put it in the pan, add your toppings, and go! It comes out perfect every time and it's by far the best deep dish pizza I've ever had.  Plus it's low fat so there's no grease to blot… unless of course you use regular pepperoni instead of my choice of healthy toppings like reduced fat turkey pepperoni, peppers, onions, and mushrooms.
There's no reason to avoid pizza when you can make an easy, healthy, low fat pan pizza at home and if you use my toppings, you'll also get a few vegetables in every slice. Click here for the recipe. – Jenny Jones
Jul 12, 2013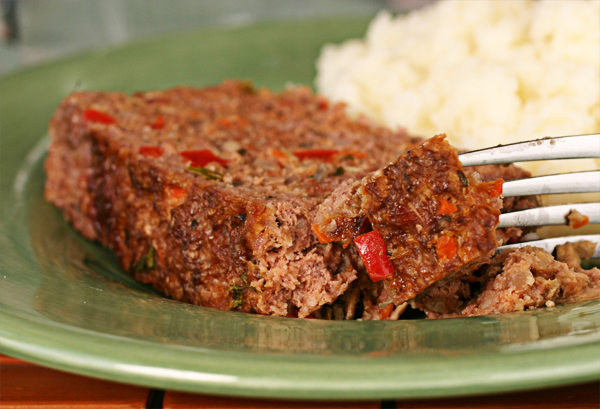 Of all my recipes, this meatloaf gets the most rave reviews. I love It! I've been making this healthy recipe for years the exact same way and I can never decide if I like it better with my buttermilk mashed potatoes or the next day in a sandwich with a little mustard on a good sourdough bread. It's hard to mess up meat loaf. Just mix everything up and put it in the oven.
A lot of recipes use a combination of ground beef, pork, and veal but I like to keep it simple and I use the very leanest beef I can find. But it still contains fat so the reason I roast my meatloaf on a baking sheet is to allow any excess fat to flow away from the meat – no one needs that extra saturated fat. So don't use a loaf pan.
Another benefit of using a baking sheet is… well, there are two: one, is there's no cleanup because you line it with foil, and second, it browns on all sides! So it's beautiful, too. I'm pretty sure this "best ever" meatloaf recipe will become a regular part of your own healthy foods and meals.  Click here for the recipe. – Jenny Jones