Sep 29, 2014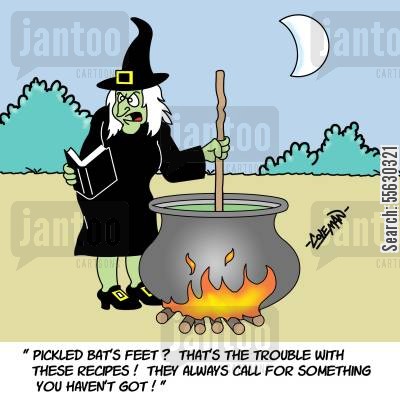 Sep 16, 2014
Hi friends. Please note that I am away on vacation in Canada this week and next week. I usually try to answer your questions right away but I am not able to while I'm away. It's great to get away, to see and do new things, but I am also forced to eat all my meals in restaurants! I miss my own cooking!!! I'll be back soon. Thanks for your patience.
Sep 12, 2014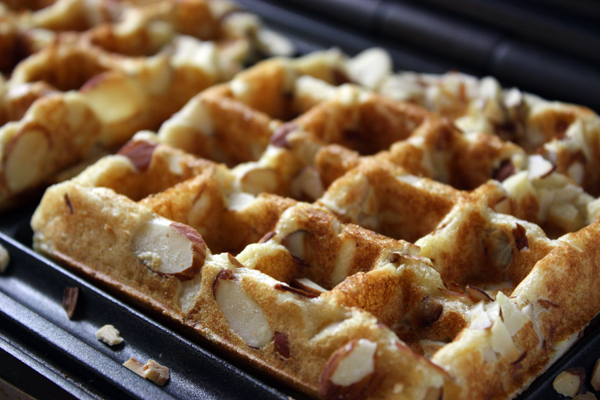 A healthy, high fiber breakfast is important  but it can also be fun. And waffles are fun. Let's talk about how healthy they are first. My waffles are made with 100% whole wheat pastry flour and extra light olive oil so… fiber and heart healthy fat. Then I bake each one with a big pile of sliced almonds for extra protein and extra crunch. The almonds get baked into the waffle and then you get a fantastic toasted almond flavor with each bite. Oh, and they are easy to make from scratch. Putting the batter together takes less than five minutes!
Now let's talk about the fun part… what to put on your waffles. Well, there's a little butter and of course real maple syrup, or honey, maybe some sliced bananas, strawberries, blueberries, peanut butter, yogurt, or take a minute to cook up some caramelized apples. Here's how I see it. Let's say you have three waffles. Put some healthy fresh fruit on the first one, some maple syrup on the second one, and the third one can be dessert. What's wrong with a few chocolate chips or a little drizzle of chocolate syrup if it means you're having whole grain waffles? A friend of mine wouldn't tell you but she puts vanilla frozen yogurt on her third waffle… but you never heard it from me. Click here for the recipe. – Jenny Jones
Sep 10, 2014
This is the only way I make traditional pizza dough any more. Who wants to wait for pizza dough to rise? Not me! It's enough that I have to wait for the oven to heat up but that's why this is the perfect pizza dough. You put it together and let it rest for 10 minutes… or longer. That's the best part. After the 10-minute rest, if your oven and toppings are ready, you can shape your pizza right away. But if you need time, it can rest as long as you need to preheat the oven and get your toppings ready.
So here's how I make my homemade pizzas. First, I preheat the oven because that takes time. If I'm baking on a pizza stone, it takes about 45 minutes for my oven to get hot enough. If I'm baking on a pan with holes, even that takes about 35 minutes. While the oven heats up I make my dough and while it rests, I prepare my toppings… and what fun that is!
Depending what combo I'm making that day, I might be slicing peppers, onions, mushrooms, olives, or fresh basil. If it's pepperoni then I degrease my reduced fat turkey pepperoni (see how in my pepperoni pizza video). And finally, I always shred my own part skim mozzarella cheese and you should too. The pre-shredded cheese sold in packages will never melt like freshly shredded cheese because they add some stuff to it. I also find that the enemy of a crispy pizza is moisture so I always try to remove some moisture before adding toppings, especially the ones with the most moisture – mushrooms.
To reduce some of the moisture for a crispier pizza crust, place sliced mushrooms between double layers of paper towels between 2 plates. Microwave for a minute and then blot them dry. I also blot every vegetable before putting them on my pizza because I refuse to use a fork to eat my pizza. I want to pick up a slice with my hand and eat. No drooping, no grease… and no leftovers!  Click here for the recipe. – Jenny Jones
Sep 9, 2014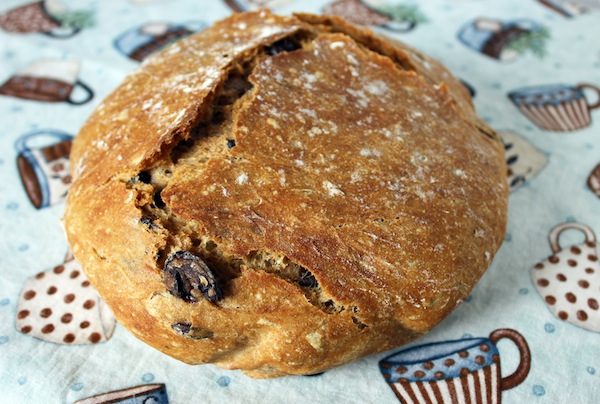 Look what I made! I decided to experiment with my faster no-knead bread and make olive bread. I've been making the plain bread regularly with 100% whole wheat flour and for a softer loaf, I also make it with 2 cups of whole wheat and one cup of bread flour. I've had olive bread before and loved it. I had a jar of olives handy so I made this loaf yesterday with my 2/3 + 1/3 flour mixture and WOW! It's moist and soft enough for sandwiches and so delicious. I even had it for breakfast. (the crispy crust is the best part!) Olive bread is a way to include heart-healthy olives in your diet. If you haven't tried the no knead method for bread, it's amazingly easy.
I first posted my faster recipe for plain bread (click here) and then another recipe for my whole wheat version (click here). Now I have this fabulous olive bread and I am posting the recipe here because it's so simple. To make my no knead whole wheat olive bread, you would follow the method used in my whole wheat version but with the ingredients below:
2 cups whole wheat flour
1 cup bread or all purpose flour
1/4 teaspoon yeast
1/2 teaspoon salt (reduced from original version due to salt in the olives)
3/4 cup chopped, patted dry kalamata olives
1 1/2 cups of cool water
UPDATE: March 3, 2016: I just posted the entire recipe in the Breads category so now you can just click here for the recipe.  – Jenny Jones
Sep 3, 2014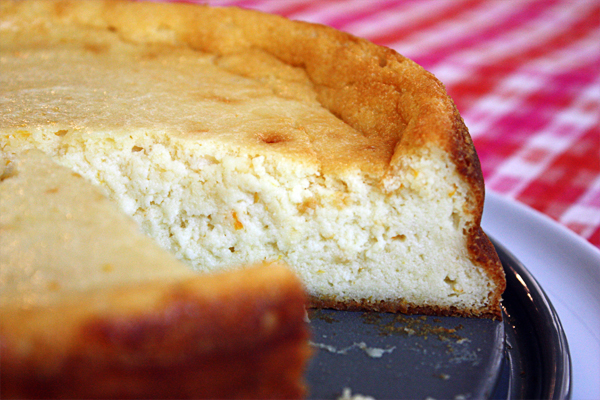 Eat a piece of cheesecake and run! That's because to burn off the calories from one slice of old fashioned cheesecake, you would have to jog for over an hour. But not so with my lightened up ricotta cheesecake. A walk around the block should do it. This is a healthier cheesecake for sure because it's made using part skim ricotta cheese with no cream cheese or sour cream in sight. It's also called Italian Cheesecake and the first time I had it was at an Italian restaurant. I ordered the cheesecake intending to share because it was, you know… cheesecake. But it was so light I ate the whole piece and could easily have had another one.
It was delicious! I had to learn how to make my own and I did. I even lightened it up some more by using part skim ricotta cheese and this delicious dessert just melts in your mouth. So no more full fat cheesecake for me. The last time I had regular full fat cheesecake at that "factory," I wanted to stop at the mall on the way home and buy bigger pants. Make my Light as a Cloud Ricotta Cheesecake and you won't need new pants. Click here for the recipe. – Jenny Jones