I love seeing photos of my recipes so thank you for taking time to send them, and please let us know where you're from. Use this link to send your photo: YourPhotos@JennyCanCook.com
JUDITH MADE MY NO KNEAD BREAD
"Best bread ever just added an extra quarter teaspoon of yeast and some onion salt for flavoring and brushed on some oil before baking thank you so much for the recipe had given it to a bunch of my friends ? they're all baking now to be busy during the Coronavirus ,,stay healthy??."
PATRICIA (from Canada) MADE MY FASTER NO KNEAD BREAD
"Winner winner! My family loved it! In isolation so now I don't need to go to the grocery store to get bread! This was my first attempt at bread and it was absolutely perfect! A big thank you from Quebec Canada!"
TRISH MADE MY NO KNEAD BREAD
"Easy and delicious! Looks exactly like her photo ?"
TERRI (from Oklahoma City) MADE MY SIMPLE WHITE BREAD (with egg)
"I'm a senior sequestered here in my home and continuing to bake, bake, bake – thanks to your wonderful recipes.   Here is a pic of Simple white bread (with egg).  Wish you had smell-a-vision cause my house smells fantastic. I so appreciate you, Jenny.  From my home, sweet, home, Your #1 fan, Terri."
DALILA MADE MY WHITE BREAD (with egg) & EASY DINNER ROLLS
"Hello  Jenny! ?I enjoy baking and lately I have been on a "bread-baking" kick like you wouldn't believe! I've been baking our breads for years now, what I  like is that I can control what goes in them. Much healthier for my hubby and myself too, as always your bread recipes are fabulous! Your SIMPLE WHITE BREAD (with egg) is one of my hubby's favorite, it's always in our bread drawer. I also make your EASY DINNER ROLLS often. I mix up ideas though, like these were made into a cloverleaf style. Sometimes I add seeds to our rolls….sesame seeds, poppy seeds, sunflower seeds or flax seeds. Whatever we're  in the mood for while I'm making your wonderful dinner roll recipe. ✨Thank you Jenny for giving us such delicious and easy recipes! ✨ Happy Baking!! ? ~ Dalila."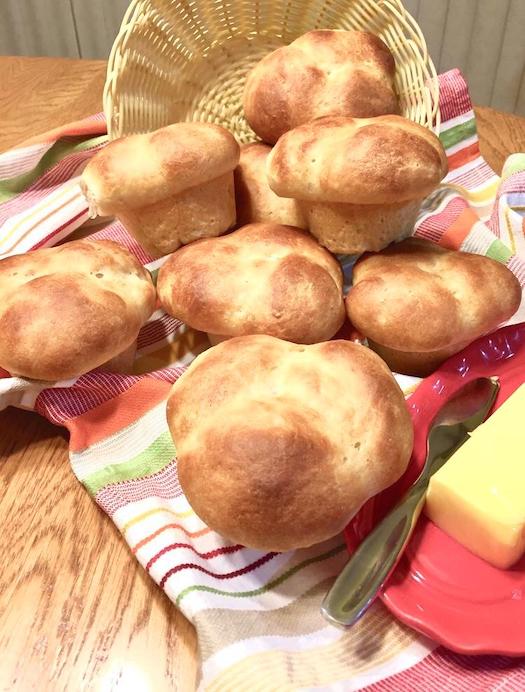 TERRI (from Oklahoma City) MADE MY COCONUT CAKE
"Made your wonderfully easy and delicious One Bowl Coconut Cake. It turned out perfect.   Thank you, Jenny, for all the wonderful recipes. Yum! From my home, sweet, home in Oklahoma City."
ALKHANSA (from Oman) MADE MY QUICK & EASY CHOCOLATE CAKE
"Hey there Jenny, I am glad that I found your recipe on YouTube. My family loved the taste and the texture of the cake. Love all the way from Oman (Middle East)."
PAT (from Canada) MADE MY LEMON BROWNIES INTO CAKE
"Lemon Brownies baked in Bundt Pan – Yum. This recipe yields such a delicious, moist cake, it didn't even need icing or glaze. ~ Pat from Canada."
SHANE MADE MY EASY WHITE BREAD (no egg)
"Hi Jenny! Thank you so much!While in quarentine I need to bake my first white bread for sandwiches, and I've been looking up all sorts of recipes. When I found yours I knew it was perfect, even when I run out of milk and eggs I can tell your recipe will accept substitution without issues. I can't wait to slice and eat it I'm so hungry. I wanted to send you some pictures and mainly send you my thanks. I'll be trying many more recipes I have the ingredients for and I can't wait. Stay healthy and safe in these very odd and chaotic times, sincerely, Shane Wayne."
KIM MADE MY NO KNEAD BREAD
"Simply the easiest and best recipe that I've used to make bread! I even shared the recipe with a friend who saw my Facebook post! Dough for the rolls is prepping now! Thank you!"
JAMIE MADE MY NO KNEAD BREAD, CHOCOLATE CAKE & COCONUT CAKE
"Dear Jenny, I've only recently discovered your YouTube channel and website, and I sure am glad that I did!  I have tried 3 of your recipes so far, and every one has been a winner! Thanks for sharing your delicious recipes! I plan on sharing your website with my non-cooking DIL, where I think she will find great encouragement and success!  I am also looking forward to trying many more of your recipes myself, making the best of this time of social isolation. I think the Faster No-Knead Bread is even better than the overnight version! Best to you! ~ Jamie."
"Quick & Easy Chocolate Cake with 2 Minute Chocolate Frosting – Made in honor of my grandson's 5th Birthday, which we celebrated long distance, where he blew out the candles via FaceTime! Topped with whipped cream!"
"One Bowl Coconut Cake with Cream Cheese Frosting – Ran out of coconut for the topping, and since we are avoiding non-essential store visits during this COVID-19 outbreak, I improvised by crushing some Coconut Clusters from Costco."
JOCELYN MADE MY CHICKEN POT PIE
"Hi Jenny: I think you rock. Your humour is awesome.  I have shared your YouTube channel with my sons (I have three). They are enjoying your humour and your recipes. Your bred recipe is being re created in their kitchens. I have attached a picture of your recipe for chicken pot pie that I made today.  Yummy and I really love your crust recipe. Be Well and stay healthy. ~ Jocelyn from ??."
LARRY MADE MY NO KNEAD BREAD
"Just thought I'd show you one of your recipes just out of the oven."
SARAH (from Jordan) MADE MY NO KNEAD BREAD
"Dearest Jenny, I am Sarah, 29, Jordanian, baking noobie. With the recent curfew due to COVID-19 in Jordan, I wanted to learn something useful other than working from home -which turned out to be much more stressful than being in the office -and bake bread for the first time in my life. I tried before and failed, recipes were either not clear or too complicated. Your recipe was a gamer changer. I couldn't believe I nailed it until my mum and sister asked for a second! I'm attaching here few pictures I took. Thank you again! ~ Sarah."
"Here's a picture of the Sweet Potato Chocolate Cake! My daughter said "It was the best, so moist I could eat it all day long"! Of course my whole family thought I was joking when I told them I used sweet potatoes. Oh bye the way Jenny, this was my first time I made and spread frosting on a cake. It won't be my last I am sure. (I left a comment on the recipe details. See 25 Mar 20 for VAL!) Blessings from Texas, Val."
VICTORIA (almost?) MADE MY NO KNEAD BREAD
"Dear Jenny, This is what happens when you don't measure your flour appropriately!  I'm going to keep trying!"
~Welcome to MY world! I've had more disasters than I can count but I kept trying and always succeeded (except pork chops – I'm still working on pork chops ?). You are so sweet to send this photo but do check the FAQs in case it's not just the measuring. Be sure to send a picture of the next one. Good luck! ?   ~ jenny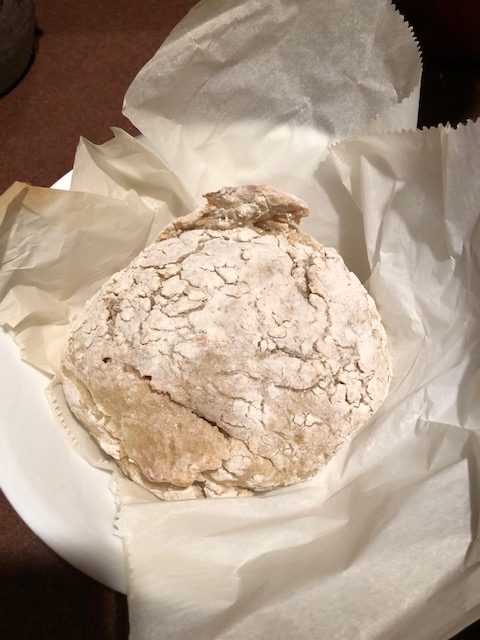 JODY (from Olympia, WA) MADE MY GREEK LEMON CHICKEN & POTATOES
"Hi Jenny.  I have made your Greek lemon chicken with potatoes and green beans a couple of times in the oven and love it. Today I decided to toss everything in the slow cooker instead and it turned out just as delicious, with the added bonus of a lemony broth!  I had some grape tomatoes I needed to use up so tossed them in the last half hour or so of cooking. I followed your recipe and let the chicken and potatoes marinate before tossing into the crock pot with the marinade, cooked it on high for an hour, then added the green beans for another 2 hours.  This could all be cooked on the low setting but for more hours of course.
PS The crow on the counter is in memory of my late father and grandfather.  Grandpa immigrated from Croatia in 1903 at the age of 26, then met and fell in love with my grandmother, who immigrated from Poland.  You can bet I will be making some of your Polish recipes; I miss her cooking. Thank you for sharing!  Stay safe and healthy. ~ Jody Bogdanovich, Olympia, WA."
HOWARD MADE MY NO KNEAD BREAD, TWO VERSIONS
"I have to tell you that I love watching you. Your humor and skills are great. I made both No Knead Breads ( faster and 2 hour) and everyone loved it. I am sending pictures of both and one is bread flour and the other all purpose flour. Plenty of time to cook sitting in the house. LOL. Hope you read this and thanks for your videos.. Sincerely, Howard W."
~I manage this website myself and read everything. Photos like this is my favorite part. Thank you. ~ jenny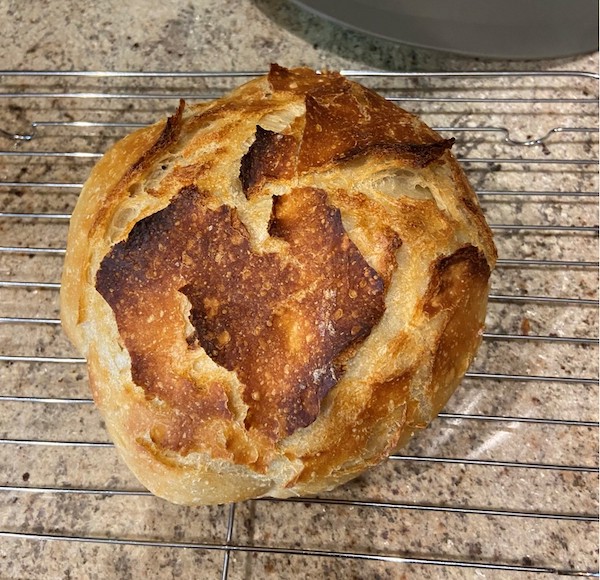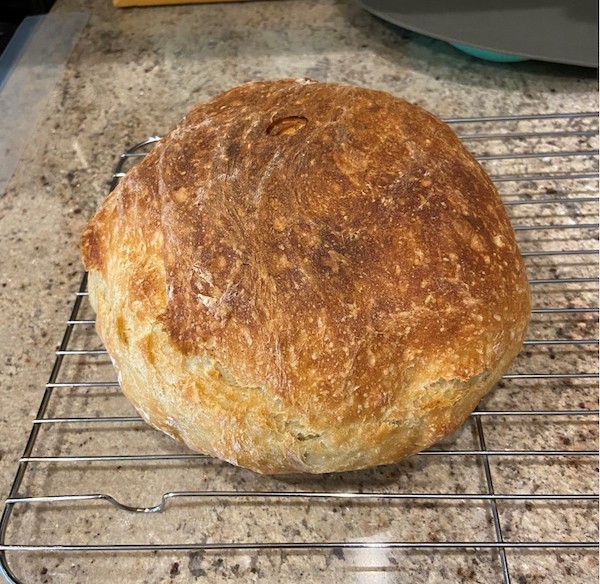 MANDI (in Connecticut) MADE MY NO KNEAD CRUSTY ROLLS
"So easy and Absolutely Delicious!"
~I'm making some myself tonight. Thanks for your photos! ~ jenny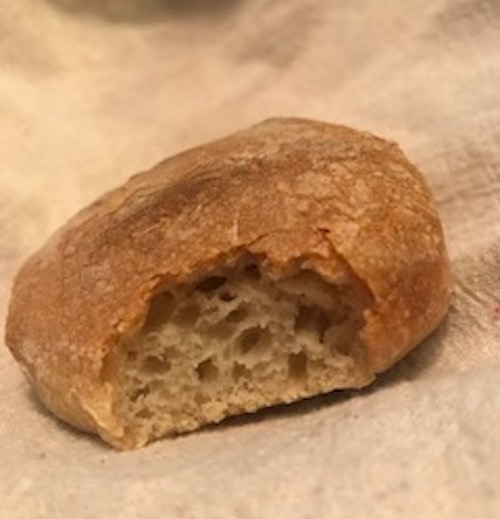 LINDA MADE MY NO KNEAD BREAD
"OMG, Jenny you are a gem. My hubby is a crusty bread fanatic. Since the shortage this weekly his weekly stipend wasn't available. I browsed the internet for recipes and came across yours. Take a look at this perfect loaf. ? Thank you so very much. I'll never buy grocery bread again!!!"
DAVID MADE MY: Whole Wheat, No Knead, Multigrain & Cinnamon Swirl Breads
"Thank you Thank you Thank you for delicious easy recipes! I love baking because of your simple wonderful recipes!"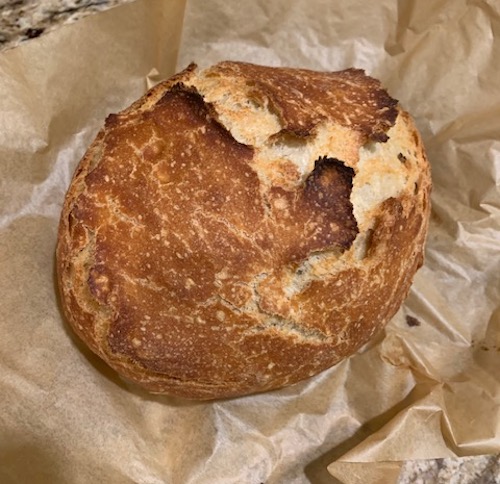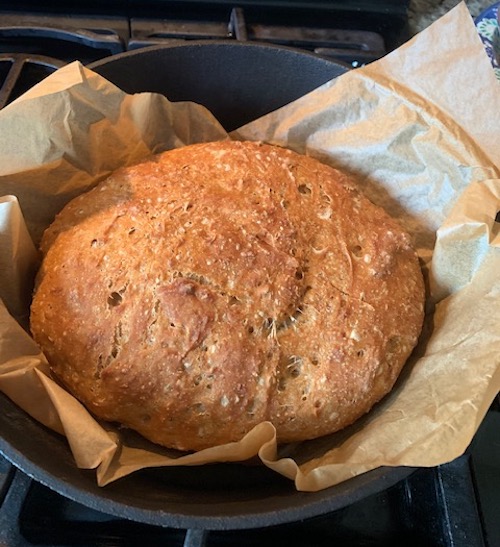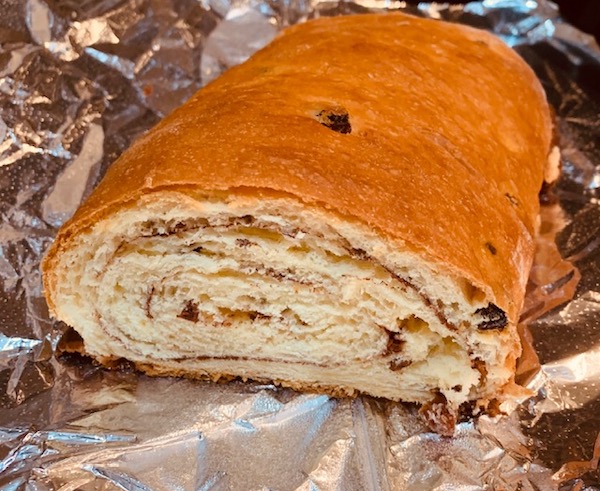 TERRI (from Oklahoma City) MADE MY QUICK & EASY CHOCOLATE CAKE
"I love, love, love JennyCanCook. Here in Oklahoma City, we are staying in and practicing social distancing giving me a chance to do my favorite thing – cooking! So, I made her quick and easy one layer chocolate cake and it was delicious! Thanks, Jenny! Here's a pic."
DONNA MADE MY SIMPLE WHOLE WHEAT BREAD
"1st bread homemade bread, thank you."
JUDI (from Reno) MADE MY NO KNEAD BREAD
"First time ever making bread…Thank you sooooo much for your video of the No-Knead bread.  It was a little soft in the middle but think I cut it to soon. Judi Gesh – Reno, NV."
CHERYL MADE MY DUTCH BABY PANCAKE
"Hi Jenny, I love your recipes, especially the no knead breads, it is so yummy! Today I tried the Dutch baby pancake, since I don't have all purpose flour at home, so I used cake flour instead. It turns out to look great, but when I cut it and realised the texture is rubber like. Is it because of the cake flour? Any ideas what has gone wrong? Thank you!"
~I agree that cake flour does not have enough body for this recipe, although this pancake has kind of an "eggy" texture anyway. On another note, your picture is better than mine! ?" ~ jenny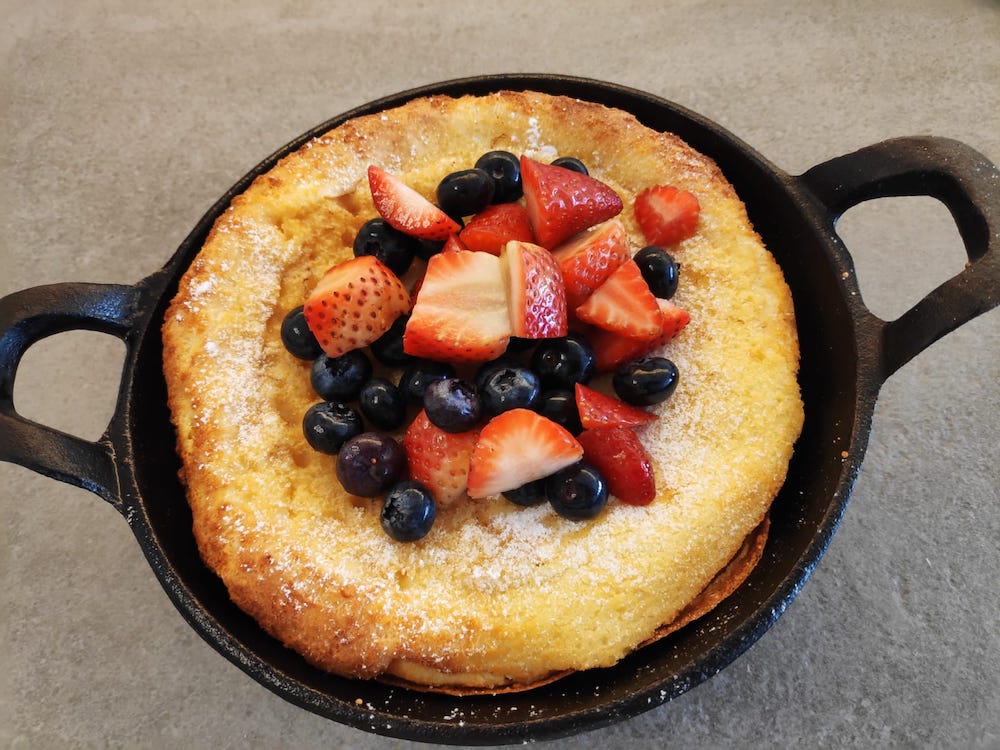 JODY MADE MY SALMON PATTIES & COCONUT CAKE
"Salmon patties in the pan, and ready to assemble into a healthy "samwich" (sorry, couldn't resist!). Delicious recipe, Jenny. Thank you for being so generous!"
~Oh, I love seeing the whole serving with a toasted bun & trimmings – so yummy! But shouldn't that be a "Salmwich?" ? ~ jenny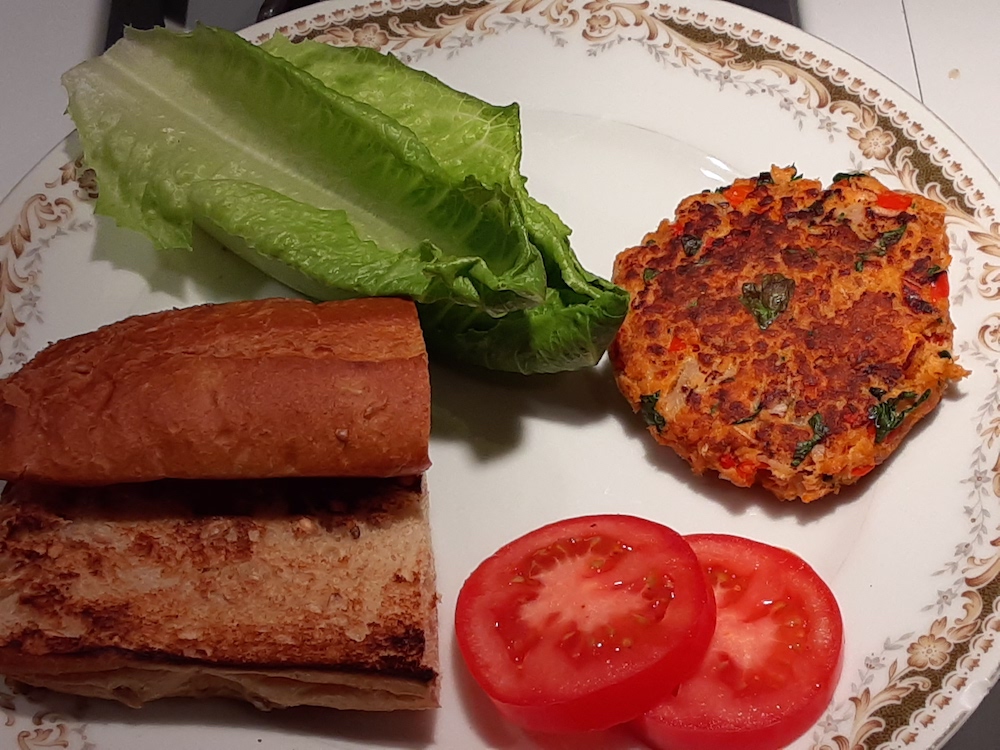 "And this was my dessert after my "salmwich!" LOL. Your recipes never disappoint. Just hope I can stop myself from eating half the cake before the night is over! Jenny, I also posted a comment to you under the Coconut Cake recipe page."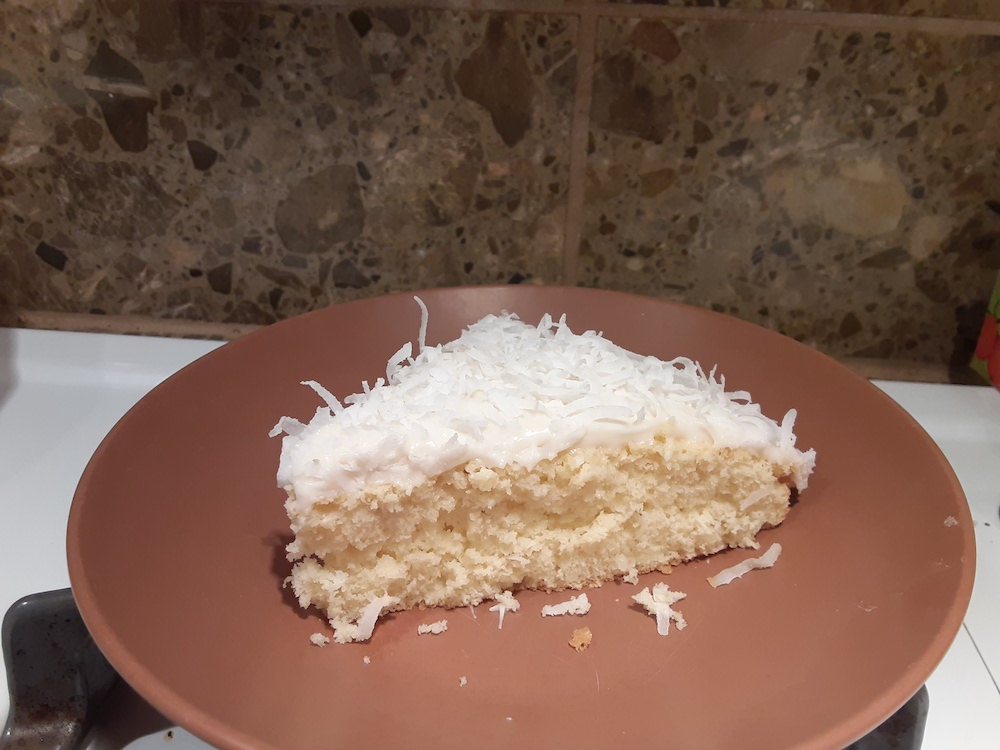 TONI MADE MY NO KNEAD BREAD
"Hi Jenny! Yum!  So good!!!  Thank you for the recipe!  -Toni."
DMR MADE MY SIMPLE WHITE BREAD (with egg)
"How wonderful to bake your delicious fast and easy bread recipe, especially when time isn't on my side and lunches need to be made. I used the full 2 tablespoons of sugar and my choice of oil, olive oil. My kneading skills need work but you would never know it from the finished product. It rose as you said it would after the 30 minute rest and as you directed, after 15 minutes tented the pan with foil. What a delicious loaf of bread and what a wonderful sandwich it makes! Thanks for another wonderful recipe. You are awesome! "
ALMEGACHE MADE MY NO KNEAD CRUSTY ROLLS/BREAD
"Hi Jenny I just wannna thank you for sharing your recipe. Here's  what i make My family  loves your bread its delicious."
CHAMPS MADE MY SIMPLE WHOLE WHEAT BREAD
"Hi Jenny, no words to Express to tell you how much I am grateful to you when I see my bread came out fantastic!!!. Pure joy. It was a dream that i have for many years but none of the other recipies convinced me to try as it's a bigger task. I watched your videos for fun too. Lovely. Thank you so much for thinking about others."
KATHARINE (from Sydney, Australia) MADE MY NO KNEAD BREAD
"Hi Jenny, Made it this afternoon: brilliant! And the whole apartment smells beautiful! Didn't have a Dutch oven, so I used a "vintage" Corningware pot. Worked perfectly. Thank you for the recipe. – Katharine."
~ Thank you for your photo from 8,000 miles away! That's very exciting! And thanks for sharing info on the pot you used. That's sure to be helpful. ~ jenny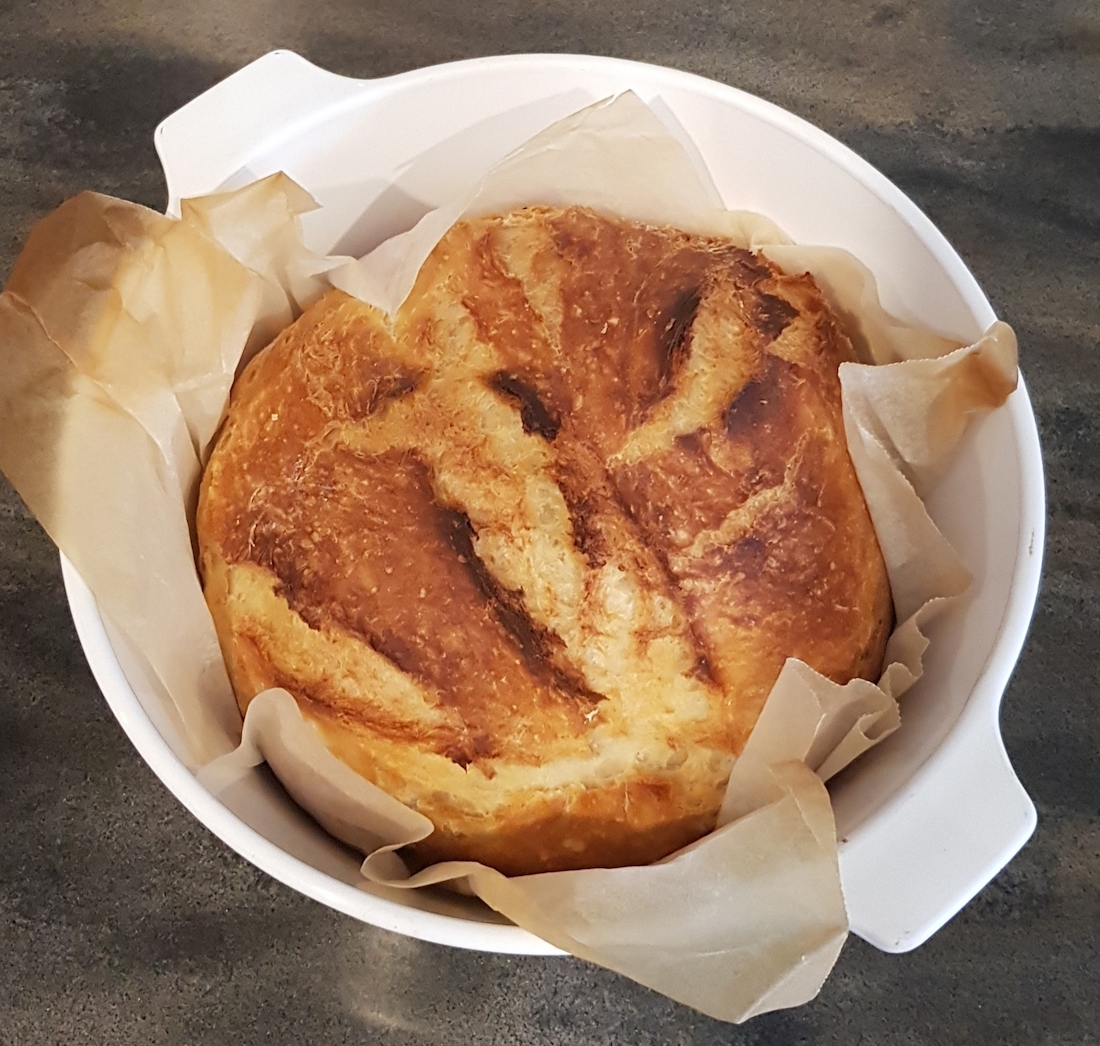 CHRIS MADE MY SPROUTED WHEAT BREAD
"Hi Jenny, When I first saw this recipe I was excited to make it. I live in an area where there is only one local grocery store and two markets for 50 miles and all three didn't carry the flour or ingredients to make my own. Finally, yesterday I was able to find it at a store in a larger city. I was elated! Today, I doubled the recipe and baked in a Pullman loaf pan. It came out beautiful and smells amazing. The picture doesn't do it justice. I'm not a great photographer! I found your website several years ago while searching for airy 100 % wheat bread because mine were lost. Foolproof every time! My husband and parent's enjoyed your recipe's very much. And, with their passing I haven't done much cooking or baking. Seeing and smelling this brings a smile to my face and warms my heart. Thank you so much! ?"
~ Your photo is fabulous and your story so meaningful. I can't tell you how good it feels to know that my little recipe can bring joy to someone who truly needed it. Sending you a hug that's as long as this lovely bread! ? xoxo ~ jenny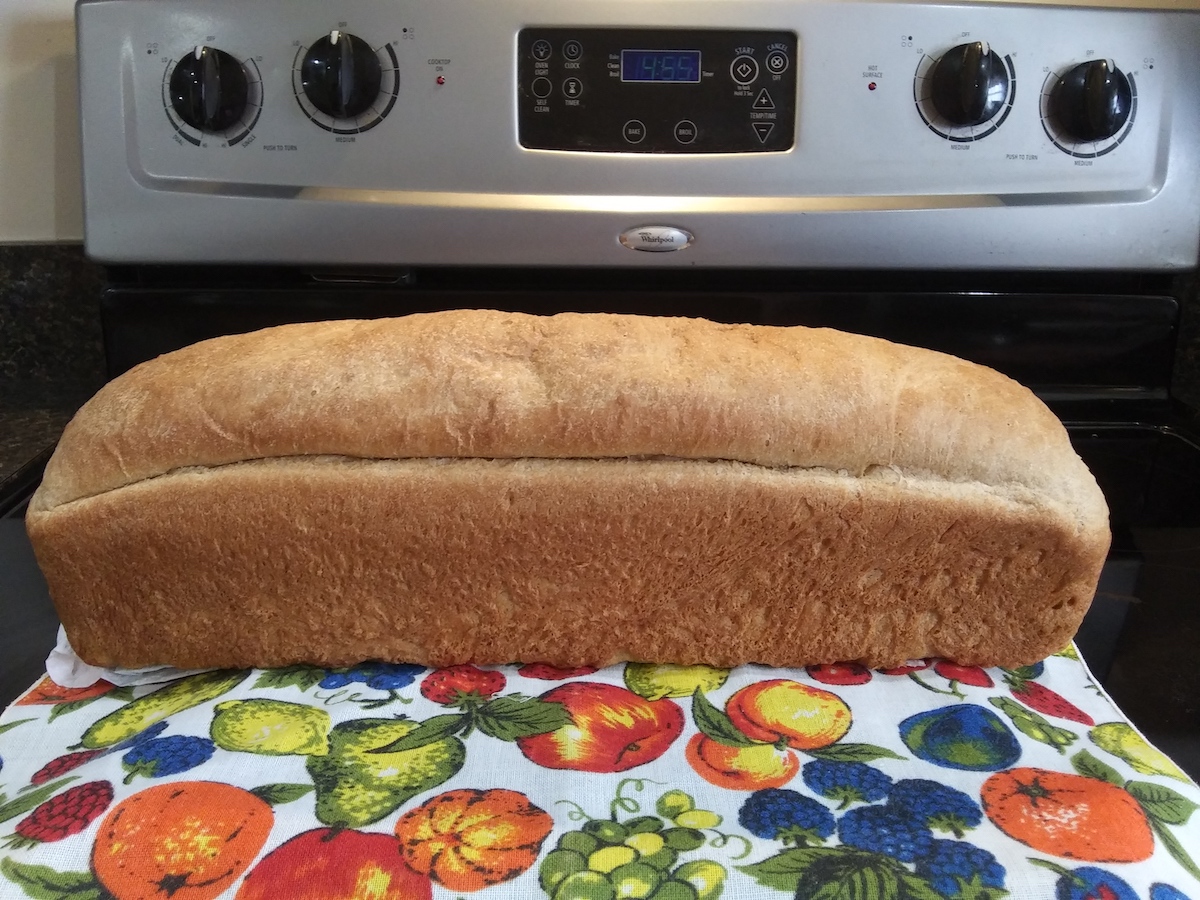 TED MADE MY NO KNEAD BREAD
"This was so easy and just great to eat."
EVERYONE IS MAKING MY NO KNEAD BREAD
~ I'm taking a moment to show you that ANYONE can make my easy no knead bread. These are just a few of the thousands of people who have made it and loved it. Ovens are different. Cooks are different. The breads all look different but they're the same recipe. And they are
all equally delicious. Create your own masterpiece. Anyone can make this easy no knead bread. Just ask Cheryl, Eddie, Kathy, Greg, Evelyn, Verena, Judy, Rubyanne, Mary, Marie, John, Anne, Helen, John, Ruben, Allyn, etc, etc, etc….. ~ jenny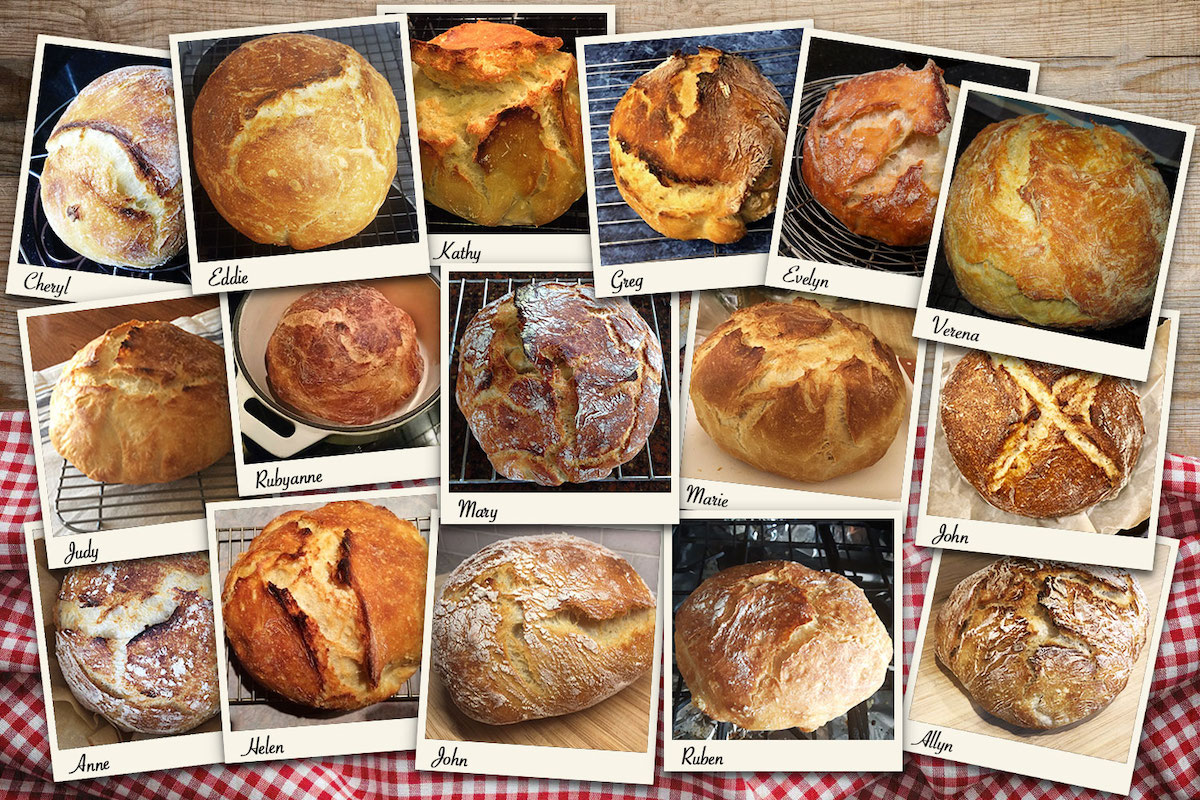 LISA (from New Jersey) MADE MY NO KNEAD RYE BREAD
"It came out great. Thanks."
MARTIN MADE MY SIMPLE WHOLE WHEAT BREAD
"Hi Ms Jones – Jenny – I found your YouTube page and blog just recently and was surprised to hear about your Polish background, despite having obviously known of your fame in other endeavors and TV. I am also of Polish immigrants. My Father was the cook (as yours). He cooked in the Army and my mother was so tired with 7 kids (me the youngest), she hated cooking and it tasted like it.
I am so glad I found your recipe site as I am also a Foodie and I teach nutrition (I believe in Food as Medicine) to my patients as a Registered Nurse case manager and health coach working for a wretched insurance company (but it's my job whereas I also started in acting, theater and writing). I do believe that home cooking is a factor in health:  people who cook at home using fresh ingredients are 40% less likely to develop health issues.
My husband and I are embarking on growing our own mushrooms this year. (the new buzz ingredient for health — cauliflower now taking a back seat — LOL).  I do a lot of canning in the Fall depending on the crop we get from our small garden, and we utilize drying foods as well. I make pierogi every year for family (Christmas Wigilia)  and friends and we make a party out of it, plus on Easter, the beet-pickled eggs and Babka are traditional musts.
I usually don't take photos of my disasters although Ive had many (NEVER put Pyrex on a hot burner, eg — a Rib roast disaster), but I thought I'd share at least this with you .  I tried to attach others but too big. Today, I made your 90 minute Wheat Bread recipe.  Ive been making my own breads now for about 3 years (the Dutch oven artisan bread recipe is a winner) and I like to also meld and merge other ethnic cooking into my craft (exploring Thai and Indian and Asian lately).  The easy rise time with your bread recipe helps when you "forget" to start your "starter" the night before.  I also like controlling my own ingredients when store-bought these days is poison.
I appreciate your stamina in your career and hope you are living a lovely happy life after so much hard work and dedication to your causes. You are as beautiful as ever (and funny — I love your spanking the dough "Who's your Daddy" comment on the Wheat bread vid — !! )  Sincerely, and with love –  Martin Daynorowicz, Bucks County, PA."
~ Your bread looks really good and thank you for validating my efforts. Good luck in your show biz endeavors! ~ jenny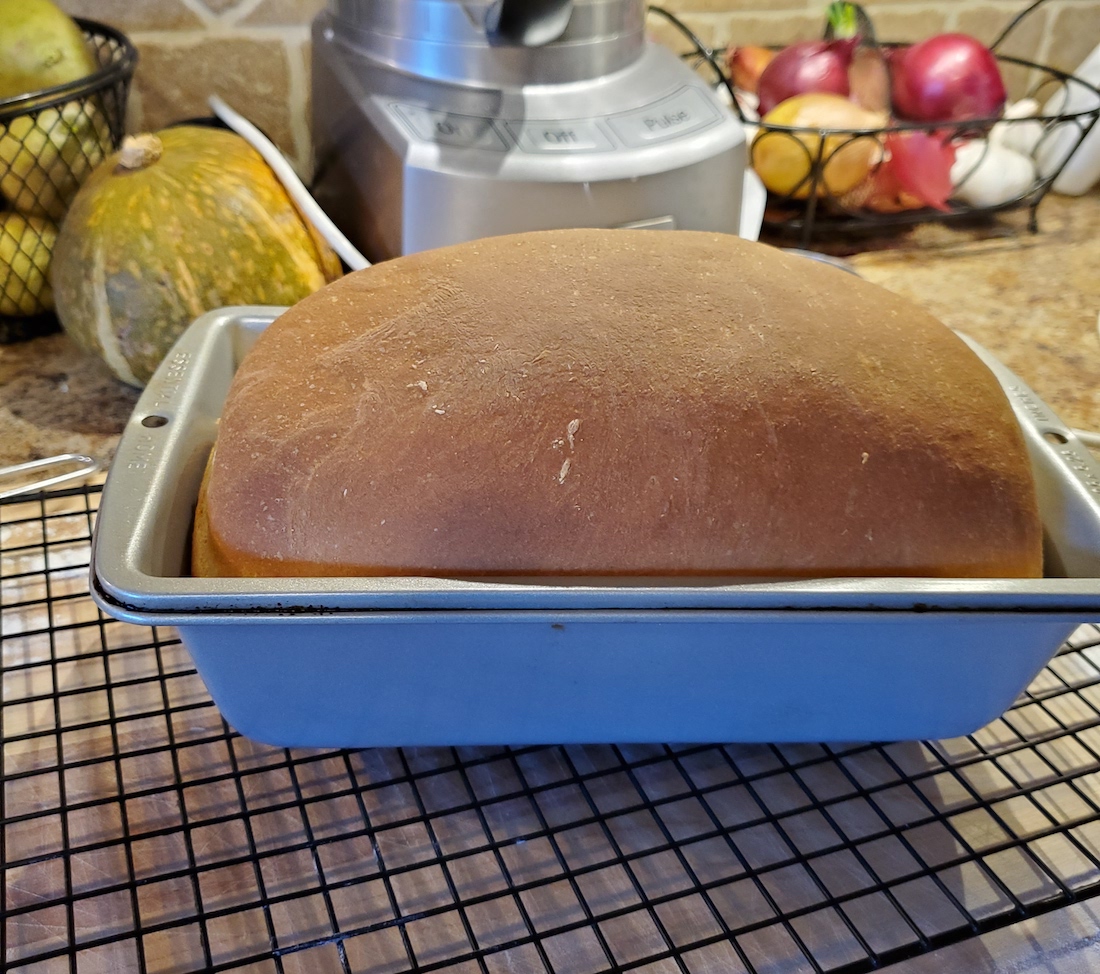 TABITHA MADE MY SWEET POTATO CHOCOLATE CAKE
"Just came out of the oven…. Awe, look the icing is patiently, waiting! 😉 "