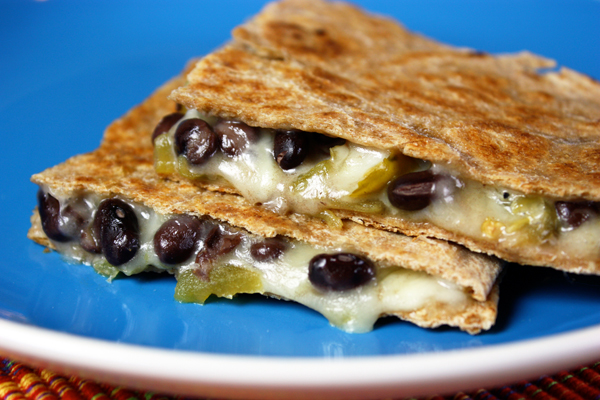 Got 15 minutes? Then you have time to make a quick and easy meal. This black bean quesadilla is my go-to meal when I'm pressed for time and with the holidays coming, I'll be having lots of quesadillas. Of course, I use my own homemade whole wheat tortillas, which I usually have on hand, but you can use store-bought ones too. Try to find them without saturated fat.
I realize it's convenient to use pre-shredded cheese but because of the additives it won't melt as well as using a block of cheese. So take the extra 30 seconds – yes, that's how long it takes to shred 2 ounces of cheese – and you'll have a nice "cheesy on the inside, crispy on the outside" quesadilla.
If you like spicy food, you will love the spicy version of my black bean quesadilla. Simply replace the reduced fat jack cheese with reduced fat pepperjack, and use the hot canned diced chiles.  Oooh, Mama!
Whichever way you swing, serve it with salsa (pico de gallo is my fave) or guacamole… or both. Click here for the recipe.  – Jenny Jones