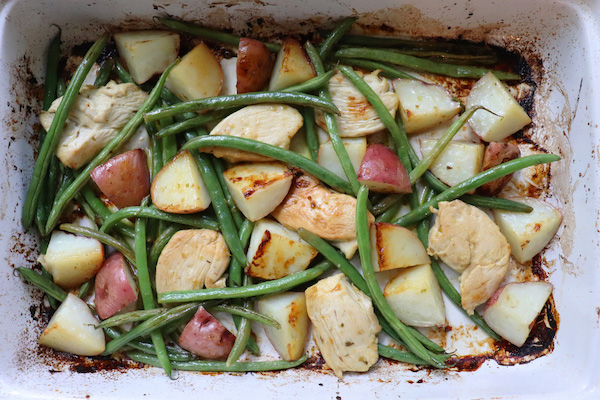 I'm loving my easy one pan meals, especially now around the holidays when there's lots to do so recipes like this are just what I need. Everything cooks in the pan and it couldn't be any easier. The marinade is simple… just olive oil, fresh lemon juice, lots of garlic, oregano and salt. Did I mention it's Greek style? (oregano = Greek!).
There's no fuss with this easy sheet pan dinner. I marinate the chicken and potatoes while the oven heats up and then when they bake in the marinade, they soak up all those wonderful flavors. It bakes all by itself so you can do other things, like make a salad. You only stir it once when you add the beans.
Speaking of beans, I don't know what happened to regular green beans lately but they are terrible, usually dry, full of dark spots and sometime even hollow inside. I actually stopped eating green beans until I discovered French ones. French green beans usually come in a bag with no preparation needed and they are smaller, more tender, they cook faster, taste better, and they definitely look better.
If you're as busy as I am this month, try this easy one pan Greek Lemon Chicken, Potatoes, and Green Beans. Click here for the recipe. – Jenny Jones