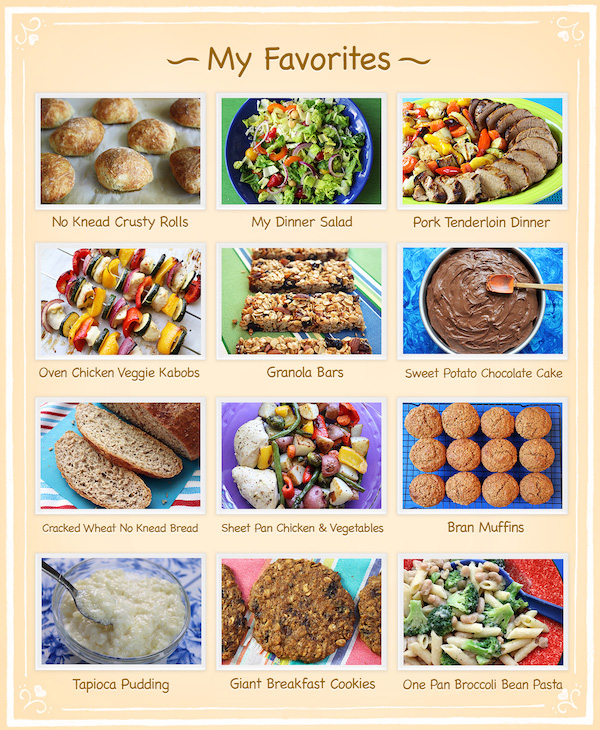 For anyone wondering which recipes I make the most, my own go-to favorites, here they are:
No Knead Crusty Rolls: I always have some in the freezer because you can pop them into a 325° F oven for about 10 minutes and they are even more crusty than when first baked.
My Dinner Salad: With a few variations in olive oil dressings, pretty much every meal I make starts with a salad.
Pork Tenderloin Dinner: The pork is lean, takes on marinade really well, and I love roasted veggies.
Oven Chicken Veggie Kabobs: It's an easy and simple one pan meal with delicious marinated chicken, and I always serve it with Basmati rice. One pan = easy cleanup.
Granola Bars: I make a lot of these granola bars. They can be a quick snack, dessert, or something to take on a hike or trip. There's one in my purse right now.
Sweet Potato Chocolate Cake: Of all the chocolate cakes I make, this is my favorite And there's a whole sweet potato in there for some vitamin A, or as we say in Canada, "Vitamin eh?" 🇨🇦
Cracked Wheat No Knead Bread: I love farm breads and this easy no knead bread with extra fiber is the one I make the most. I bake, slice, and freeze.
Sheet Pan Chicken & Vegetables: It's fast, easy, healthy, low fat, and it all roasts in one pan. It's delicious. I love this meal!
Bran Muffins: I make a dozen and freeze them for the days I crave traditional, old fashioned, bran muffins, which is almost every day.
Tapioca Pudding: Light as a cloud, this comfort food dessert is a family favorite. My husband swears I always take the bigger serving, but he can't prove it. 😀
Giant Breakfast Cookies: These are almost a meal in themselves, chewy, delicious, and full of fiber. As soon as I'm down to one, I make more.
One Pan Broccoli Bean Pasta: I buy fresh broccoli every week so I know I can always make this quick and easy last minute dinner with my pantry staples of pasta and canned beans. Any time I can make dinner in one pan, I'm on it! 🥘