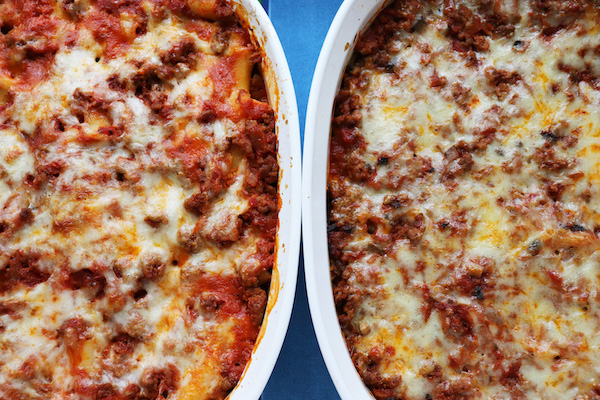 It may sound crazy but I love grocery shopping. I like to take my time, meander down the aisles, see what's new, what's on sale, what the produce guy just rolled out, and I miss that. I miss my favorite checker who always says, "Hi, Jenny." She's from Russia and says she learned how to speak English by watching my talk show. I miss her too. And I worry about her because she is an essential worker, close to my age, and is still working now.
It's not easy getting groceries so I've been cooking and freezing as much as I can. Last night I made my two favorite casseroles to freeze in portions. Left is my baked ziti and right is my angel hair casserole. The ziti is made with a meat sauce and three Italian cheeses and the angel hair casserole uses beef, mushrooms, and cheddar cheese. They are both family favorites and luckily they freeze well. I cut them into serving portions today and froze them so we can still have our favorite meals as getting groceries continues to be a challenge.
If you can get the ingredients, I recommend both of these casseroles for freezing. For the Baked Ziti recipe click here and the Angel Hair click here.
Stay well, everyone. ❤️