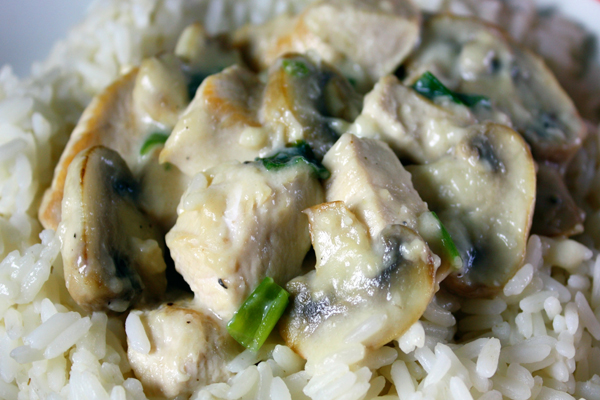 It never fails. It always impresses. And it's quick and easy. This is my go-to chicken dinner for weeknights and also for company because it feels like something from a fancy restaurant but wait until you see how quick and easy it is.  It's basically chicken in a creamy mushroom sauce that only tastes rich but it's made with low-fat milk and no butter. I like this because it cooks in 15 minutes with only three main ingredients: chicken, mushrooms, and green onions. I normally serve it over rice but it's also good with noodles.
Mushrooms have many health benefits including immune support, that hard-to-get vitamin D, many vitamins, minerals, and antioxidants like selenium for disease prevention. But here's my problem with mushrooms: They're squishy when you cook 'em. I love the smell and the taste but can't bring myself to chew a squishy mushroom. Solution: I chop them up really tiny and there's no problem. I left them sliced for the photo but I normally make this recipe with tiny bits of mushroom so I can enjoy this delicious meal.
No meal is complete for me without vegetables and I usually serve my chicken & mushrooms with steamed broccoli. If you like that idea, here's an easy way to do it. I put my rice on to cook in a pot on the stove and about five minutes before it's done, I quickly lift off the lid, toss the broccoli on top of the rice, lid back on, and finish the rice. Uncle Ben's converted rice cooks in 20 minutes and then you let it stand for a few more and that's just enough time to steam the broccoli with no extra dishes or pots. I love it!
Try my quick and easy chicken & mushrooms. It has never failed me and everyone loves it. Click here for the recipe. – Jenny Jones