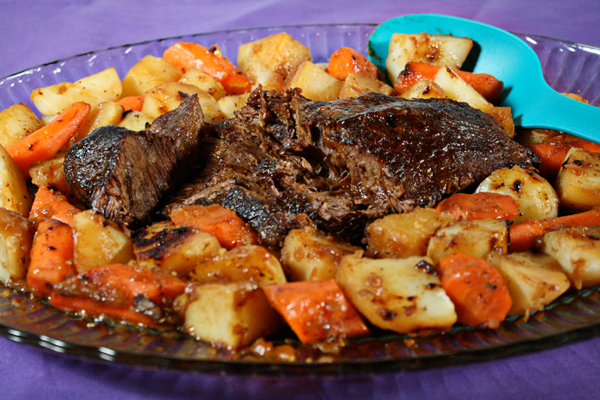 Why do I love my pot roast? 1) It's easy to make. 2) It all cooks in one pot.  3) It's a complete meal. 4) It's comfort food squared!
Old fashioned pot roast is a crowd pleaser and takes very little work. It's mostly cooking time. Who doesn't love meat that's moist and tender with potatoes full of flavor? Okay, maybe your vegetarian friend. But meals like this pot roast are my favorite Sunday suppers. While it's simmering in the oven, I have time to make a salad and dessert.
If you make pot roast, here are a few tips: Browning the meat is crucial for developing the best flavor. As for the liquid, I have made it with both beef stock and chicken stock (I usually make my own but I've also used unsalted store-bought stock). And the cooking time is very flexible. Feel free to cook it even longer depending on the cut of meat and how tender it's becoming. Finally, adding salt is not always necessary.  It depends on  your stock and how much sodium it has, so test it near the end of cooking before adding salt. If you add too much, there's no way to fix it.
Then there's the leftovers! You can use the leftover meat in soup, a burrito, shepherd's pie, nachos, Italian beef sandwiches, or just eat more pot roast! Click here for the recipe. – Jenny Jones