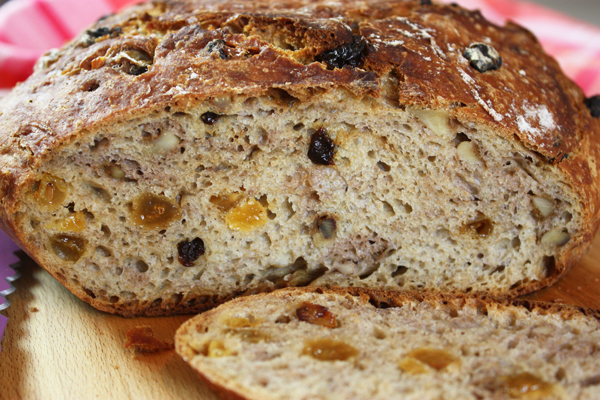 I love it! I love it! I love it! I'm having so much fun with my no knead breads. I started with the plain one, then I made my 100% whole wheat version. Not long after I did it with kalamata olives and now this! The idea came to me during our trip to Vancouver. We had a fabulous brunch at the hotel and they had a whole wheat fruit & nut loaf that looked so good. Did I mention that I'm a bread person? So I tried a slice and it was fabulous. A few minutes later I went back for more and it was gone! All that was left was the tiny heels… but I took them anyway. Everybody loved this bread. I wondered right away if I could make it at home and would it work with my no knead recipe?
The answer is yes. I made it a few times and had to take a break because I kept eating it – I could not stop myself. Fruit and nut bread is such a great combo, especially for breakfast. So here are some things to know:
The oven is very hot and sugar burns easily. The first time I made it, the crust was almost burned so I had a better result with a slightly reduced temperature. I still preheat the Dutch oven to the usual 450 degrees F to get the initial blast of heat but as soon as the bread goes in, I reduce the temperature to 400.
If your Dutch oven will fit, raise your oven rack up one notch to lift the bottom of the pot farther away from the heat. But put it back to the center for the last 10 minutes when the lid is off.
You can also start the dough the night before but using cold water and let the covered mixture stand on the counter top (not in a warm spot) overnight from 8 to 24 hours, and then shape it in the morning and continue.
I  make mine with half and half whole wheat and bread flour. I do recommend bread flour but you can use all purpose flour with the whole wheat. This half and half flour mixture ensures a soft loaf but a healthier one with the added fiber. I tried using all whole wheat flour with this sweet loaf but it didn't work for me. It's so simple, you just dump everything into a bowl, the flours, walnuts, raisins, sugar, salt, and yeast, and add water.
If you're a bread person like me, you will love this delicious fruit & nut bread. But you may have to challenge yourself to not eat it all in one day. Click here for the recipe. – Jenny Jones