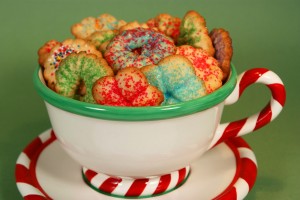 I love baking!  These are the first things I make at Christmas time and… they are the first to disappear!  Mine is a healthier version of sugar cookies and if you try them, I promise that everyone will be asking for the recipe.
You don't have to use pounds of butter to make a delicious sugar cookie – I use part canola oil but nobody has to know. I had planned to make a video but this recipe is so easy, and besides, I would have had to do the hair & makeup thing and who's got time?  I'm too busy looking for parking at the mall! Click here for the recipe.
Oh, and one more day for the Christmas Tree contest (below). Someone is already within ten of the correct number! See who it is on Friday.