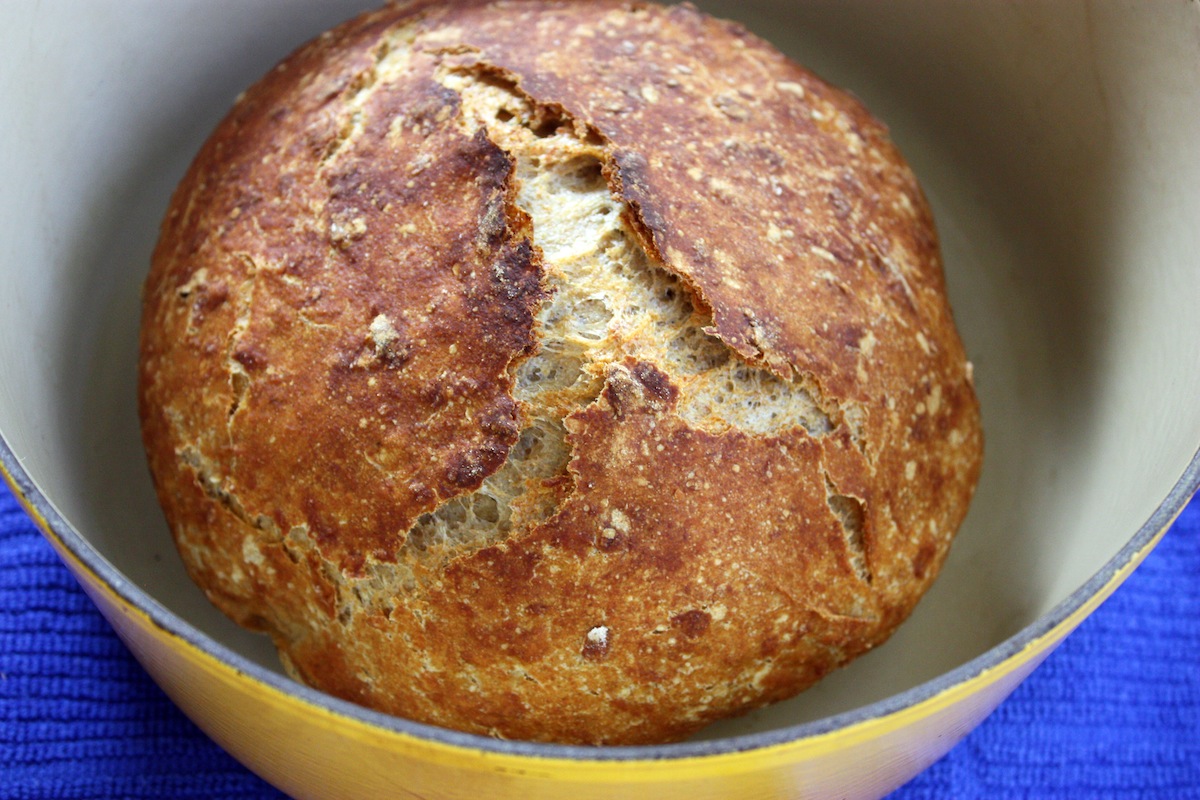 I have stopped buying bread. When it's this easy to make your own homemade bread with no work and no kneading, and you can eat it fresh and hot from the oven, this is the only way to go. No knead breads are so flexible and forgiving, you can create your own like I did. I've made several different versions so far but this is my favorite one.
This loaf is super crusty when it's first baked and by the second day, it's not crusty (no breads are the second day) but it's still a fabulous moist loaf that's easy to slice and eat. I make it with three equal parts of whole wheat flour (not whole wheat pastry flour), rolled oats, and bread flour or all purpose flour. I would love to make it 100% whole grain but it's just too dense for me.
This loaf joins my growing list of no knead breads that I've made so far:
~ Plain Faster No Knead Bread (click here)
~ No Knead Whole Wheat Fruit & Nut Loaf  – I love it!! (click here)
~ No Knead 100% Whole Wheat Bread (click here)
~ Whole Wheat Olive Bread (click here)
~ And now my New Multigrain Loaf (click here)
That's five different ways to make this easy bread. My first recipe for faster no knead bread works well with the faster, same-day method because it uses bread flour or all-purpose flour. But when you start adding whole grains like this new multigrain bread, it really needs the overnight method. It takes more time but still no work at all.
Here's how I do it. In the evening around 9-10:00 p.m. I mix the ingredients together (takes 2-3 minutes) and let them sit overnight. The next morning around 8-9:00 a.m. I proceed with the final steps and by noon, I have a fresh, hot, crusty loaf of delicious homemade bread. Click here for the recipe. – Jenny Jones