I love seeing my recipes being made all over the world.  I hope you'll share where you are from and please send your photo to: YourPhotos@JennyCanCook.com
BUNNY MADE SOFT RYE ROLLS FROM MY SIMPLE WHITE BREAD

"Hi Jenny,  This year my family decided to have a traditional Czech style Christmas.  However, rather than making rye bread, I opted to use your recipe for Simple White Bread (with egg), to make Soft Rye Rolls.  I used half "bread flour" and half "medium rye flour."  I also let the rolls rise an extra 10 mins.  To finish, I mixed a whole egg with 1 tablespoon of water as an egg wash to brush over the tops, then sprinkled the rolls with caraway seed.  Delicious  Soft and tender with the taste of rye.  I just can't say enough about your Simple White Bread recipe.  Not only has it produced beautiful bread time after time, but my variations on the recipe have all turned out well.  Thanks again! ~ Bunny (in Chicago)"
~ They look great and thanks for sharing the details of your variation. ~ jenny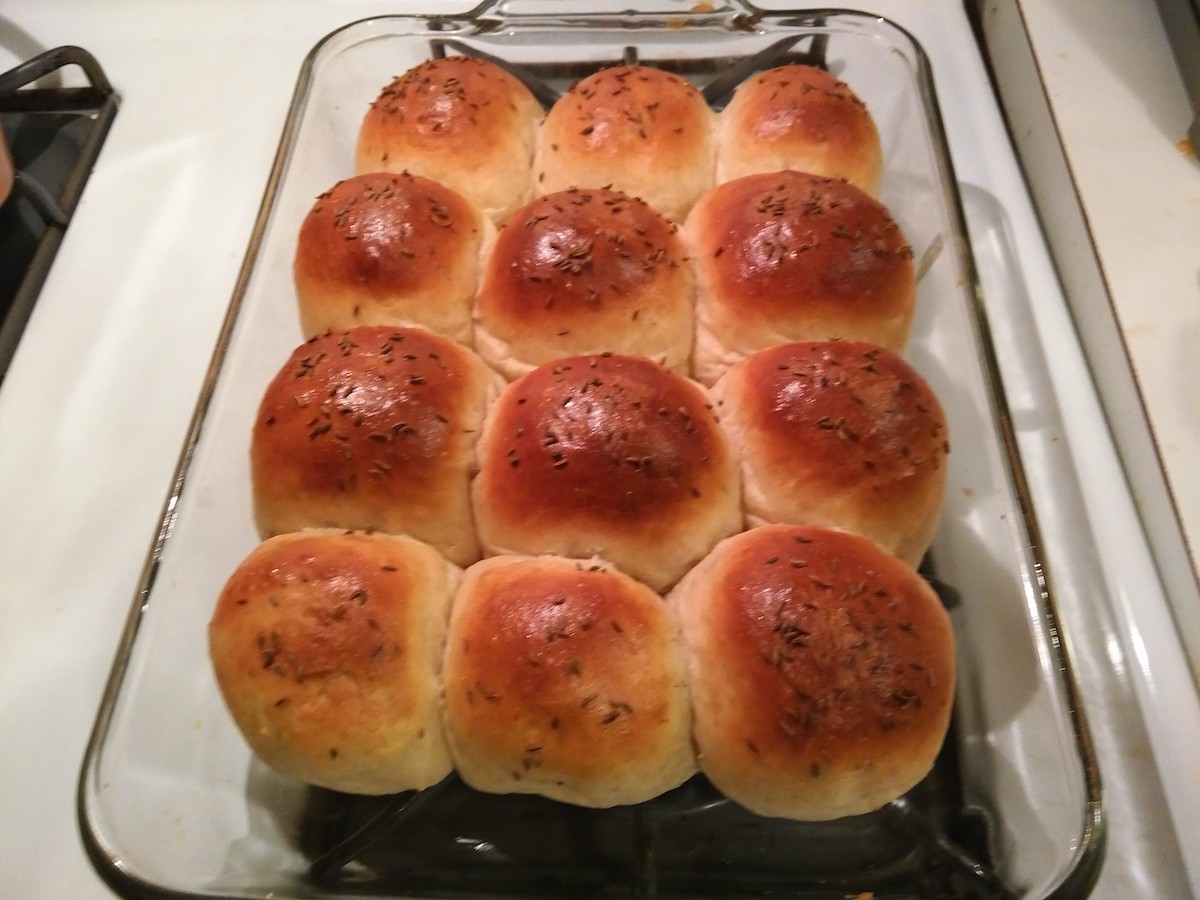 DALILA MADE MY CHRISTMAS WREATH BREAD

"Hi Jenny! ?  I made your CHRISTMAS WREATH BREAD and it came out FABULOUS!! ? I used one cup of fruit-cake mix instead of the raisins in the sweet bread. Let me tell you this sweet bread is wonderful, I can snack on it all day long….LOL!  I plan on making this fabulous bread again without the glaze, I like the idea of having it as toast in the morning. I'm also thinking this sweet bread will make a very tasty French toast. Thank you again for sharing your recipes with us Ms. Jenny! Happy Baking!  ??A very Merry Christmas to you and yours!!! ?"
~ Looks yummy. Thank you for the lovely photos and all the best for 2018. ~ jenny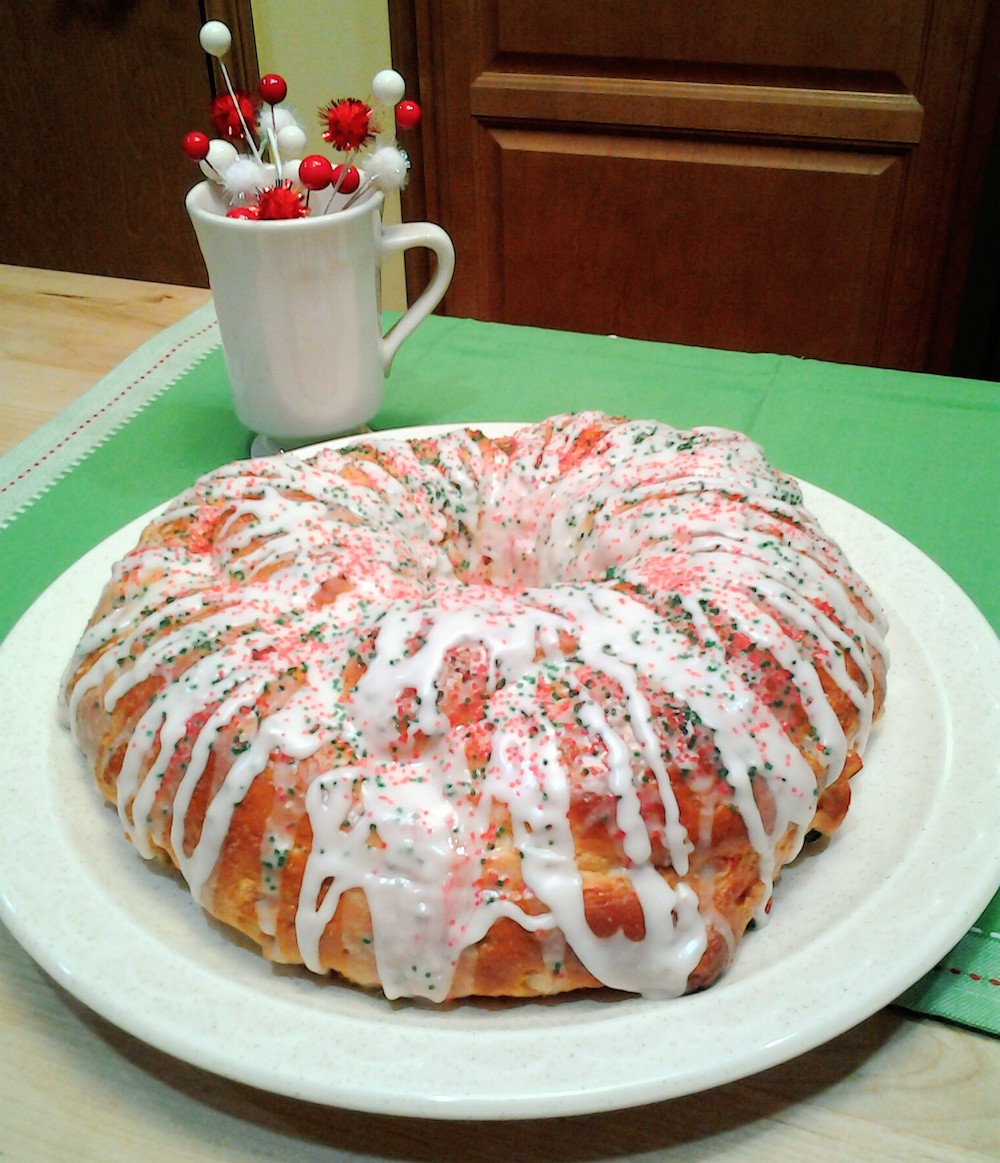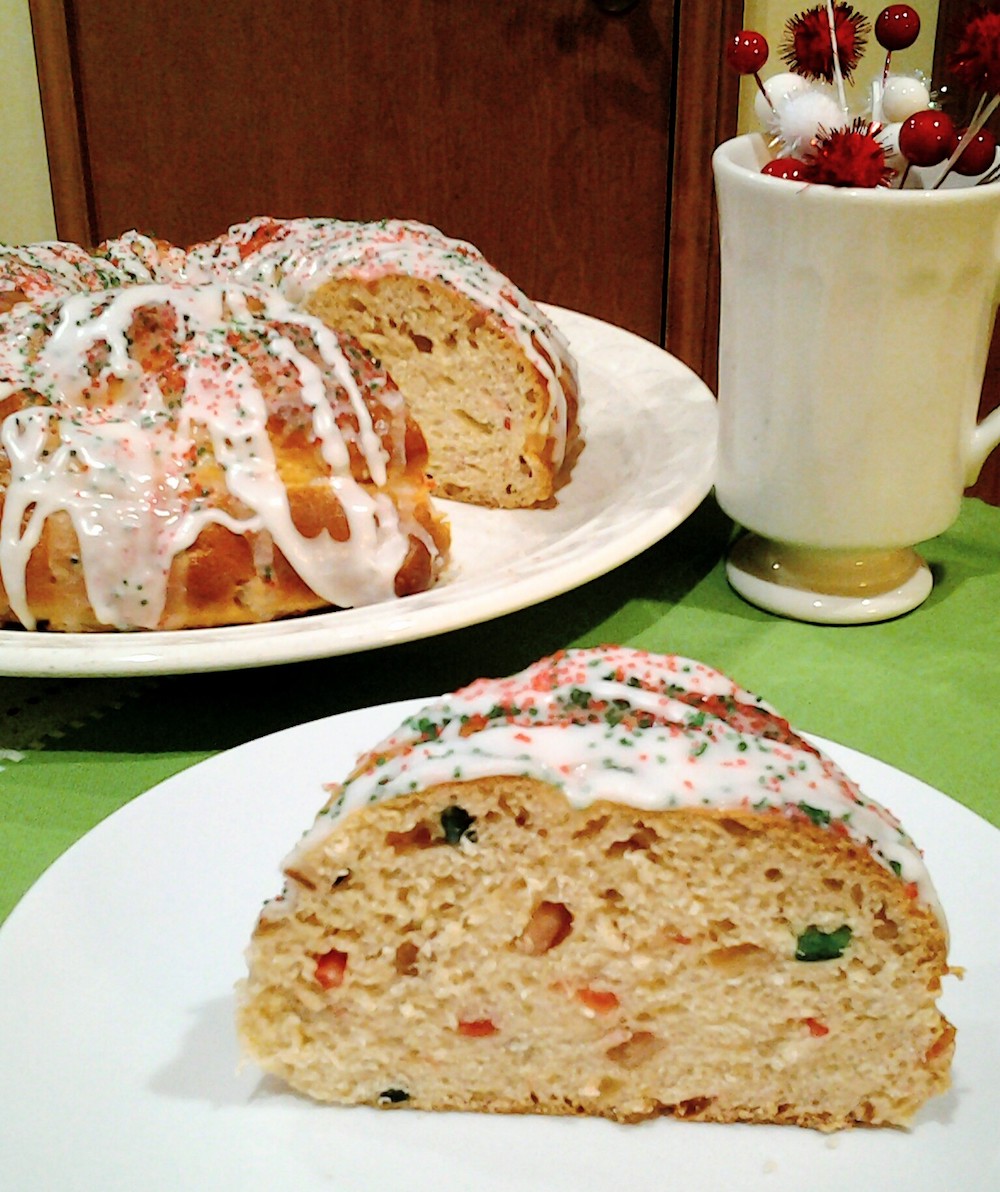 JACALYN MADE MY NO KNEAD BREAD & PIZZA

"✨ 2 Hours To Fabulous No Knead Bread ✨ Thank You Jenny ?"
~ I may have to try your veggie pizza. Thank you and have a wonderful Christmas. ~ jenny
"This Pizza Dough Stands Up to Two Pounds Of Steamed Broccoli & Spinach & Diced Can Tomatoes ? Onions, Low Fat Cottage Cheese and Mozzarella Sauce. With a Beautiful Crust ! Jenny You Are A Gem ?! Thank You, Jacalyn. All the above Vegatables were subject to
paper towel drying. There were no Vegetables Injured during Process!"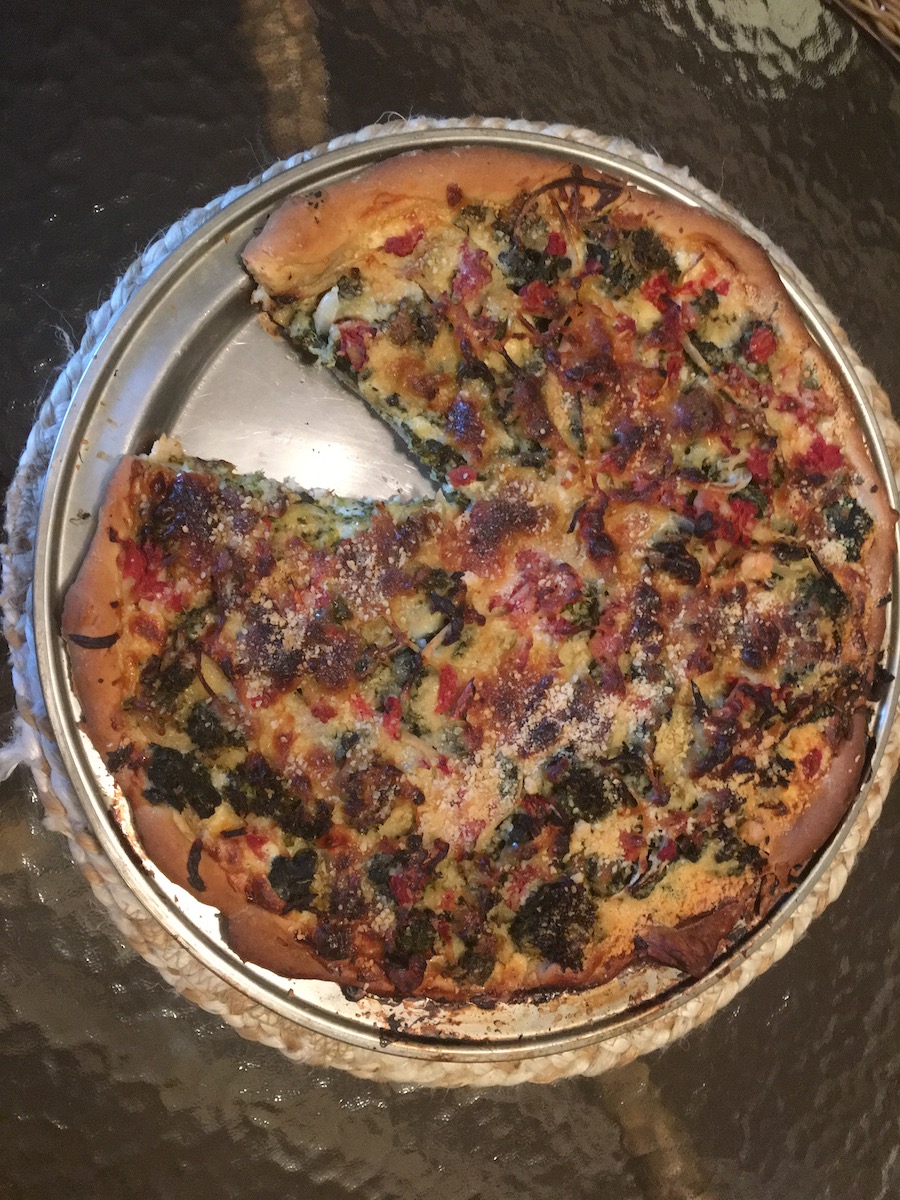 DIANE MADE MY FASTER NO KNEAD BREAD

"Thanks so much Jenny you have delighted me and my family with your wonderful recipes made simple. Attached is a photo of your crunchy bread. I used herbs, garlic, onion powder and parmesan cheese. So delicious our family favourite! I made all this bread in one day and gave it as Christmas gifts to my family. Merry Christmas Jenny ?"
~ All in one day? That is truly inspiring. Merry Christmas back to you! . ~ jenny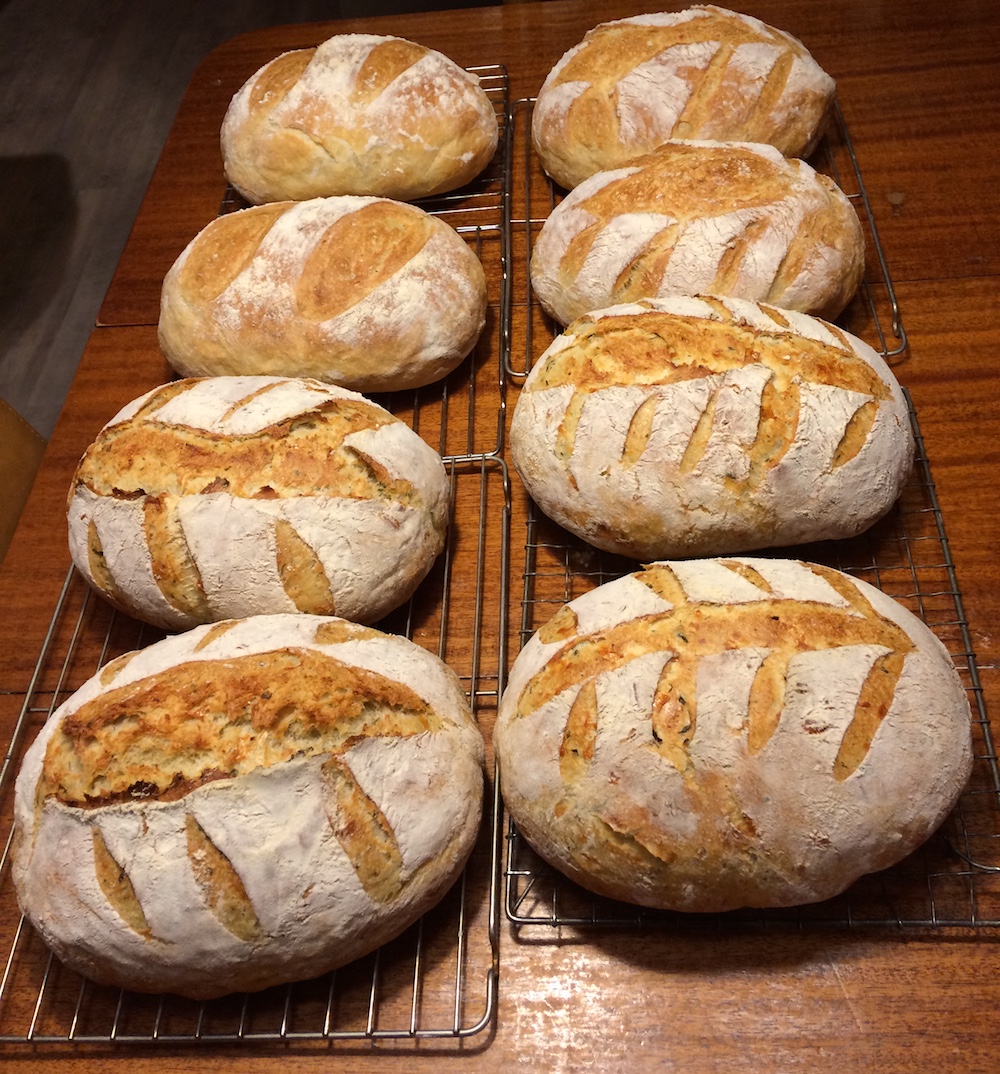 JODY MADE MY BRAIDED CINNAMON BREAD

"Look what I made!  It's amazing, Jenny!  I added a few ground pecans in the cinnamon mixture because Hubby likes nuts.  Thank you for another perfect recipe.  You're so nice."
~ Those tunnels look good! Thank you for your photo. ~ jenny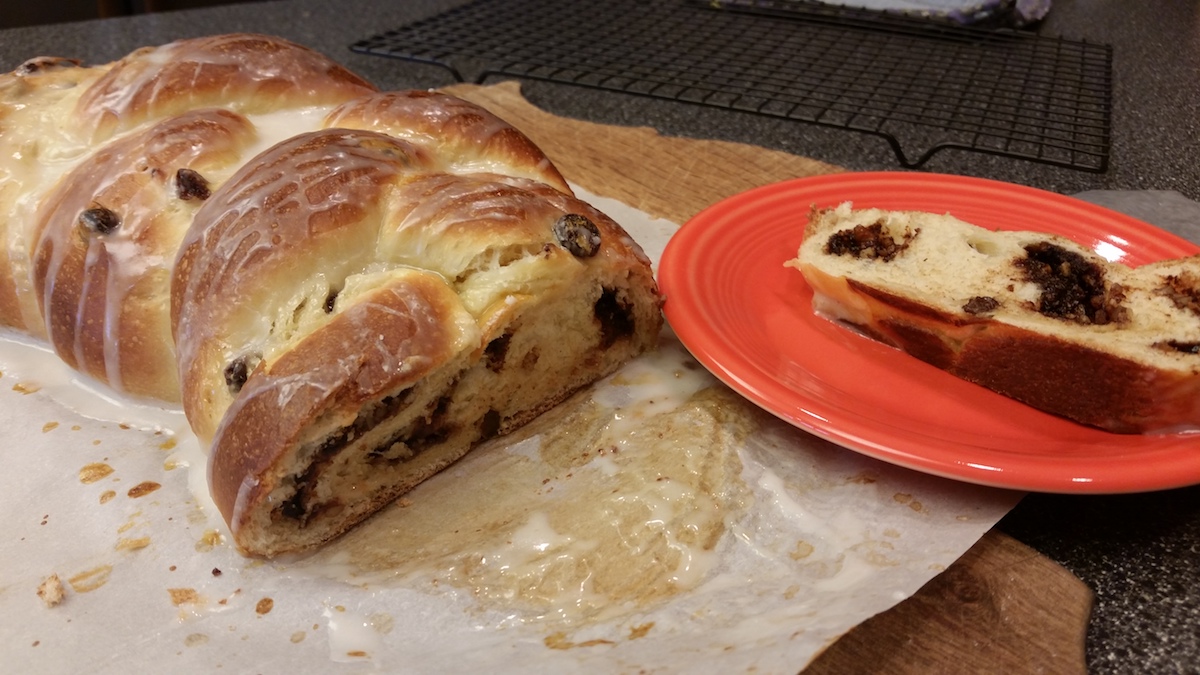 JACALYN MADE MY POLISH DONUTS & PIZZA

"Dear Jenny, Photos below of Polish Donuts with Blackberry Jam. The Pizza I have made twice. So good to have healthy recipes. Fat a Conscience Wonders! I have Crusty No Knead buns in! Busy day here Baked Apple Pie. Recording ?  Screenwriting a Funny True Life Comedy. Abram Band is always busy. Wishing you and yours a Blessed Merry Christmas ?  And a New Year pouring out Goodness  from All Directions ✨ Always Warm Regards, Jacalyn Perriello."
~ Thank you for the great photos – they both look wonderful! ~ jenny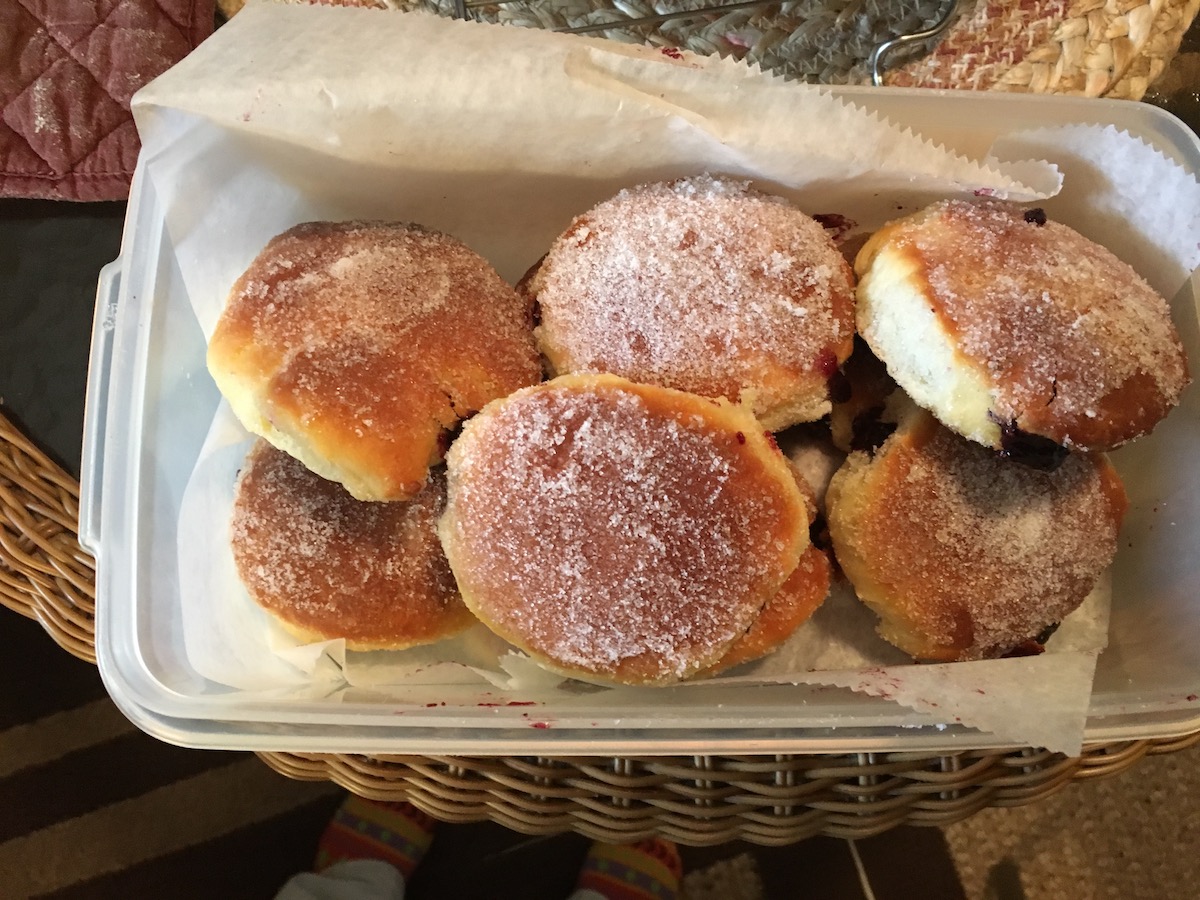 "Pepperoni, Turkey, Spinach, Onions, Tomatoes, Black Olive Pesto Pizza. Thank you ? So Much! Always Thankful."
JUDI MADE MY FASTER NO KNEAD BREAD

"My first attempt at making your faster no knead bread!"
~ Well that's a lot better than MY first attempt. Love the sesame seeds!" ~ jenny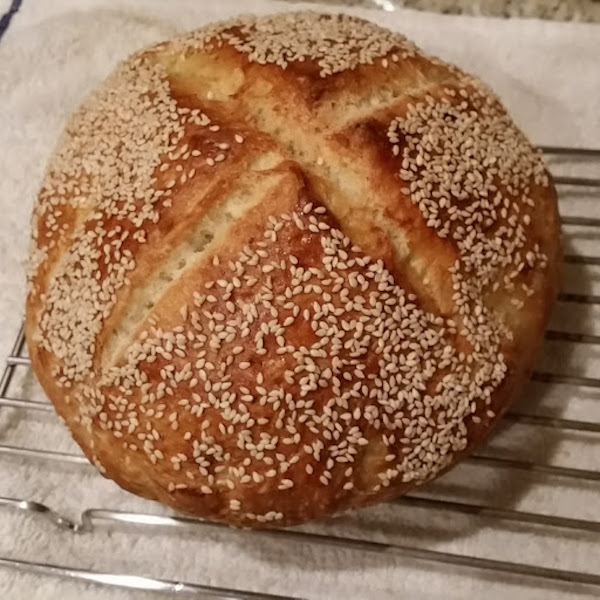 BUNNY MADE MY BUTTERMILK BISCUITS…

"Dear Jenny, I'm having a wonderful time trying your recipes as the snow continues to pile up outside. No running to the corner store for bread, thanks to you.  My newest adventure, hot buttery BISCUITS.   I followed your recipe for "Buttermilk Biscuits" to a T, with only a couple small adjustments.  Rather than rolling the dough out once, I folded the dough into 3rds, rolling it out twice more, to help create layers (like they do for puff pastry).  I raised the oven heat to 475 for extra spring, and put these 3 inch biscuits into the oven without any glaze.  Only after baking did I brush them with melted butter.
Oh my, OINK! OINK!  Everyone was pigging out on your wonderful biscuits.    (Next time, instead of using buttermilk, I think I will use milk and add pickle juice to it  — then stuff the baked biscuits with ham as a traveling sandwich).  Thank you for another great recipe, Jenny; and the applause of my family.  ~ Bunny in Chicago"
~ You're a creative baker. Thanks so much for sharing. ~ jenny
… AND MY SIMPLE WHITE BREAD (with egg)
"Dear Jenny, I love it when leftovers and recipes do double duty; so I wanted to share. (I hope you don't mind me sending you my variation). With a bit of leftover mashed potatoes, dried dill and dried minced onion, I turned your Simple White Bread (with egg) into one of those gourmet, sandwich breads.
First, I added 2 1/4 tsps. of dried dill to the dry ingredients in Step 1.  Then, I added 1 Tabl. of dried, minced onion to the milk in Step 2, letting the onions soak for a few mins, before warming the milk to the proper temperature in the microwave.  Then, just after Step 3, I added between 2/3 cup and 3/4 cup of microwave-warmed, leftover, mashed potatoes (prepared with milk and butter), to the dough and mixed it in well  before adding the final 1/4 cup of flour in step 4.
After baking, I brushed the loaf with melted butter and  let the bread completely cool before slicing. The wait was interminable, as I was pretty excited — never having made potato, onion or dill bread before.  It came out incredibly moist, tender and flavorful.  So delicious. The surface of the bread is not super smooth due to the minced onions, but worth adding them.  My loaf came out darker on top than your original Simple White Bread recipe , but brushing the top with butter makes it soft — just perfect for sandwiches.  (Perhaps I should have covered it with foil, earlier).   Thank you Jenny.  I wouldn't have had the nerve to try this if your Simple White Bread (with egg) recipe wasn't practically foolproof. ~ Bunny (in Chicago, IL)"
~ Your combination sounds delicious. Thanks for sharing the details for everyone. (Luv Chi-town!) ~ jenny