You're about to be surprised at how easy it is to make homemade pumpkin pie from scratch…. a really good pumpkin pie, too. Did I mention that mine is healthier since it has no butter or cream anywhere and the crust is made with olive oil? And it's delicious!
The filling is so simple with only four ingredients plus the spices. I use canned pumpkin and canned milk. Where other recipes use cream or condensed milk, I use 2% reduced fat condensed milk. And if you're considering using fresh pumpkin you should know that canned pumpkin has more vitamin A than fresh and all you have to do is open a can. I'm all about using fresh ingredients but not with pumpkin. Have you ever tried to cut one up for cooking? If you accomplish that, you can skip the gym that day.
I've struggled for years with pie crusts, trying to avoid shortening but butter was the only replacement and I didn't want all that saturated fat. Then I discovered oil pie crusts. They are so easy, so quick, and hard to mess up. This is a healthier pie crust because I use heart-healthy extra light olive oil and it could not be an easier. It's the same crust I use in my apple pie, chicken pot pie, and apple pie bars. It's the only crust I ever use.
When a pumpkin pie comes out of the oven, the smell of those wonderful spices is intoxicating. I use cinnamon, ginger, nutmeg, and cloves but I prefer Saigon cinnamon over the more common Ceylon cinnamon. The difference in flavor is huge so if you can find Saigon cinnamon (my brand is Spice Islands), it is a more fragrant and potent cinnamon.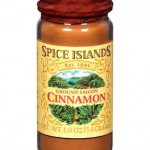 Don't be intimidated by homemade pie. Try my easy recipe for a healthier, easier pumpkin pie. Click here for the recipe. – Jenny Jones