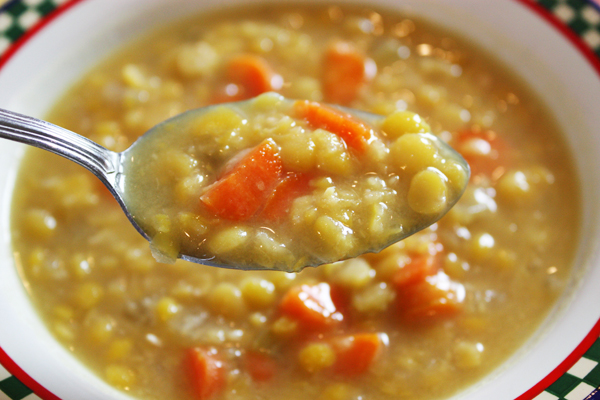 No ham hocks here. This soup is traditionally made with ham hocks but I think it's best to avoid the saturated fat and nitrates they contain so I don't use them. But my French Canadian pea soup is still plenty delicious. In fact, I don't even use stock… just plain water. This recipe is simple and uses ingredients it's easy to keep on hand plus my soup cooks in about 45 minutes instead of two to three hours that some recipes take.
Although I grew up in Canada, I had never heard of French Canadian pea soup. I come from Ontario and this soup is a Quebec specialty. I discovered it during a cruise we were taking through the maritime provinces of Canada. Our last stop was Quebec City and that's where I first discovered this hearty, delicious soup. I had been enjoying the cruise around the islands but not the food on the luxury ship. It was too fancy for me and not healthy at all with lots of flambeed things and sauces I didn't want. I missed my own cooking so much. I just wanted a big bowl of soup. I love soup.
While exploring Quebec City we found a small family restaurant with homemade soup on the menu and their specialty was pea soup. I couldn't get inside fast enough. I ordered the soup and as soon as I took the first bite I knew I had to make this when I got home. No truffle oil. No "foie de" whatever! It's peasant food. I love simple peasant food. It's what I think most people really enjoy eating and why I think so many seem to like my recipes.
Now that autumn is here, a thick and filling soup like this is perfect. Sometimes, it's all we have for a light dinner. And every time I make it, I remember that little restaurant in Quebec City with the homemade soup. As for any future cruises, I will only go when I can have a cabin with my own kitchen! Click here for the recipe. – Jenny Jones