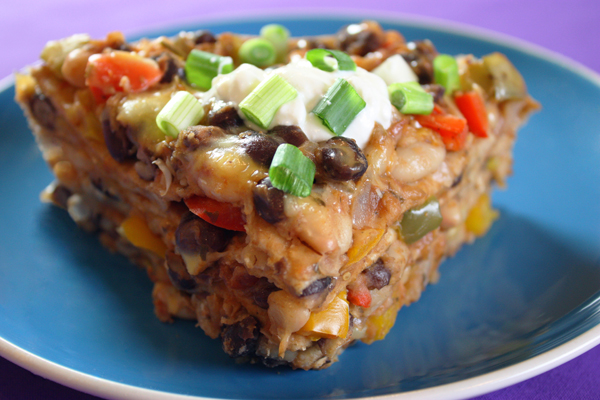 You only need a few basic ingredients to make this easy tortilla pie: whole wheat tortillas, canned beans, bottled salsa, peppers, and reduced fat cheese. Add some onions and garlic and this comes together pronto in a yummy, stick-to-the-ribs dinner the whole family will love.
Here's why I love my easy tortilla pie: It has two different kinds of beans, black and cannellini beans; It has three different colors of pepper – red, green and yellow; And it's made with whole wheat tortillas. Even if you aren't a fan of whole wheat tortillas, they become so soft when baked with my sauce and cheeses, you can eat this moist layered casserole with a spoon.
There's a recipe for tortilla pie in my original cookbook but this new recipe is simpler, faster, and healthier, not to mention even more delicious. This is an easy recipe to customize and make your own. If you like is spicy, be sure to include the jalapeño pepper and get a jar of spicy salsa. If you like it mild, you can leave out the jalapeño pepper altogether and replace it with extra bell pepper, or a milder Anaheim pepper, and use a mild salsa.
Here are a couple of brands I use in this recipe:
Tortillas – Trader Joe's Whole Wheat Tortillas
Salsa – Green Mountain Gringo from Whole Foods
I make my pie in an 8-inch round pyrex baking dish with tall sides and a glass lid. Sometimes I cut the tortillas to fit exactly into the baking pan and with this pan, the filling all stays inside and doesn't spill out. A lot of recipes use a springform pan and if you have one, that's the pan to use. You can also make this tortilla pie in any kind of pie pan, preferably deep dish. Some of the beans may spill out but who cares? Just make sure you cover it well with foil.
Nutritionally, this healthy meal is hard to beat. There is lots of fiber in the beans as well as the tortillas, and beans also provide calcium and protein. The colored peppers are full of antioxidants to help protect against diseases like heart disease and cancer. And if you make it spicy, spicy foods boost metabolism and that helps with weight loss. But the best reason of all to make this easy casserole is it's simply delicious. And it's meatless, too. Click here for the recipe. – Jenny Jones