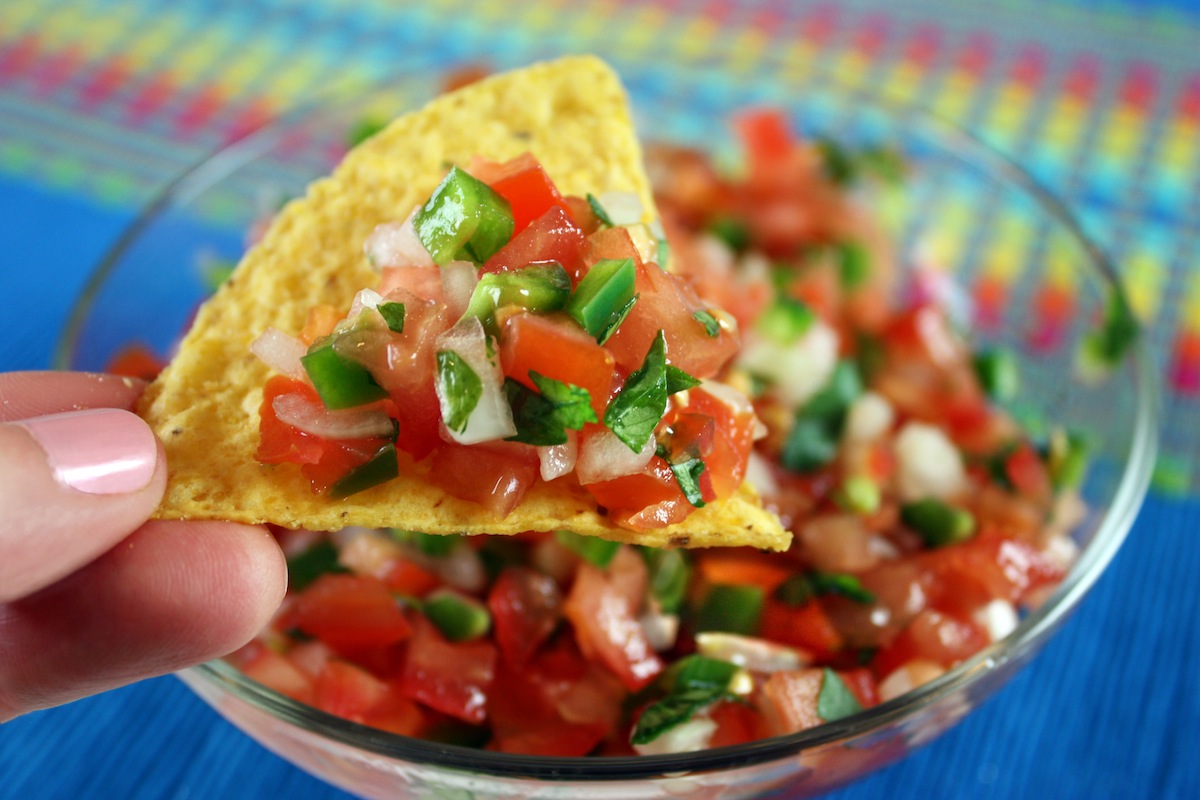 When I was growing up in Canada, there was no Mexican food. No Mexican restaurants, no Taco Bell… not even corn chips. All we knew was salmon sandwiches and cabbage rolls… and that weird jellied thing my dad used to make with pigs feet. The first time I went to a Mexican restaurant I was 20 years old and living in California. (there are a LOT of Mexican restaurants in Southern California!) And they always have salsa. You don't even have to ask for it. Sit down — there it is. Salsa on the table. And a bowl of tortilla chips usually arrives at the same time. It's supposed to be an appetizer, chips & salsa, but I can't stop eating it until someone takes it away.
It turns out that it's really easy to make fresh tomato salsa. They call it Pico de Gallo but I don't know why. It translates to "rooster's beak." You hardly need a recipe because even if you just eyeball the amounts, it will still be great. It's a simple recipe using only fresh ingredients (tomatoes, onions, jalapeño pepper & cilantro) In fact, feel free to use more or less of any ingredient or customize it with some fresh garlic or a spicier pepper like serrano.
It just takes a few minutes to make. Some people use the whole tomato including the seeds and juice but for me the result is a salsa with too much liquid. I prefer a more chunky salsa to I remove the seeds from the tomato first, then I dice tomato and drain it in a collander or strainer while I work on the other ingredients. And a word about tomatoes. They should not be refrigerated so if you want an amazing salsa, use fresh tomatoes that have not been refrigerated and serve the salsa right away. Oh, one more thing:  the seeds and insides of  jalapeño peppers are very spicy so don't handle them and then touch your eyes. In fact, it's good to use gloves to seed and chop them if you can. 
In case you have some left (I rarely do) you can refrigerate it for 2-3 days and it will still be good, but more like the kind you buy in a jar. If you like Mexican food, try my salsa. If you don't like Mexican food, try my salsa anyway. Es muy buena! Click here for the recipe. Haga aqui para la receta. – Jenny Jones