I love ❤️ love ❤️ love ❤️ this easy and healthy dinner. It's a lot of vegetables but there is never one bite left when I make my sheet pan chicken and veggies. There are so many health benefits from this colorful variety of vegetables but you can use some of mine and add your own favorites. I used to put the chicken and veggies all on a bare pan but the chicken made a big hard-to-clean mess so now I put the chicken only on parchment paper. (the veggies will brown better on a bare pan).
I just cut a strip of parchment paper 4 by 10-inches long and place it at the far end of the pan.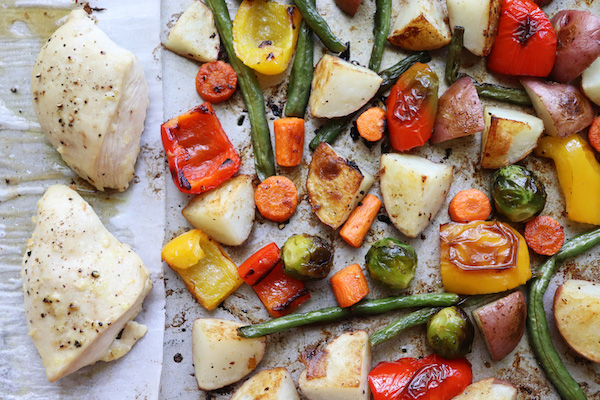 Stirring the vegetables is key so they won't stick. Instead of setting my timer for 25 minutes, I set it for 10 minutes, remove the pan to stir all the veggies, put it back and set the timer for another 10 minutes. I stir a second time and set the timer for the last 5 minutes. By cutting the chicken into two pieces, this dinner is ready to serve as soon as it's done.
Since I'm cooking every day, I find myself looking for easier and faster ways to make a healthy meal and I make this one often because there's not much to do once it's in the oven. (more time to decide on what's for dessert – today it's peanut butter cookies, those easy ones made without flour 😋) I digressed. Back to my easy, healthy and so delicious sheet pan chicken dinner. Click here for the recipe. – jenny jones
p.s. I am now making my own peanut butter – – game changer! I will share it soon… Stay well,  my fellow cooks!! ❤️