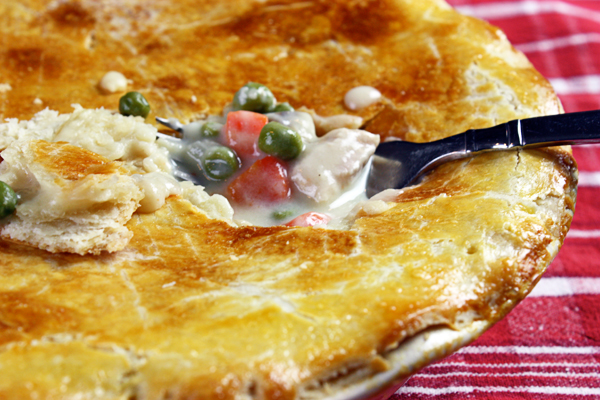 If no one was looking, I really think I could eat this whole chicken pot pie myself… in one sitting. I love comfort foods so much and when it's healthy and this good, then stand back and give me a big fork!
Chicken pot pie is an American classic and homemade is the only way to go. This recipe makes it so easy to have one of the best comfort foods you'll ever have. Most pot pies are made with butter and cream in the filling plus butter or shortening in the crust and don't even get me started on puff pastry – just look at the ingredients!
My recipe has no cream and no butter anywhere. The filling is rich and creamy and the crust is light and flaky (it's made with olive oil). The whole thing takes an hour to make, start-to-finish, and that includes prep. Well… except you have to let it sit for 15 minutes before serving – just enough time to make a salad.
The prep is pretty easy. Besides the lean chicken breasts, you'll need to chop carrots, celery, and onion. The peas are frozen and thawed and I use store-bought chicken stock. I hope this easy recipe becomes a family favorite for anyone looking for a healthy, easy meal made from scratch. Make it once and I know you'll make it again. Click here for the recipe. – Jenny Jones