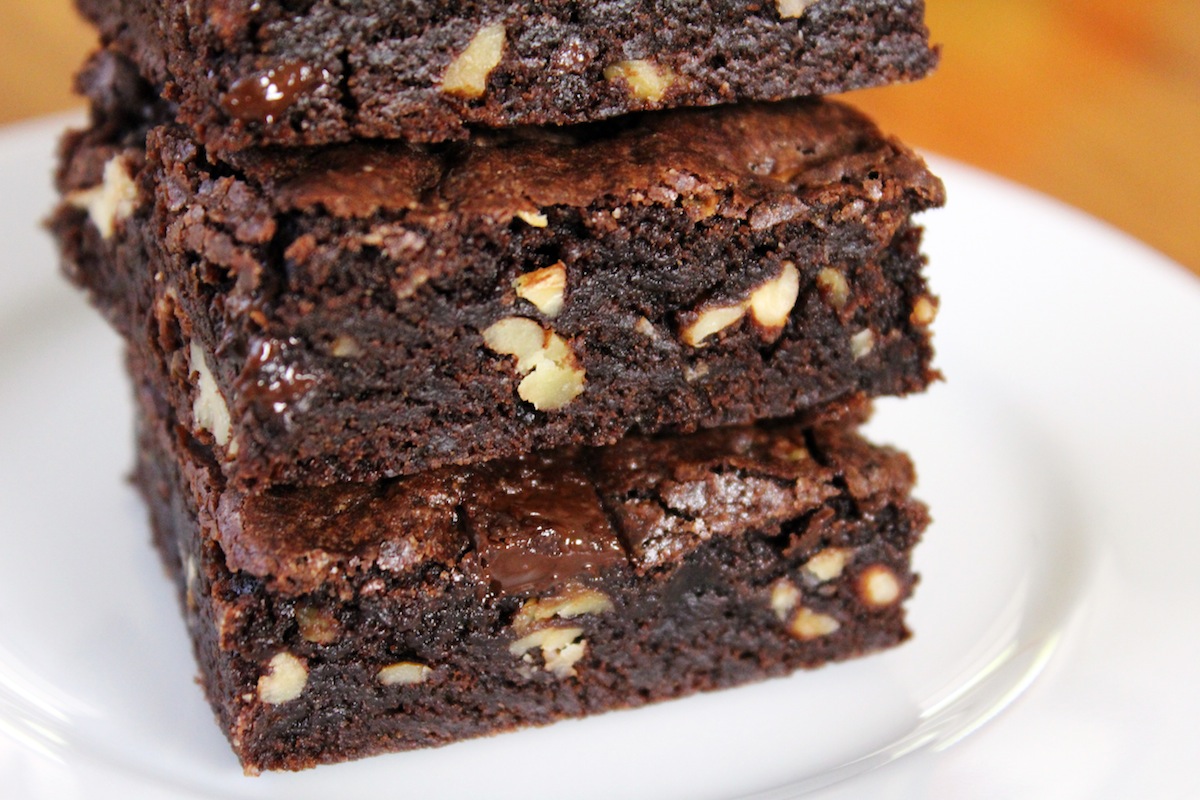 When they say dark chocolate is good for you they mean dark. Like 70% dark. So that's what I put in my easy fudge brownies. I start by melting a dark chocolate bar and it makes the most intense brownie! With no butter!  And wait 'til you see how easy this recipe is. Dark chocolate bars are available in most grocery stores and they sell them at World Market (they're cheaper there). To get health benefits, it should have at least 70% cacao.You can find bars from 68 to 72% that will work great but I try to keep it at 70-72%. I've used Scharffen Berger and World Market brand and there's no difference in the end result.
Here is what I learned making these delicious brownies: You do not need butter to make rich-tasting, gooey, fudgy brownies and baking without butter is always my priority. (You can use melted butter in place of the oil if you like) I  did a taste test at home and asked my man to try one that had butter and one without and he could not tell the difference. Besides making desserts without butter I always try to use whole grains when possible but that did not work here. I tried and was hopeful but they turned to mush.
So the best I can do is no butter and lots of heart-healthy dark chocolate. Most brownie recipes use a stick or two of butter so if you need a brownie, this one is a better choice than one loaded with saturated fat. My recipe uses extra light olive oil instead of butter but you can use any vegetable oil you choose. And the nuts are optional but nuts are nutritious and full of protein and healthy fats so include them if you can. And toast them first – what a difference! The extra chocolate chips, well… that's up to you and the darker the better.
One thing about melting chocolate: Chocolate is delicate and burns easily so I melt it in a saucepan but with oil added and over very low heat so it doesn't burn. It takes about 2-3 minutes to melt but needs to be stirred because chocolate tends to hold its shape when melted and you might not know it's ready until you stir it. The other options for melting are the microwave (which I have never done) and a double boiler (too much trouble).
This is the second brownie recipe I've posted. The other whole wheat brownie is not as fudgy but still nice & chewy and also made without butter, but it's 100% whole wheat. Both my brownies are easy to make but this simple recipe is good for beginners because it uses just a few ingredients and no mixer is needed. In fact, this batter should only be mixed by hand and not over-mixed.  Oh, and don't over bake the brownies! They should feel a little soft in the center when they're done so don't bake any longer than 20 minutes! Okay, that's all. Click here for the recipe. – Jenny Jones