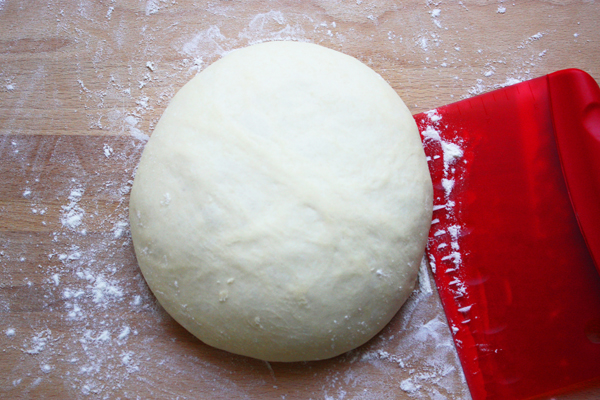 What do we want? Pizza! When do we want it? Now! Homemade pizza is easier (and faster) than you think. It used to take hours to knead and rise the dough but not any more. My quick & easy pizza dough is made from scratch and is ready to use in less than 20 minutes. I takes longer to heat up the oven but that's okay because the dough can continue to rest until the oven heats up… or the grill. Yes! I have made pizza on the grill, on a pizza stone on the grill, in the oven on a stone, in the oven on a pan with holes, and even in a cast iron skillet on the stove. You can see that a pizza lover like myself needed to find a way to make pizza dough as quick and easy as possible. And I have.
This recipe is flexible too. You can use either bread flour or all-purpose flour. The difference is subtle but I find the crust a little crispier with the bread flour. And… you can use either instant yeast or regular active yeast, the only difference being the temperature of the water. If you read the package of yeast you'll see that instant yeast calls for hotter water (120° F) while active dry yeast requires water at 110° F. Did I say flexible? There's even more. Once you put this dough together, you can also choose to let it rest for an hour or more. It will puff up and double in size. Or… (wait for it)… you can refrigerate it for pizza the next day, or the next 2 or 3 days. Refrigerating pizza dough does result in a better crust but I don't always plan my dinners ahead. Here's my typical pizza-making schedule:
An hour before dinner, I preheat the oven. Then I put the dough together and let it rest. While I wait for the oven I prepare my toppings and make a salad. I shred my own cheese because the pre-shredded kind does not melt the same. I slice toppings and try to remove some of their moisture for a crispy pizza. Once the salad is made, I roll the dough, put on the toppings, and put the pizza in the oven, which has had time to heat up by now. (don't put pizza in until the oven is hot enough) While the pizza cooks, we have our salad. As soon as we finish the salad, the pizza is done, hot, crispy, and ready to eat.
I seriously don't know anyone who doesn't like pizza. And once you start making quick and easy pizza at home you will never want to get delivery again. It simply will never compare. Besides, you can make your own pizza healthier, with reduced fat cheese, healthy toppings, and a crust the way you like it. Thin crust? Just roll it thinner and make two. I hope this easy recipe motivates more people to make healthier and faster pizza at home.
UPDATE (June 17, 2020) Since posting this recipe I find myself more often refrigerating the dough overnight. The flavor does get better with time and the edges of the crust seem to puff up more when it cooks. My favorite method these days is using a wooden paddle and pizza stone. But no matter what, any kind of homemade pizza is the best! ?
Click here for the recipe. – Jenny Jones