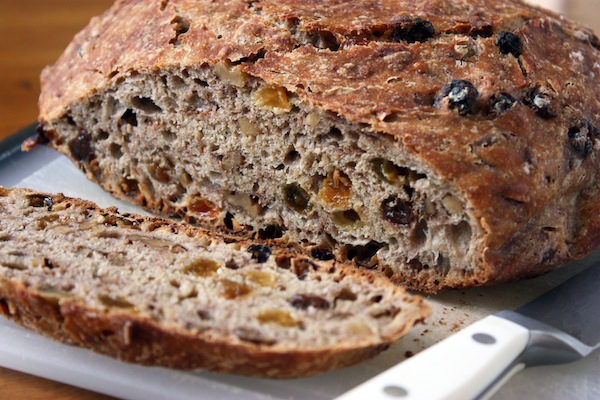 Today is Sunday and it's raining. I'm staying inside so I can play… in the kitchen. Actually, I do that every Sunday, and almost every other day, too. This morning I made tortillas for the week and for breakfast I made my turkey breakfast patties with scrambled eggs and my no-knead whole wheat fruit & nut bread on the side. I love this bread! When it was fresh out of the oven I ate the heel and two more slices. Think what you want – I don't care! 🙂 It was delicious and I loved it.
The times I can't seem to stop eating something is when it's fresh out of the oven. Now tomorrow, I will be able to eat just one slice (at a time) – just kidding – I WILL have some self control tomorrow. I baked the bread using the overnight method with cold water and the mixture of whole wheat flour and bread flour was perfect. The crust was fabulously crunchy and the inside, with 2 kinds of raisins and walnuts, was soft and chewy.
So that was breakfast. Then for dinner my skinless chicken thighs (thighs & fries) with asparagus are already in the oven, oh and I'm making a salad. We have a salad just about every day and there is no meal around here without a cooked vegetable as well. Then we're having everyday cookies for dessert (the cookies were already made).
If I get bored watching the Academy Awards tonight, I'll probably go in the kitchen and make breadsticks. …just sharing… – Jenny Jones