It's really fun to see how my recipes turn out all over the world.  I hope you'll share where you are from and please send your photo to: YourPhotos@JennyCanCook.com
NERMINA MADE MY NO KNEAD BREAD & BREADSTICKS
"Dear Jenny, I love watching your videos.You make cooking and baking seem so simple and easy.I made many of your recipes and they all turn out. Attached is a photo of a no knead bread which I make at least twice a week! It is our favorite! I also made your Sesame Seed Breadsticks. They disappeared very quickly. Thank you so much for sharing your amazing recipes! Greetings from New Jersey, USA ~ Nermina."
~ Thanks  for the photo. If you're making it twice a week, no wonder it looks so good. ~ jenny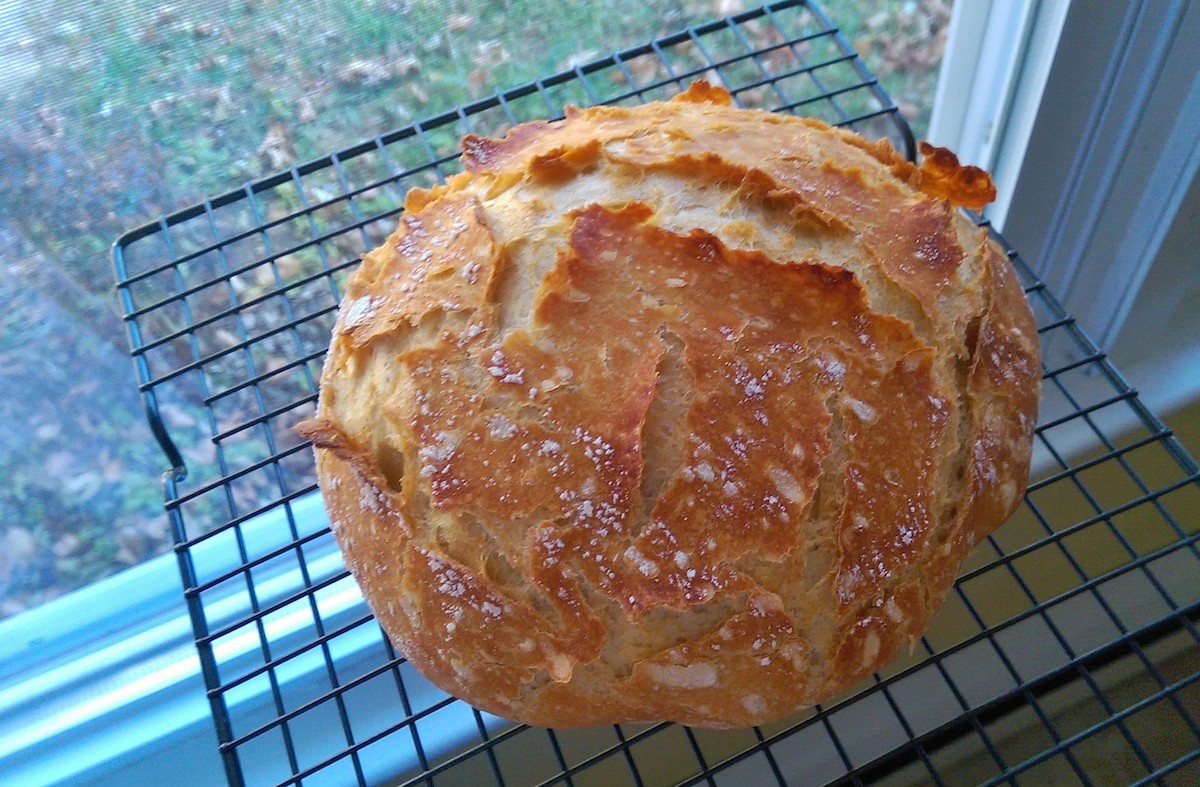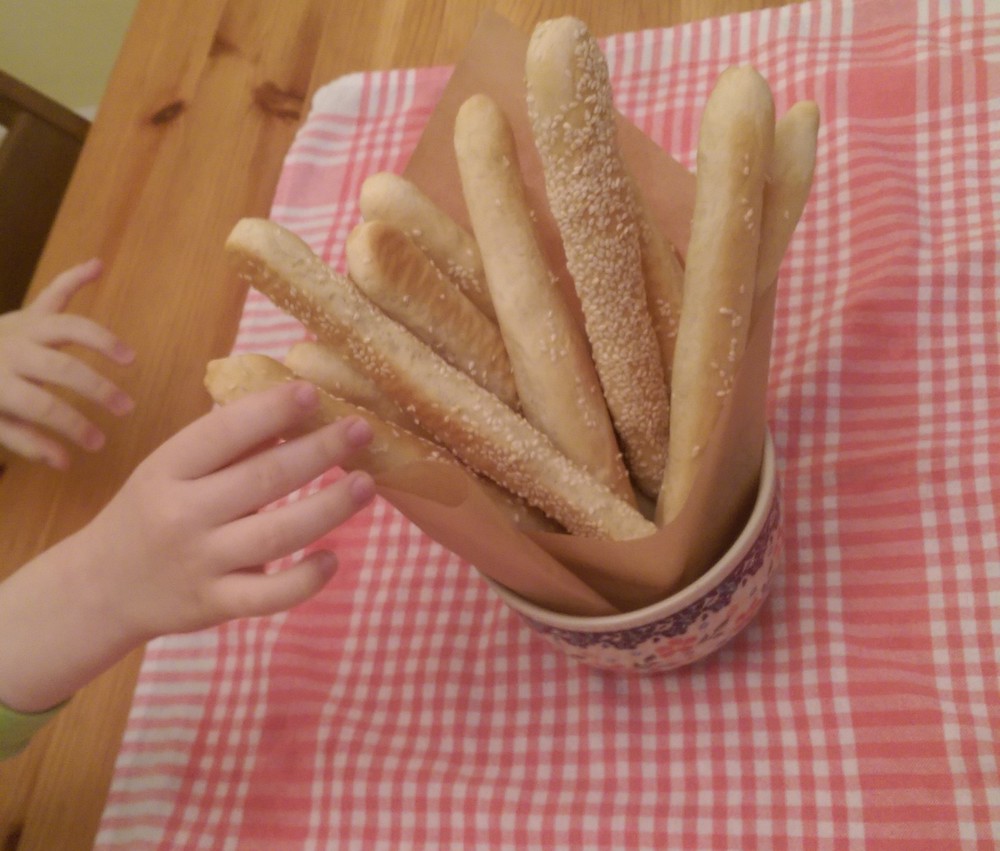 DALILA MADE MY WHOLE WHEAT APPLE MUFFINS WITH PINEAPPLE
"Good morning Jenny, ? I made your WHOLE WHEAT APPLE MUFFINS recipe using pineapple instead of apples. I ran out of apples using your recipe for apple pie. I made pies like crazy for Thanksgiving to give away to friends. Just letting you know that your pie recipe was a hit for them too!! So I decided I'd like to try your muffin recipe with pineapple pieces. They came out DELICIOUS, so tasty with a wonderful crunchy topping. I really do enjoy baking with whole wheat pastry flour, excellent results. Another winning recipe Ms. Jenny, THANK YOU!! Happy Baking! ?"
~ This is a novel idea using pineapple and sounds very tasty. Thank you for sharing. ~ jenny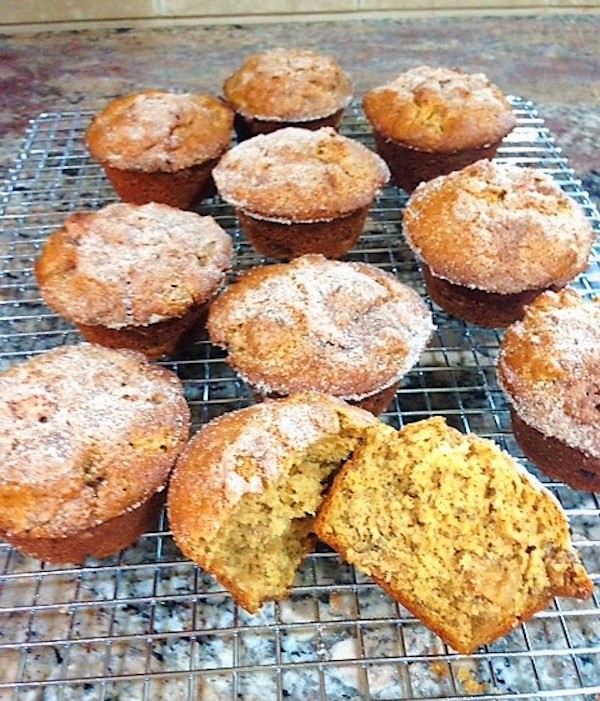 BUNNY MADE MY SIMPLE WHITE BREAD (with egg) into ROLLS
"Hey Jenny,  Your Simple White Bread (with Egg) recipe formed into dinner rolls made me look like a rock star this Thanksgiving.
*  For maximum rise, I used bread flour and scalded the milk (to de-activate the protease enzyme). *  I used the full 2 Tabl. of sugar for extra flavor.  *  I buttered the bottom of a 9 x 13 pan before putting the rolls in.   (Next time I will use parchment on the bottom, as they stuck just a little bit coming out of that glass pan.)  *  For extra lightness, I let the rolls rise an extra 20 mins.   *  I also glazed the rolls with 1 large egg and 1 Tablespoon of water just before baking for a little extra browning and shine.
Wow, looked like they came from a bakery and were so delicious.  Soft, tender, and moist.  For those making rolls, I suggest they remove the rolls out of the pan within 5 mins. of baking so the residual heat from the pan will not dry out the rolls. That's what I always do.   Once the pan is cool, you can simply slide the rolls back into the baking pan for transporting or serving. I can't wait to experiment and try these with buttermilk, herbs, cheese or rye flour, etc.  Thanks again, Bunny."
~ This is great information for other cooks. Thanks so much for sharing so much detail. The rolls look fabulous! ~ jenny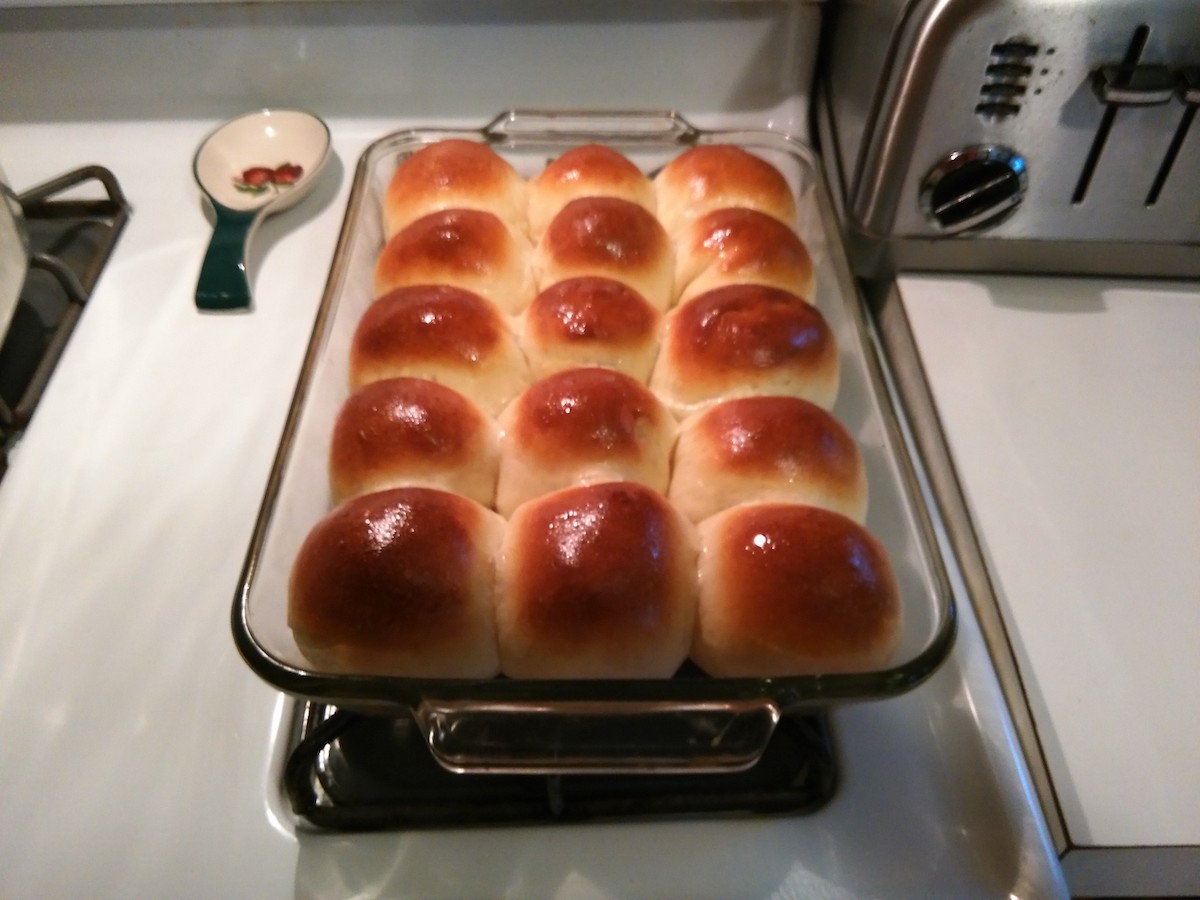 PAUL'S 11-Year Old Daughter OLIVIA MADE MY DUTCH BABY PANCAKE
"Hello again Jenny. My now 11 yr old daughter Olivia wanted to try a "Dutch Baby", I helped with the very hot pan but otherwise all her own work. Very good it was too! ~ All the best from the UK."
~ Olivia, you're an inspiration to other young people and I'm really impressed with your cooking skills. Keep up the good work! ~ jenny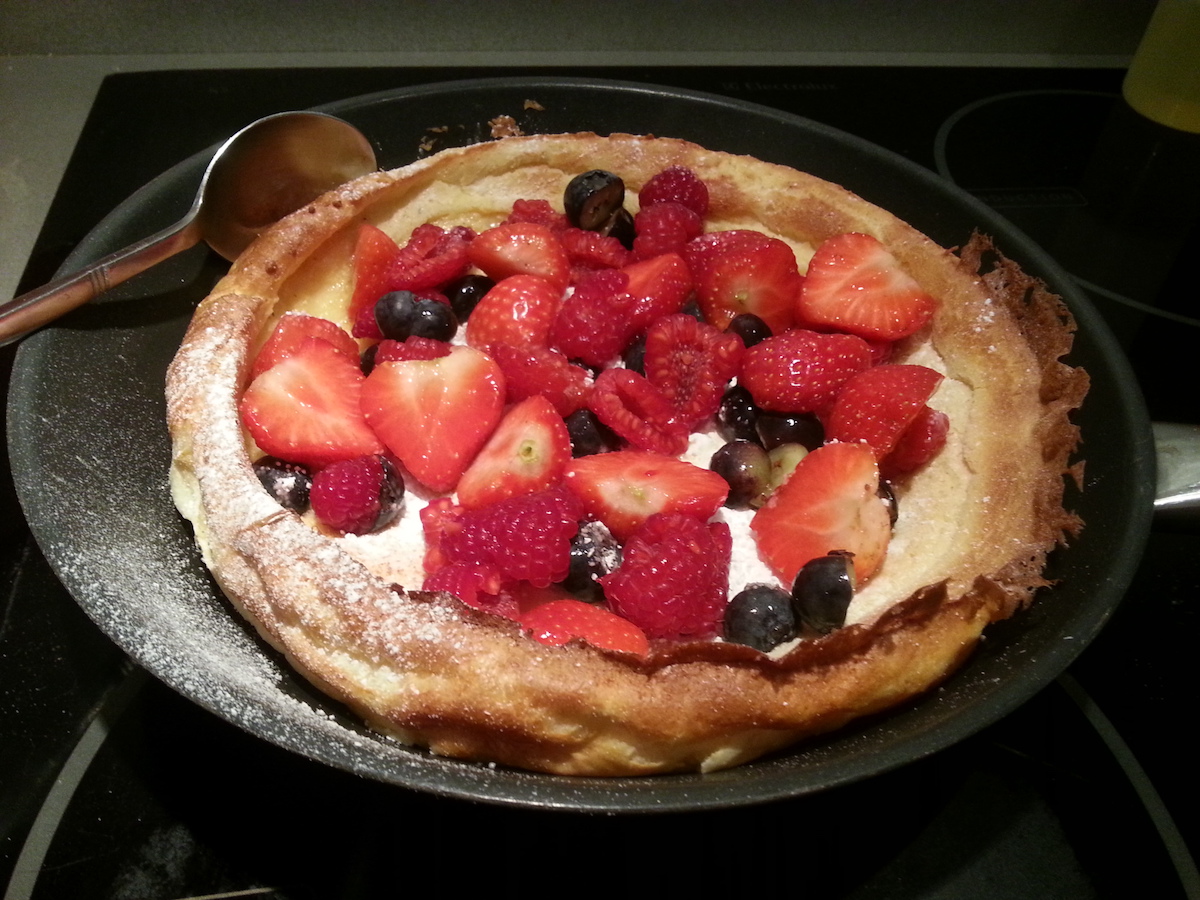 DALILA MADE MY CHICKEN SOUP, BANANA MUFFINS & WHOLE WHEAT PANCAKES
"Hi Jenny, I made three of your recipes and they came out wonderful!! I mainly like your recipes because they're not difficult for me. Besides not hard to make, they're also healthier…..YAY YOU!!  I HATE recipes that have 25 steps and ingredients that are hard to find. You sure do make my time in the kitchen fun, THANK YOU!! ? I made your CHICKEN NOODLE SOUP, CRUNCHY OATMEAL BANANA MUFFINS and  your WHOLE WHEAT PANCAKES using bananas instead of apples. Happy Cooking & Baking!!"
~ I'm glad to know you're enjoying so many of my recipes. Thank you for sharing. ~ jenny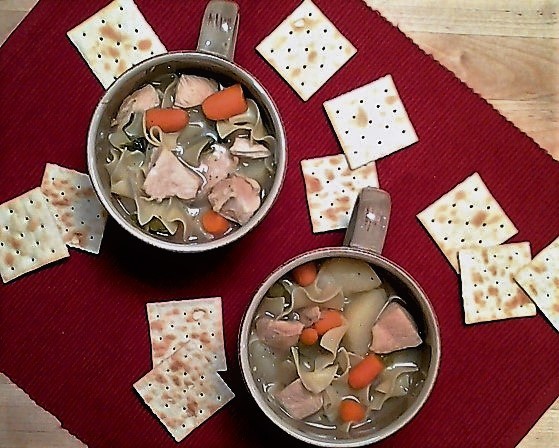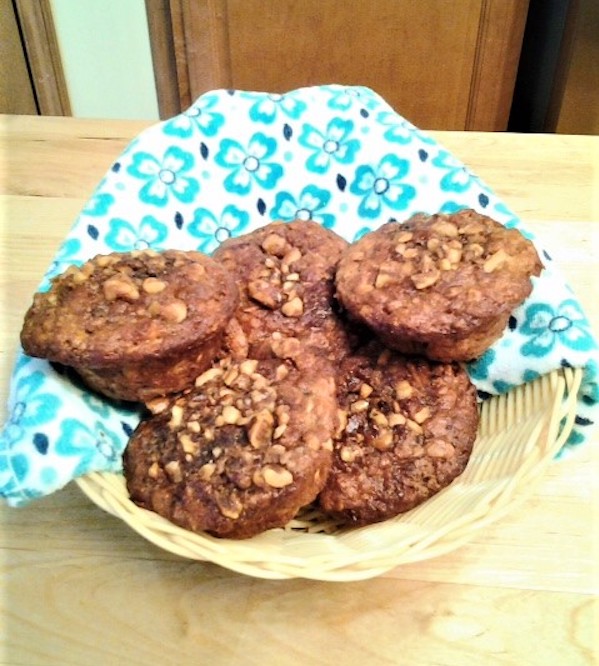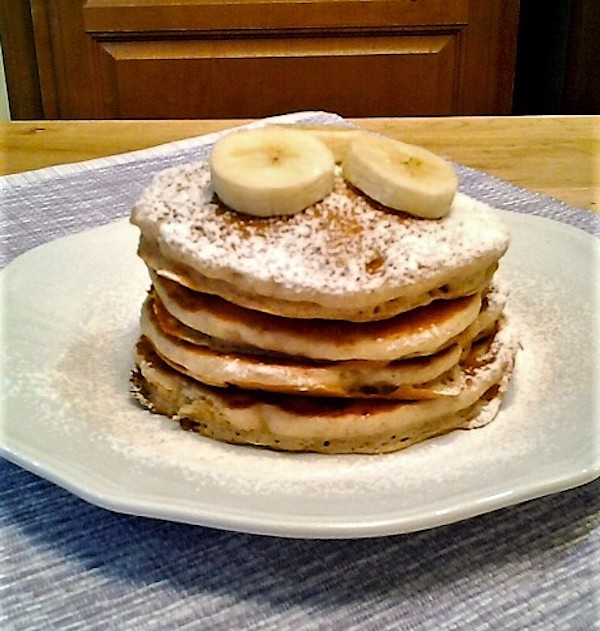 ELLEN MADE MY MARBLE LOAF CAKE
"Can't wait to try my next recipe from your collection. I already ate half the cake in just a few hours!"
~ I love this marble cake with a cup of green tea. Thanks for the photo! ~ jenny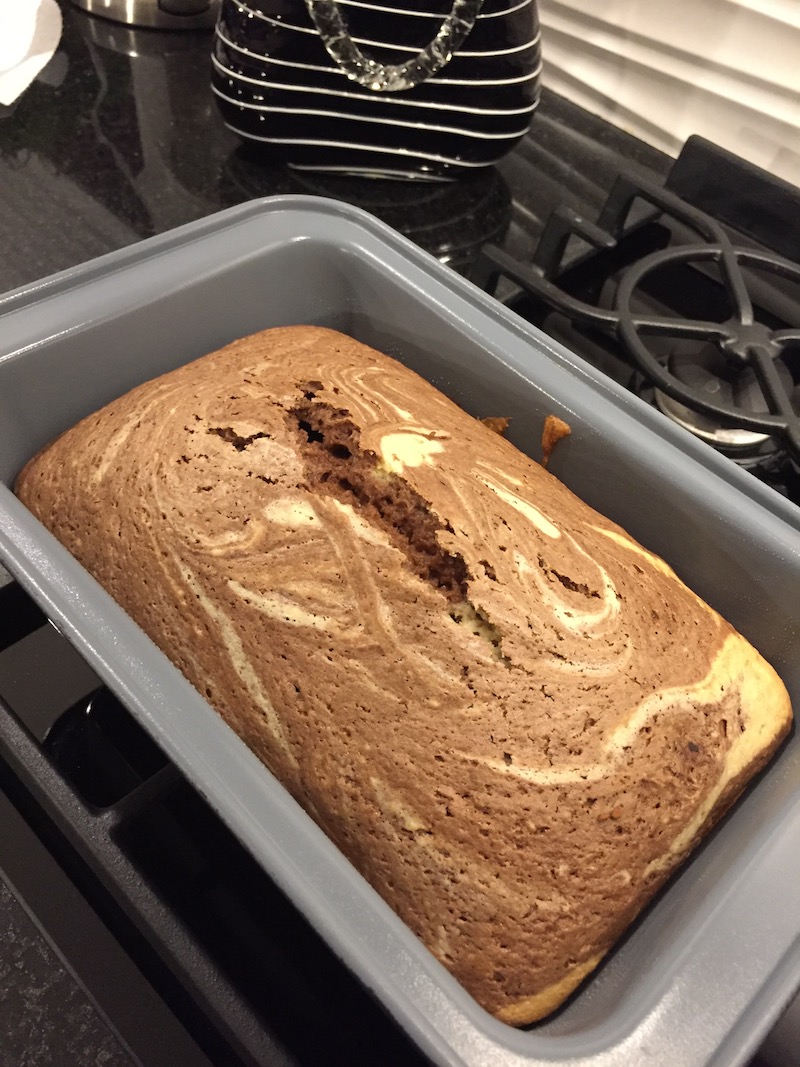 BETH'S LAST PIECE OF ONE BOWL CHOCOLATE CAKE
"Last night, my Army husband enjoyed the last piece of the Veterans Day cake I made for him over the weekend. He's asked me–practically begged me!–to please make this cake again soon, and I definitely will. This cake is a winner! ~ Beth in San Diego, California."
~ I get the same request here at home. "Please make that chocolate cake again. ~ jenny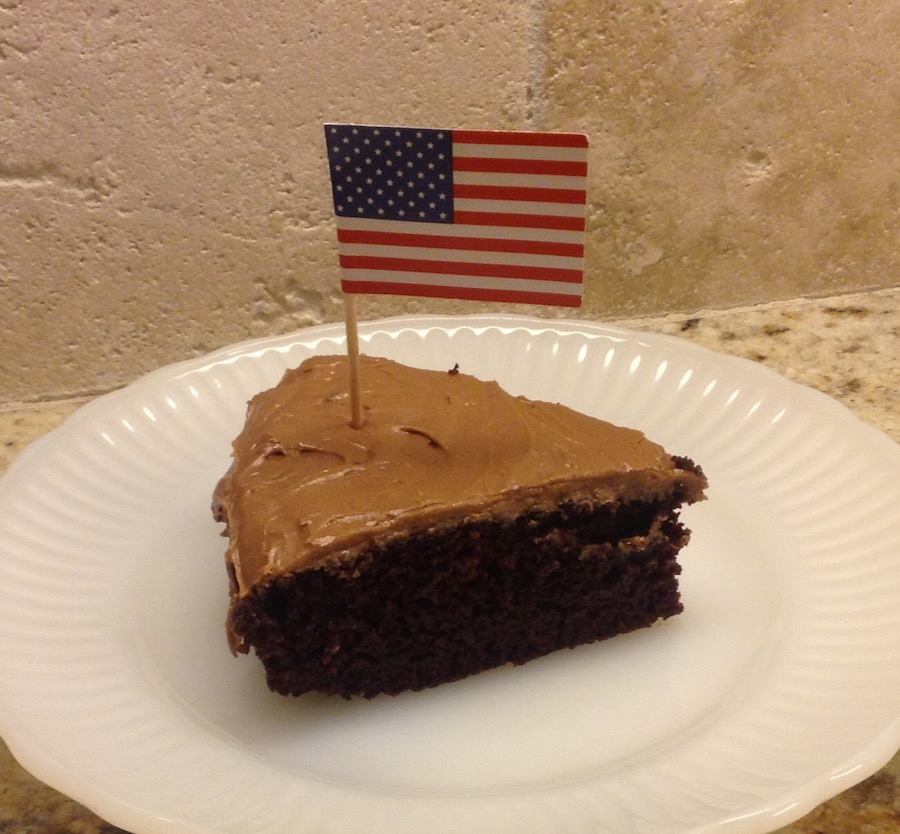 MARGARET MADE MY APPLE PIE
"Just happened upon your recipe on You Tube -gave it a try , and it was fantastic! Easy as PIe to make. LOL! Never thought about making an olive oil crust. I was pleasantly surprised . Yours looked much better of course , but this tasted great.  Tapioca and all!"
~ Actually, yours look way better than mine but more importantly, I'm glad it tasted good. Thanks for the pretty photo. ~ jenny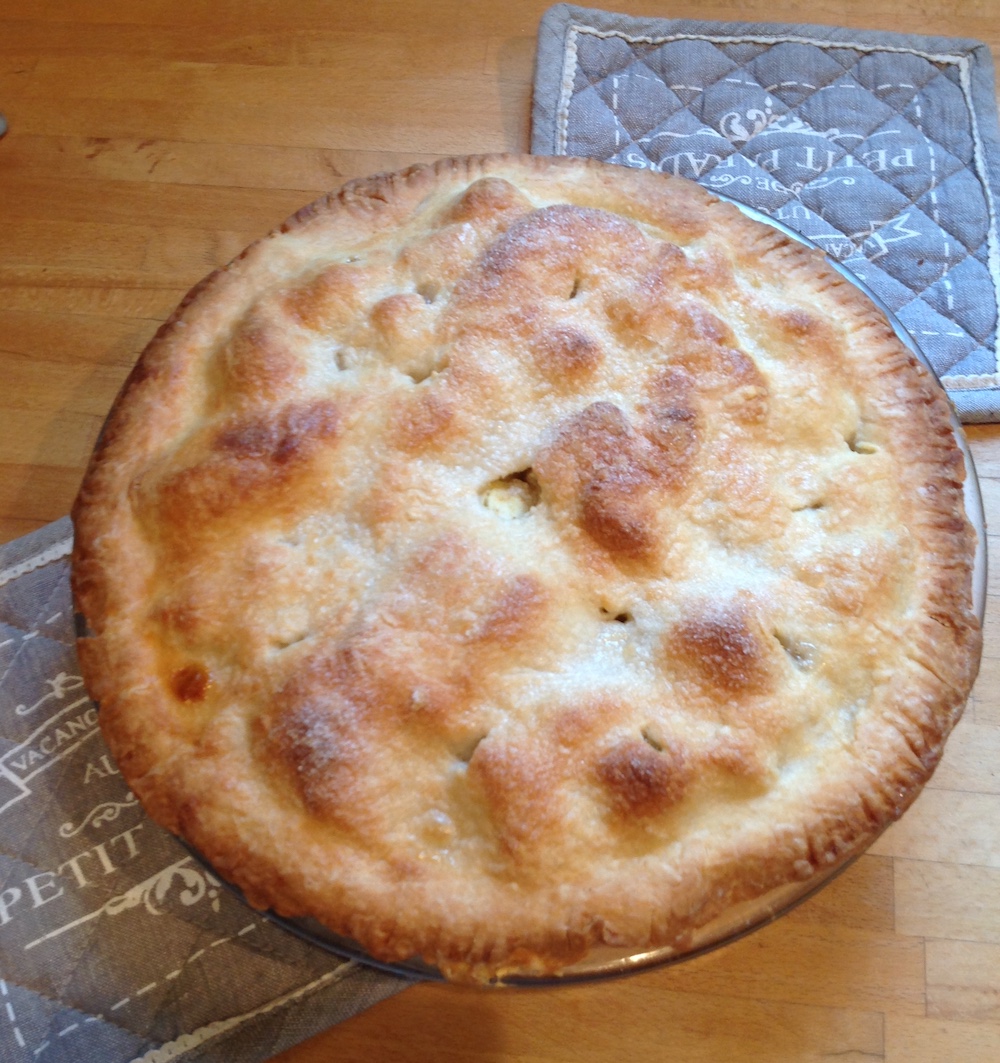 ALTAKLEH MADE MY EASY ONE BOWL YELLOW CAKE
"Hello I'm from BC Canada. I like your recipes. I tried the yellow cake recipe but added cocoa to half the mixture and made zebra cake. Looked awesome tasted delicious and the kids loved it. Tasted good warm and really good the next day as it gets cold."
~ I love this! Please add a comment below on how you did the zebra effect so others can try it, including me! Thank you.  ~ jenny
BETH MADE MY EASY ONE BOWL CHOCOLATE CAKE for VETERANS DAY (Nov. 11)
"I decided my husband, an Army doctor and military veteran, deserved a special dessert on Veterans Day, so this evening I surprised him with…<drumroll>… an Easy One Bowl Chocolate Cake! Decorated it with a few American flag toothpicks, and–voila!–I had the perfect patriotic dessert for hubby. Thank you, David, for your service… thank you, Jenny, for this wonderful recipe… and thank you to all the veterans out there who may be reading this. I salute you."
~ What a perfect treat for Veterans Day. I have much appreciation for your husband's and all veterans' service to our country.  ~ jenny
SHERRY MADE MY FALL-OFF-THE-BONE RIBS
"Hi Jenny, I have recently found your recipe videos!  You are so much fun to watch and I LOVE your teaching style!  If I understand correctly you are stepping back from it all.  But so thankful to have your site and look forward to making as many of your recipes as possible.  Married 35 years and I am just now learning to cook!  My family loves your Rib recipe!!!  Thank you for sharing your talents!!! Gods Blessings upon you and your family! ~ Sherri Smith, Ft. Worth, Texas."
~ Learning to cook will bring you many health benefits. I'm happy my recipes can help. ~ jenny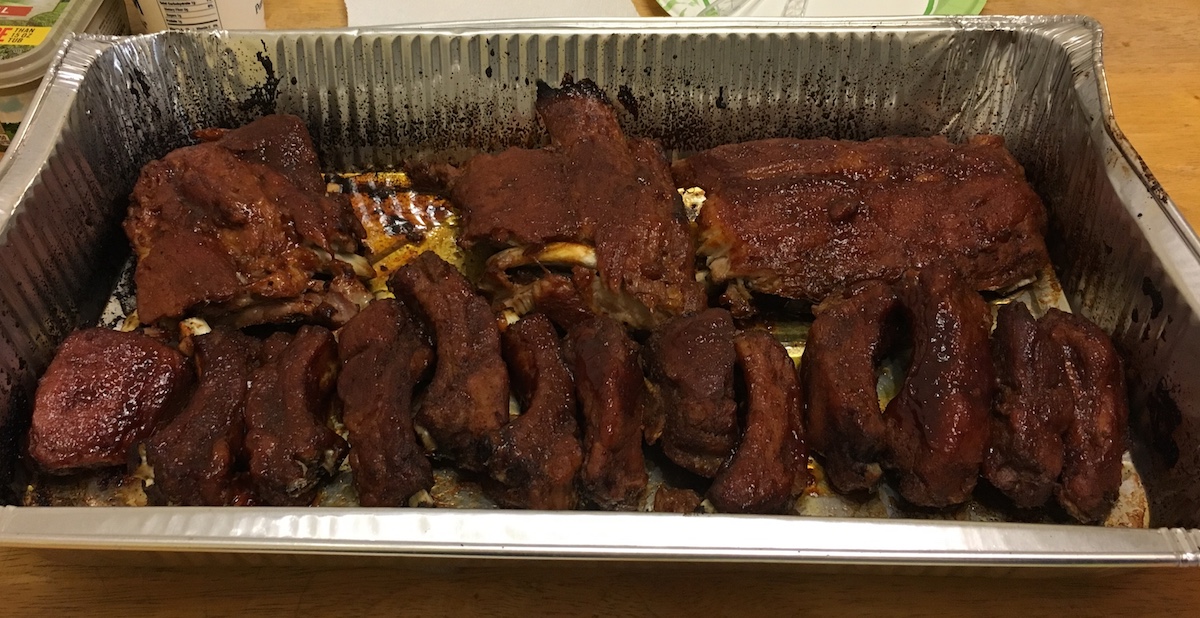 BUNNY MADE MY SIMPLE WHITE BREAD
"Hi Jenny, I LOVE your recipe for "Simple White Bread."  The 2nd Tablespoon of sugar gave it such a wonderful flavor.  Not sweet, just delicious.  Furthermore, after covering the loaf with foil after the first 15 mins. of baking, my loaf came out golden brown from top to bottom.  My yeast was 2 years old, so I used 2 1/4 tsps. of instant yeast, and let the bread rise for about an hour.  The result, a beautiful rise without any unsightly air holes.  It looked so good, I could barely wait to taste it or get busy baking another loaf.  I also added 3/4 of a Tablespoon of granular lecithin to the wet ingredients, so my loaf would stay fresh longer (However, I have a feeling my bread won't last long). When the loaf came out of the oven, I immediately turned it out, then brushed it with melted butter.  It improved the appearance a bit and gave me that perfect crust for sandwich bread.  Next time, I may use an egg white wash to give the top some sheen. Anyway, thank you for a great recipe I will use again and again. I've included photos of my effort, below."
~ Thank you so much. Brushing the loaf with butter is a great idea. ~ jenny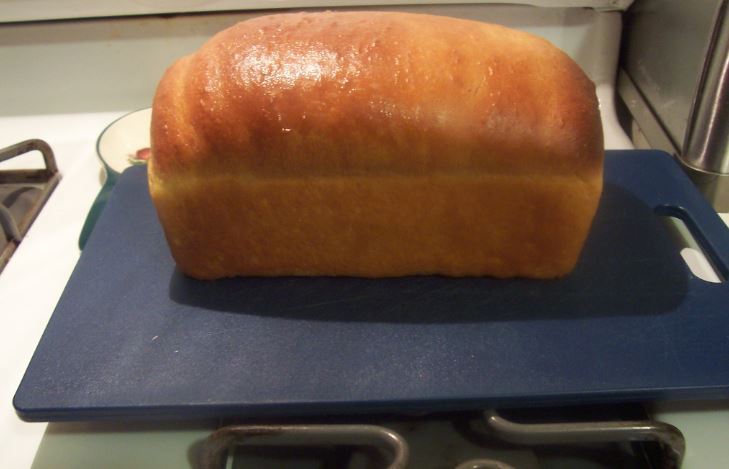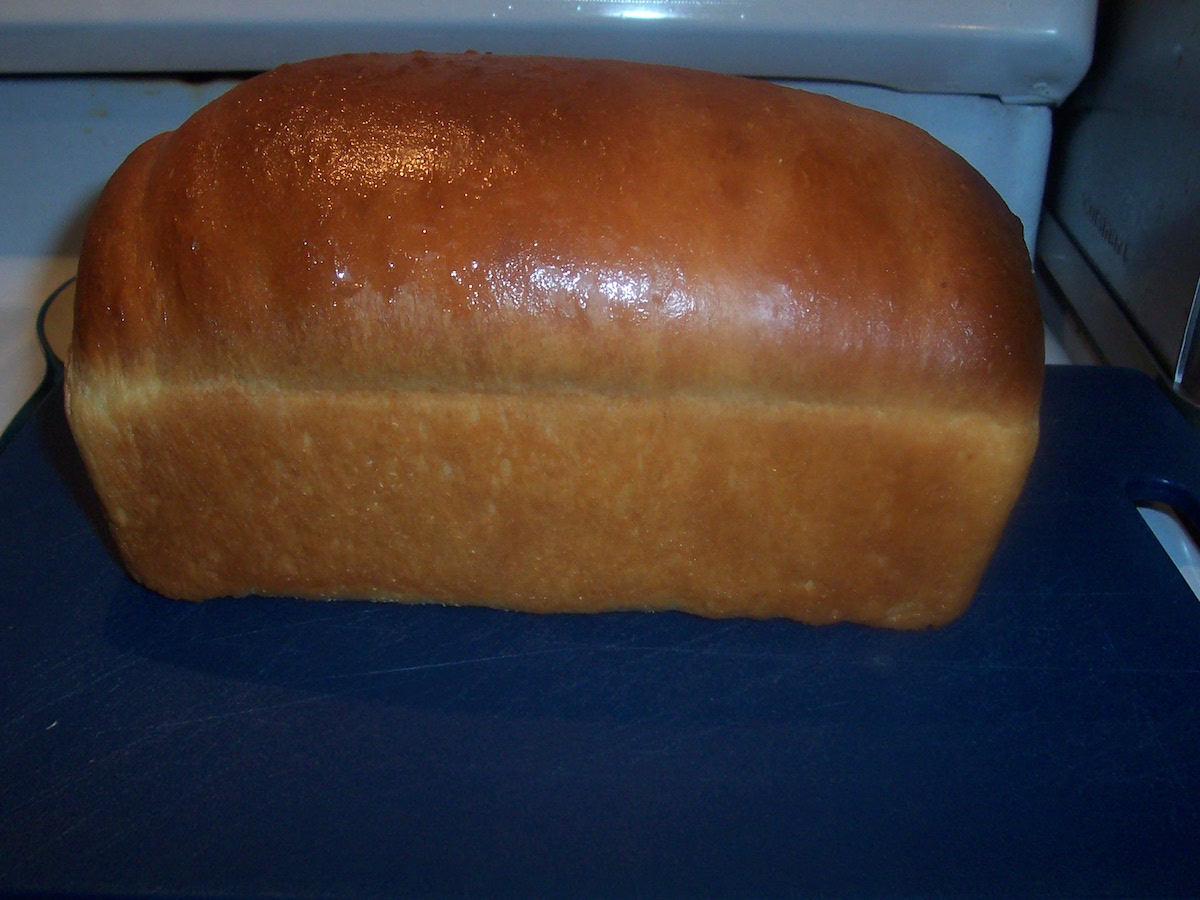 JODY MADE MY SESAME SEED BREADSTICKS
"Jenny, you rock my world!  Another recipe that's a hit with my Hubby and me.  I ran out of sesame seeds and so I used my Trader Joe's "Everything But the Bagel" sesame seasoning blend it's really good.  There's some garlic in there. Thanks again for the great recipes you share."
~ It's nice to see them with a different coating and the garlic sounds good. Thank you for sharing. ~ jenny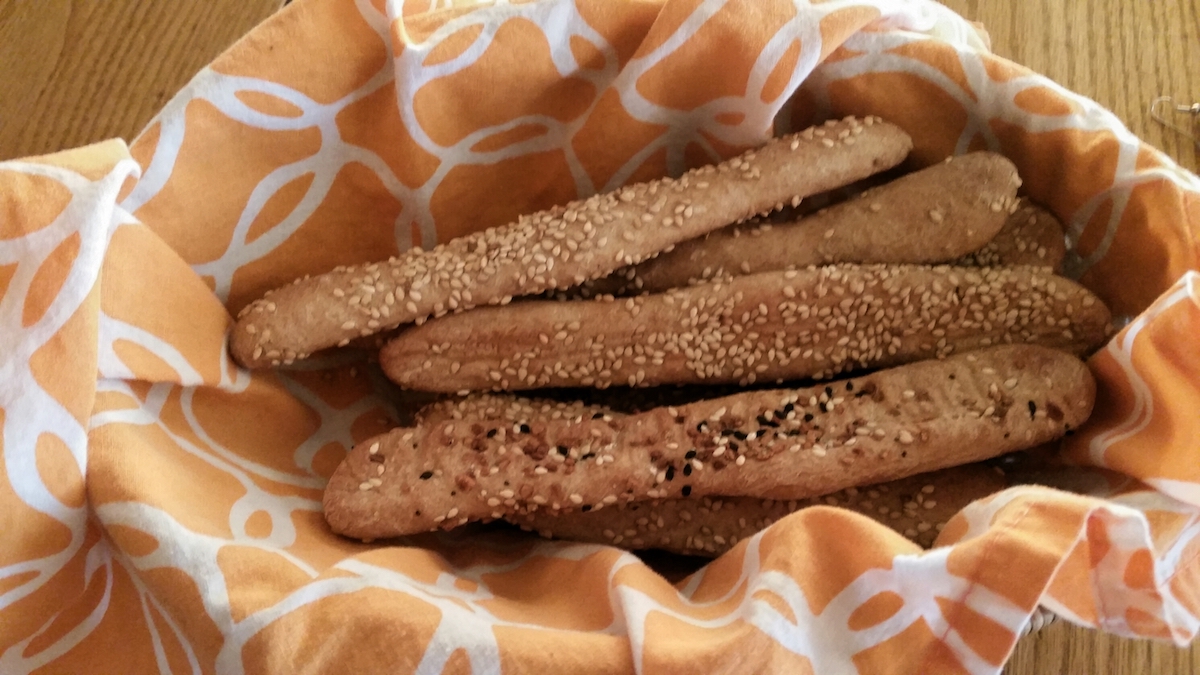 PAUL'S 11-YEAR OLD DAUGHTER MADE MY DARK CHOCOLATE FUDGE BROWNIES
"Hi again Jenny. This time my 10yr old daughter is in on the act. She has loves your videos so I handed over the kitchen and she did a fantastic job creating these brownies. She was worried they would be sweet but they are lovely and bitter with a rich chocolate flavour, loads of toasted nuts and a soft centre. Fab! ~ Paul in the UK."
~ What a great job for a 10-year old! They look terrific. ~ jenny