So many people worldwide are home and cooking and I love seeing photos of my recipes from all over the world, so please say where you're from – include yourself in the photo too! (I post these manually so you won't see it right away.) Use this link to send your photo: YourPhotos@JennyCanCook.com
NANCY & RYAN (from Canada) MADE MY DARK CHOCOLATE FUDGE BROWNIES
"Once a month my student Ryan and I bake one of your recipes as part of our English lesson; we watch your video first. This is one of the most pleasurable part of our weekly classes. These videos not only help Ryan, who's from Iran, with his English – he now knows words like 'ingredients', 'whisk', 'aerate', 'spatula', etc.– but he is also encouraged to try making the dish. He has learned the difference between measuring containers for dry and wet ingredients, too. When he took Cooking earlier this year with his Grade 8 classmates at school, he told me he was the only one to "know all the vocabulary"! One of our favourites was Dark Chocolate Fudge Brownies. We used a 70% cacao,100g bar of chocolate. The results were so delicious. He has even baked a batch at home with his mother.
He takes half of the baking home where his mother, an expert photographer, takes a picture of his delicious results. We love your videos. He still laughs about your comment (which I had to explain), "Don't make me come to your house." And when I shake my finger at him, jokingly, as you did in the video, I call it, "My teacher finger."  Thank you, Jenny, for all the fun and good food. ~ Nancy, Vancouver, Canada."
DIVYA (from India) MADE MY SIMPLE WHOLE WHEAT BREAD
"Hello Jenny, It was sometime last year that I came across your many bread making videos on YouTube. I marvelled at how easy you made it look. I thought to myself this is just the thing I need to get started on. But life went on. CoVid came along. And here I was, at the start of the lockdown in India, testing my yeast on a pizza dough recipe, only to discover it was old. It was only last month that I managed to find every possible baking ingredient online but despite the arrival of the order, I sat idly. Today I ventured into the new arena. I made your 90 minute Simple Whole Wheat Bread. Hallelujah! And may God bless you!
I doubt anyone has a simpler recipe than yours. And it was easy on the hands just with a regular electric hand mixer. My bread didn't rise but I'm not here to ask you why. I've read up enough on your website and watched your video several times over. Just wanted to say THANK YOU SO SO MUCH! For being generous with your recipes and for turning a complicated chemical experiment into something anyone with disposable thumbs can perform. I can't wait to make this bread again and testing it further till I get the desired height and crust. Vielen dank! Merci beaucoup! Gracias! Shukhriya! ~ A thrilled amateur baker."
– Thank you for sharing your joy with me. To know I have made someone happy with my effort makes me equally joyful. ❤️ –  jenny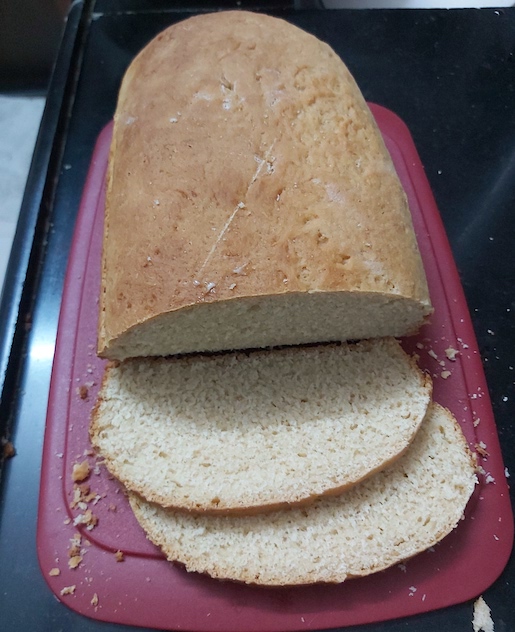 TABITHA (from North Carolina) MADE MY ZUCCHINI CHOCOLATE CAKE
"Hi Jenny! It's your biggest fan from NC, Tabitha! ? the hubby put zucchini in the garden this year. Sssooo….  I doubled the recipe, put it in a Bundt pan & there you have it! I also added some instant coffee, I do to your fudge brownies as well. ❤️ Stay safe & thanks for your recipes!!"
– Thank you for another great photo. It's good do know it works in a bundt pan. –  jenny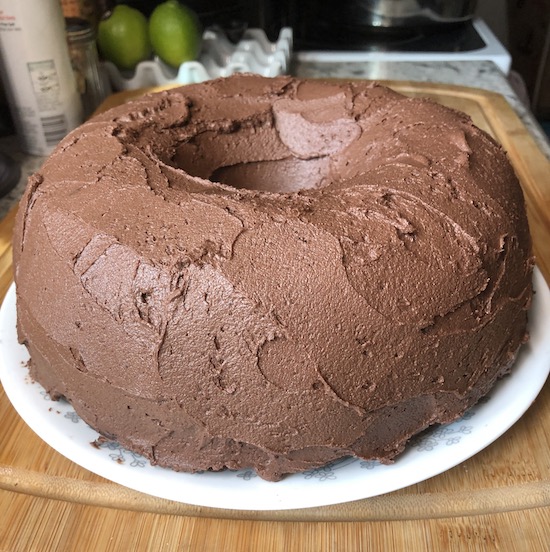 NANCY (from Canada) MADE MY SIMPLE WHOLE WHEAT BREAD
"I have made this delicious loaf several times. So easy and fast with a soft crust, and the perfect texture for sandwiches or toast. Make sure you follow Jenny's advice to put a foil tent over it after 15 minutes in the oven. ~ Nancy, Vancouver, Canada."
– This is a perfect loaf. Thank you for sharing your photo and for the reminder about the foil tent. –  jenny
BROOKLYN MADE MY NO KNEAD BREAD, PIZZAS & LEMON BROWNIES
"Hello Jenny! I've made the no-knead bread 3 times and it's been wonderful each time, like, crazy perfect. Am trying with part wheat flour today. Oh, I also made several batches of your pizza dough. I tried several variations: as written, with honey, with unrefined organic sugar, pepper and garlic, Italian seasonings (that was the favorite but they were all good). Below is a barbecue chicken pizza topped with red onion, Gouda & Jack cheese and cilantro, and another with chicken and peppers. I make my own sauce because everything has added sugar and that isn't good for hubby or me. The first recipe of yours I tried was the  lemon bars. The zest in the glaze was crazy good! However, I guess I spread the dough like I would a cake, so as you can see the middle caved in a bit…hmm…more glaze on those slices… no down side. During quarantine here in NY, I made food for an older couple who are dear friends (I'm VP of their charity, they are beautiful people and the wife happens to be Polish) and in conversation the wife mentioned she loves pierogies so I will be trying your recipe at some point soon.  Thank you for all of it!"
– Thank you for all these photos! I look forward to seeing how your pierogi turn out. –  jenny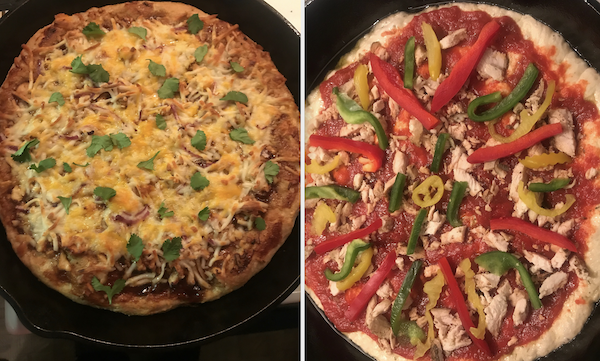 ANNETTE MADE MY HAMBURGER BUNS & HOT DOG BUNS
"Hi, Jenny! Wednesday is burger day at my house. As if that's not special enough, I made these buns for the first time. They were so easy and good, the perfect taste and texture. I  made a double batch of dough, then split it into a loaf of bread, 4 hamburger buns and 4 hot dog buns. Thank you for your great recipes! Guess what's on tomorrow's menu?"
– I see you toasted the hamburger bun – that's a great idea! ?  Thank you for your photos and enjoy your dogs tomorrow. 🌭🌭–  jenny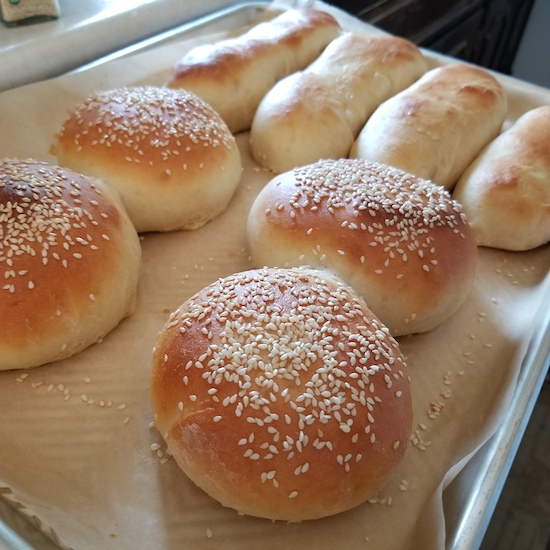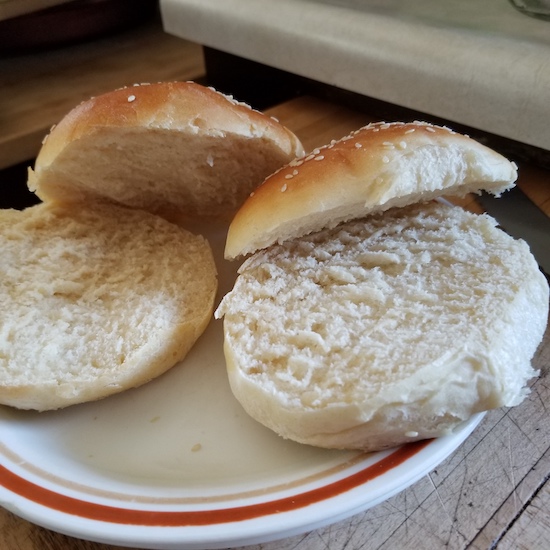 CATHERINE (from Canada) MADE MY CABBAGE ROLLS
"Success! Made your Cabbage Roll recipe yesterday, they were a hit with the family.  We have a new favourite recipe.  Thank you for your clear instructions it made a daunting task easy.  I've always wanted to try making them but was so intimidated.  Can't wait to go through your recipes and find our next family favourite! ~ Catherine from Toronto."
– My favorite food in the world! ? I'm so glad they turned well and thank you for the photos! 🇨🇦 –  jenny from London.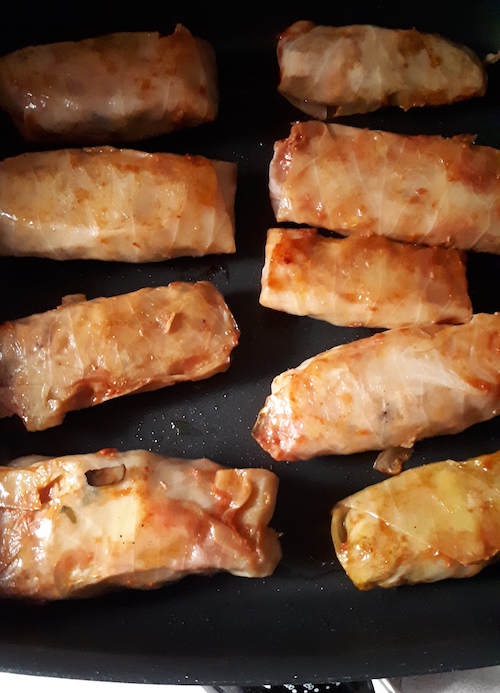 SALLY (from Australia) MADE MY NO KNEAD BREAD
"love your video's. My first bread. Sally."
– Congratulations on your first loaf. Thanks for this great photo from 9,000 miles away! –  jenny
CONNIE MADE MY FOCACCIA BREAD
"Jenny: I recently found your web site.  I love your recipes and enjoy reading your blog. I Have previously successfully made your quarantine bread recipe. Tonight, I made your focaccia bread. I made it a tad too thin,Think it's because I have an oblong stone, and stretched it a little too much. It was still delicious. I want to thank you for making my quarantine less boring. I want to say that the hard part about your bread recipes is finding yeast. OMG…… it took forever! I don't think this photo is a good representation of your recipe, not really pretty enough for you to share, but I wanted you to see it. You have a blessed day! ~ Connie Gibbons."
– This is exactly how I like my focaccia – thin and crispy so I love it! Your picture is perfect, thank you.  –  jenny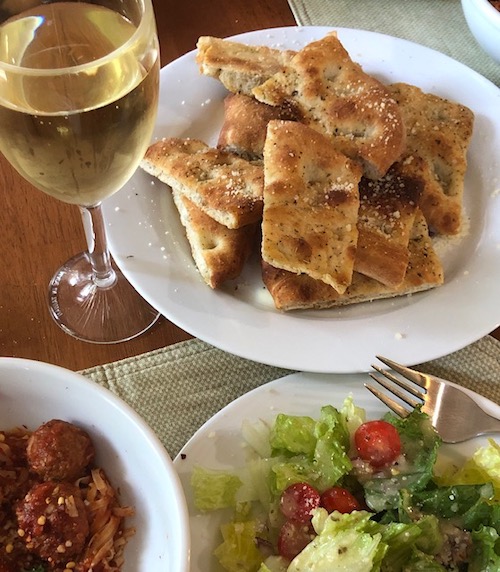 TERRI (from Nevada) MADE MY HOT DOG BUNS & NO KNEAD BREAD
"Hi Jenny! Thanks for the new hot dog bun recipe! It's Sunday JennyCanCook Baking Day so of course I had to make these for my husband's brats I'm grilling up later! I need to work on the shaping technique but not bad for the first try. Also, made a loaf of your no knead faster bread for a friend to go with my homemade strawberry jam I just gave them. Thanks again for your terrific recipes. Stay well!"
– I'm so happy to see my hot dog buns and who cares about the shape? They look perfect. ? As for the bread, you are a good friend! –  jenny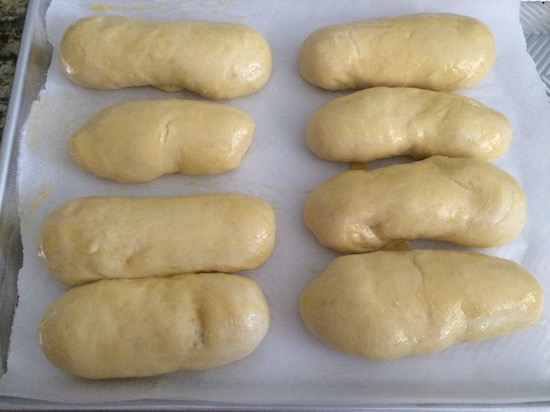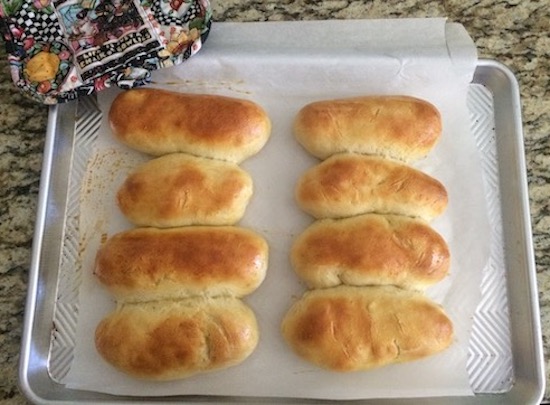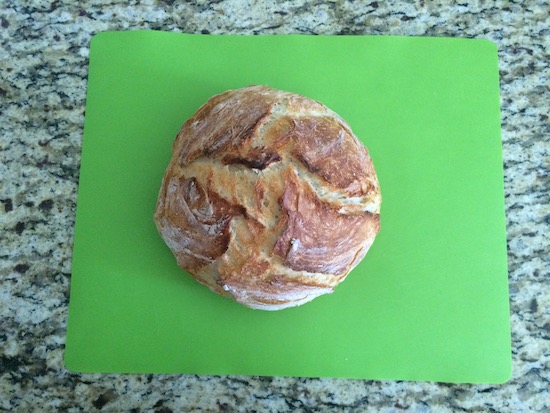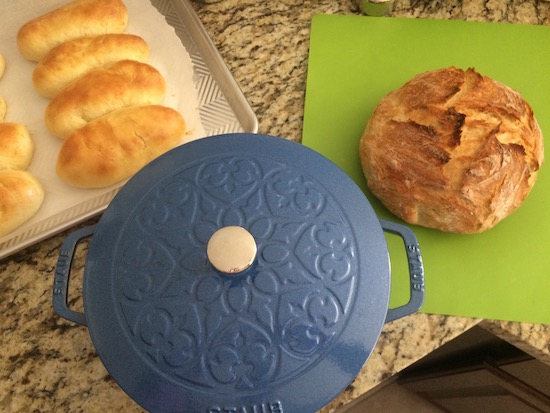 JUDY MADE MY NO KNEAD BREAD
"Made no knead bread with bread flour added caraway seeds and lots of other bagel seasonings .better than all-purpose flour thanks for your wonderful recipes.judy."
– Thank you for the great photo and for the note on bread flour. –  jenny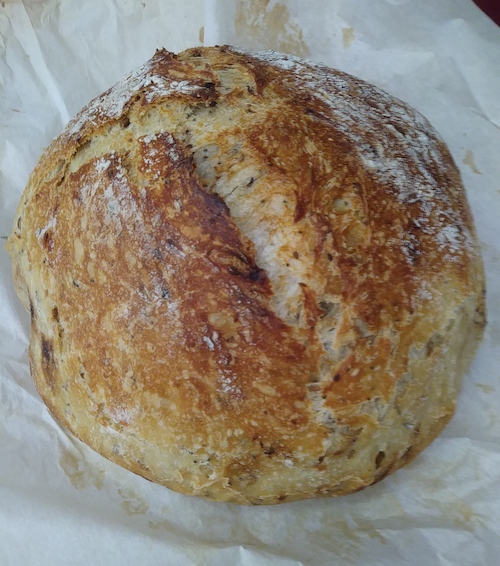 NEIKA-GAYE (from St. Kitts) MADE MY CINNAMON ROLLS
"Happy Belated Birthday Jenny! I am Neika-Gaye Jones from St. Kitts (Jamaican turned Kittitian). ?  What a pleasant surprise when I learnt that we share the same birthday though decades apart! ? I stumbled upon your cinnamon roll recipe and what a DELIGHT! I ABSOLUTELY LOVE that the sugar, sodium & cholesterol quantities are kept a healthy level yet it's so DIVINELY DELICIOUS & RIDICULOUSLY EASY! As a health professional, mother of 2 children under 4 years old & wife of a personal trainer, this has become my "go to" recipe! We rarely ever frost it as it is SIMPLY AMAZING as is! I've shared it with other families, neighbors, friends and coworkers and the response is always the same: SHEER AWE!!! I'm looking forward to eventually trying some of your other recipes as I always come right back to this one! lol! Thank you for sharing your healthy and delicious recipes with the world. Your effort is much appreciated! #healthiswealth."
– A belated Happy Birthday back to you and thank you for the photos and for the appreciation of my best efforts. ❤️ –  jenny