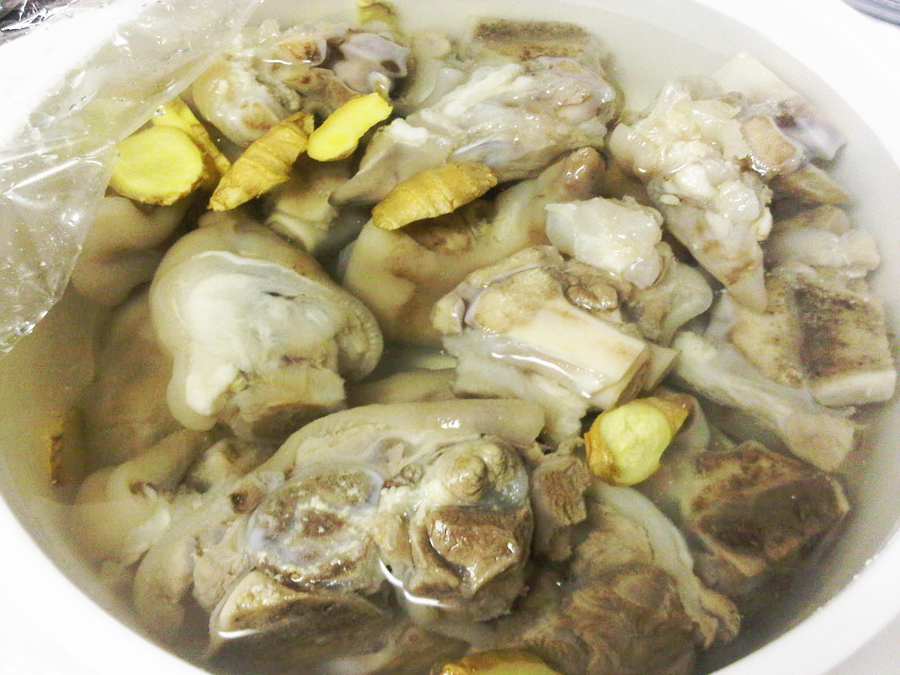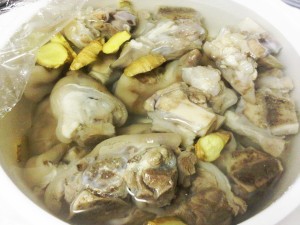 I grew up with eastern european parents who made things like Galaretka, also known as Zimne Nogi (translated: cold legs) This is basically jellied pig's feet. It was a mixture of meat & things that sat in a giant pot and my dad loved it! Polish food includes things like pork knuckles in beer sauce with sauerkraut, and carp in aspic with raisins. We ate things like, "Śledzie," (pickled herring), beetroot soup, lots of kielbasa and pickled anything. They like to pickle things in Poland –  there's even pickle soup! I still love some Polish dishes like Gołąbki and Pierogi, both of which I make often. My parents cooked with sticks of butter and no meal was complete without sour cream but I make things my own way now. I still crave the things I ate growing up and although pig's feet is not one of them, I found a recipe online for anyone curious enough to try:
http://easteuropeanfood.about.com/od/polishmaincourses/r/Jellied-Pigs-Feet-Recipe.htm
With a background like mine, I was bound to forge my own unique food trail and the things I eat seem normal to me, but maybe not to everyone.  For example, here are some of my favorite treats:
~Sauerkraut straight out of the jar
~Sardines, straight out of the can
~Pickled beets
~Pickled herring with onions
~A wedge of raw cabbage eaten like an apple
~Cold boiled potatoes with mayonnaise
~I could still eat some pigs feet but only after a beaker of czysta wodka, no ice.
If anybody has a more unique favorite snack, maybe I can add it to my repertoire. There's nothing you people out there are eating that can scare me.  Bring it. – Jenny Jones