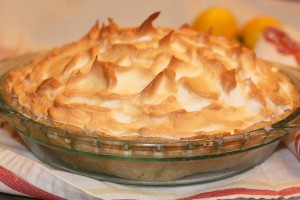 It's been a long week and I needed something relaxing to do so I decided to make pie.  What was I thinking? I could have chosen something easier like creating an algorhythm for computational approximations of seismic reflection and velocity analysis but noooooo…I chose to make a lemon meringue pie. So last night after dinner, I started by assembling all the equipment needed:
-Pie pan – check!
-Food processor for the crust – check!
-Zester for the lemons – check!
-Juicer for the lemons – check!
-Sauce pan for the filling – check!
-Kitchenaid for the meringue – check!
-Whisk attachment for the meringue – check!
-Rolling pin, pie weights, bowls, measuring cups & spoons – check!
First, I had to make the crust and let it cool completely. It took over two hours to cool. Then I cooked the filling, topped it with meringue, and baked the whole thing again. By now, three hours had gone by. I removed it from the oven and of course, it had to cool completely before eating. I kept busy by washing the massive amount of dishes left behind, waiting for the pie to cool. I was dying for a slice but it was still hot. I took a bath… still hot. Did my nails… still hot. I tested some batteries, organized spices, sharpened some pencils… still hot. Finally I was exhausted and went to bed, feeling cheated, with no midnight snack. Denis was still up at 2 am and put it in the fridge. I only agreed to let him put it away if he promised not to eat any. (my kitchen, my rules) So today, we finally got to taste my lemon meringue pie. It was super good – the tart lemon filling balanced with the cool meringue – awesome!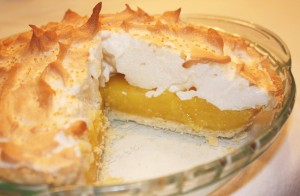 *Note to lemon meringue pie-makers:
–Don't make it at night.
–Don't cut it until it's completely cooled or you'll be calling it a lemon meringue molten cake.
–Do it.  There's nothing like homemade pie… except good sex. No, I think the pie is better. Okay, pie, then sex.