Vicki asks… How long should spices be kept? I never know when to throw out and replace so I seem to have multiples. I don't know if they are any good when I need something.
My response… They say not to keep spices for too long because they lose potency over time, but I have had some for almost ten years! So when I use the older ones, I just use more. I probably should replace some of my older ones but it's hard to throw away an almost full bottle. (Btw, I still have 25-year old bottles of makeup!) Sure, there are guidelines for spices but I go by how they smell and as long as it smells like it's supposed to, I use it. There is clearly no definitive answer to this quandary. Here's a guideline I found on the Spice Islands website: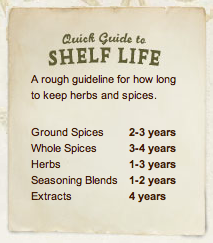 But on the Spice Hunter website they say:

Here are some tips:
1. Lose the spice rack. Store your spices away from direct light or heat. The worst place would be out in the open on the back of the stove. I store mine in a drawer.
2. It's a good idea to mark the bottle or tin of spice with the date you opened it.
3. Never shake herbs or spices out of the bottle directly into something you're cooking – that's the quickest way to steam and spoil your spices.
4. To test a spice's potency, rub some in the palm of your hand. If it smells good, it's good. That's what I do.