It's so much fun going to ethnic food shops and there's an Italian deli in Burbank where I found this beautiful organic artisan linguini from Puglia, Italy. It's colored with beetroot, turmeric, spinach, and paprika.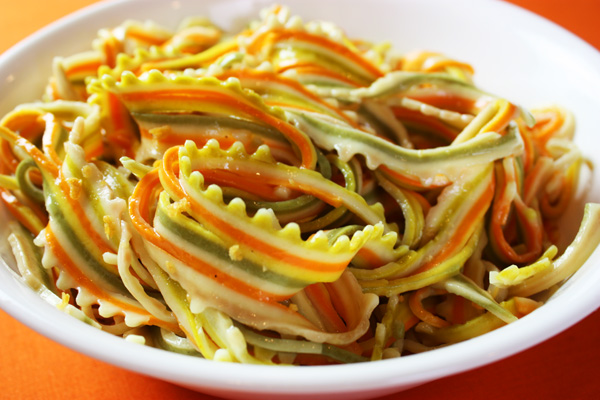 The dough is hand-crafted, extruded through bronze dyes and then air dried. I couldn't bring myself to cover up this beautiful pasta with a red sauce so I decided to use a simple olive oil & garlic mix so you could still see the stunning design and colors, not to mention what an awesome and healthy topping this is for any pasta. It's a simple recipe which I'll be posting next week. Oh… I almost forgot… the contest: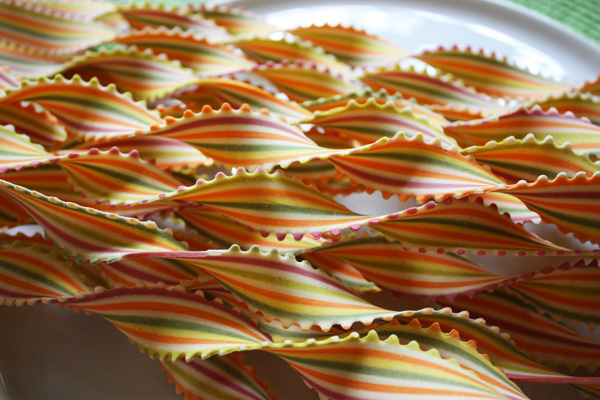 GUESS HOW LONG IT WOULD MEASURE IF YOU PLACED THESE NOODLES END TO END (DRY, BEFORE COOKING). The package contained 8.8 ounces and the noodles were almost an inch wide before cooking.
~ Whoever comes closest, whether over or under, wins my cookbook.
~ The winner will be posted Tuesday. Good luck!
** Be sure to subscribe to keep up with all my contests **