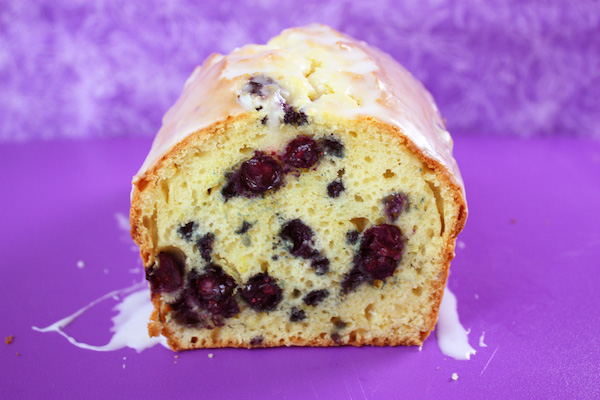 Fresh blueberries and fresh lemon make all the difference in this easy lemon blueberry loaf, but you won't need any butter. Or even a mixer. It's really easy to make because you mix everything by hand. Sweet loaves like this often call for buttermilk but a lot of people don't have it so I use whole milk and I add some lemon juice to the milk, which makes a substitute for buttermilk. But if you have buttermilk, you can use that instead of making your own.
It's important to zest and squeeze the lemon first, and in that order. Zest it first, then cut and squeeze the juice. You'll need the juice right away to add to the milk so it can stand as long as possible and get a bit lumpy. Before I start, I always inspect the blueberries and remove any stems and also any berries that are too soft or moldy. Tossing the berries with flour helps keep them from sinking to the bottom during baking, and I find a soft plastic produce bag just right for the job and for less cleanup.
I struggled over how much sugar to use. Naturally, the less the better but some blueberries are not as sweet as others. I tried 3/4 cup, then tried adding one tablespoon, and another time I added 2 tablespoons. This recipe works with any of those amounts so I split the difference and made it 3/4 cup + 1 tablespoon of sugar.
As for the glaze, make as much as you want, as thick as you want. My preference is a thinner glaze that I can brush on the top and sides but you can make it thicker with less lemon juice and drizzle it on the top. This delicious, lightly sweet loaf is best served while still warm. Click here for the recipe. – Jenny Jones