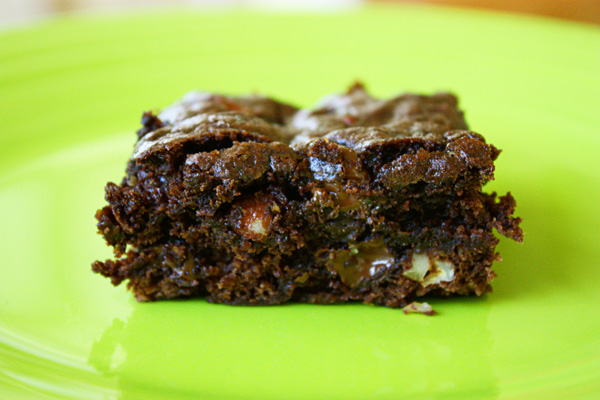 You don't need butter to make delicious and healthy, chewy, fudgey brownies.  This is another one of my popular one-bowl quick & easy recipes and this is the only chocolate brownie I will ever make. It tastes like it's bad for you but it's not. This is by far one of my best dessert recipes… for being healthy and for being so easy to make! You only have to wash one bowl.  The baking pan is lined with foil so you can just put it away when you're done.
There is no butter here. My healthy recipe uses extra light olive oil which has a very mild flavor and is perfect for baking with rich flavors like chocolate. Olive oil is proven to be heart-healthy. The nuts (toast them first!) add protein while dark chocolate chunks have benefits, too. Wait, there's more: these easy brownies are 100% whole wheat – you gotta love that!
Here's a time-saving trick when lining your plan with foil. Lay the foil flat and place the 9 x 9-inch baking pan on top of the foil. Press up around all four sides to create a "mold" which then fits nicely inside the pan. You're welcome!
If you're looking for an easy healthy brownie, try this recipe. You can call them whatever you want: Easy Brownies, Healthy Brownies, Olive Oil Brownies, Whole Wheat Brownies, or you can just call them what I do… The Best Brownies Ever!  Click here for the recipe. – Jenny Jones