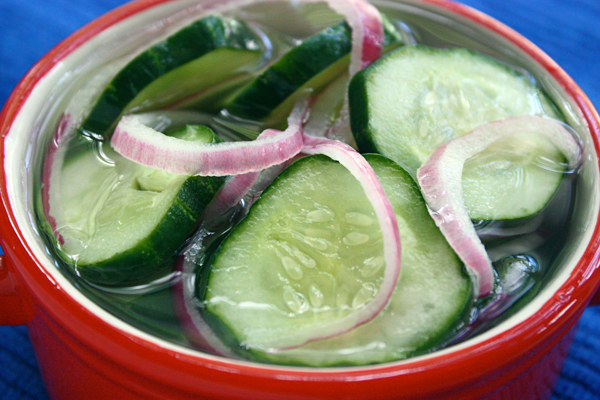 My easy refrigerator pickles are ready to eat in 3 hours! And it can't get any easier than this. Just heat up the marinade and pour it over the cucumbers. Wait three hours and enjoy! There's no canning here, not long process, just a simple, easy recipe for these delicious, tangy pickles. When I didn't have all the spices, I made my pickles with just the salt and sugar and they were still good but they definitely have more depth of flavor with the added spices.
Crispy pickles are my favorite and I find that leaving the peel on makes a much crispier pickle. If you like them soft and more bendable, just peel the cucumbers first. Also, I'm a big fan of red onions and besides looking pretty and being sweeter, they make some great eating along with the pickles.
They call them bread and butter pickles because during the great depression, people ate cucumber sandwiches, made on bread and butter with cucumbers that were easy to grow. At the end of the growing season they pickled the remaining cuces to last the rest of the year and continued to make the new "pickled" cucumber sandwiches on bread and butter.
Cucumbers are best in spring and summer so now is a good time to make your own pickles, seeing how easy it is and all. Even an amateur cook can't mess this up. Click here for the recipe. – Jenny Jones