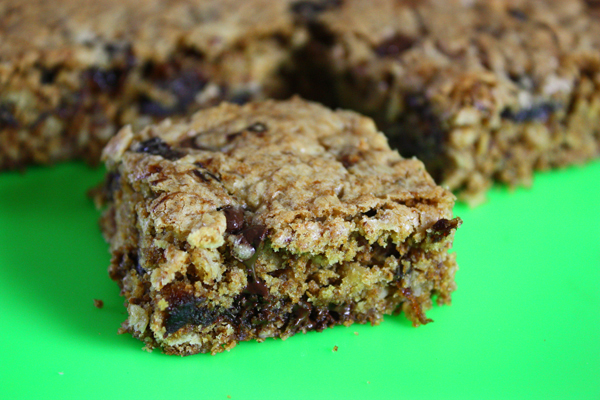 Are you getting enough fiber? Well now you can! Just make my super high fiber breakfast brownies made with every kind of fiber I could think of. I make them with oats, high fiber bran cereal, whole wheat flour, prunes and even olive oil, so there's no white flour and no butter. Did I mention the chocolate chips?? You do know that dark chocolate is good for the heart so use the darkest chocolate chips you can find. Now let's talk about the ingredients you will need:
Oats – I use regular Quaker Rolled Oats in the round carton.
Flour – I use whole wheat pastry flour, any brand I can find.
Cereal – I use Kellog's All Bran Original cereal, which has 10 grams of fiber in 1/2 cup. If you can't find it, look for an equally high-fiber cereal.
Oil – I use extra light olive oil but you can use a different oil if you like.
Chocolate Chips – I use either semi-sweet chocolate chips or I chop up some of a 62% Scharffen Berger chocolate bar.
Prunes – This is important. I use Sunsweet Premium Prunes in a can and they are very soft and moist. I even took a picture to show you how moist they are and their moisture is key to keeping these chewy bars moist. If you chop up regular dried prunes, the bars will be dry.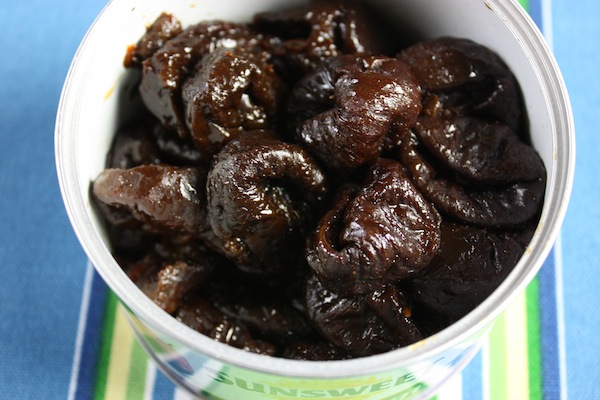 If you can't find these prunes in a can, you can pour boiling water over regular dried prunes, cover, and let them stand for 15 minutes. Then drain and chop. I experimented with it and they come out softer for sure, but not quite as soft as the canned ones. But it's the best I can come up with for my international cooks who can't find these American products.
This recipe is similar to my giant breakfast cookies with a few changes. I call them breakfast brownies but you can call them prune bars or high fiber bars. Fiber is beneficial for many reasons.  Besides preventing constipation, fiber can help you maintain a healthy weight and lower your risk of diabetes and heart disease. But to eat fiber it has to taste good and that's where I come in. Click here for the recipe. – Jenny Jones