How many healthy vegetables can you add to a pot of chili? Six! Celery, carrots, bell peppers, zucchini, tomatoes, and fresh spinach. If you count the onions and garlic, you have eight! That's a lot of vitamins right there. Vegetables are a lifeline to good health so this meatless chili is a good way to get a variety of veggies in one delicious meal. Then there are two kinds of beans for plenty of protein and fiber. Whip out a couple of my no knead crusty rolls and dig in!! ????
We don't like spicy food and I cannot find a mild chili powder so I make my own mixture and it's not spicy at all. My chili powder recipe uses paprika, cumin, oregano, garlic & onion powder, allspice, and cloves.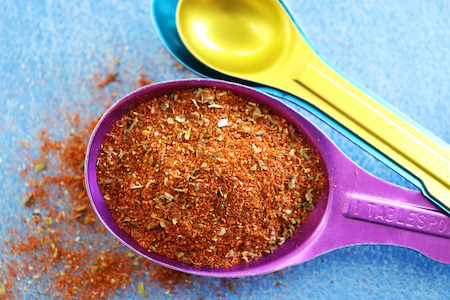 I don't use cayenne at all but you can add a little if you like. Click here for my chili powder recipe.
A couple of notes on this chili: This is a fast recipe so the veggies must be cut small so they cook through nice and soft. Cut them all in 1/4-inch pieces. To save time, prep only the onion, garlic, carrots, and celery to start. Prep the rest while the chili cooks. You may have to adjust the amount of chili powder to your taste. Chili is a good meal to make in advance because it's even better the next day. Click here for the recipe. – Jenny Jones