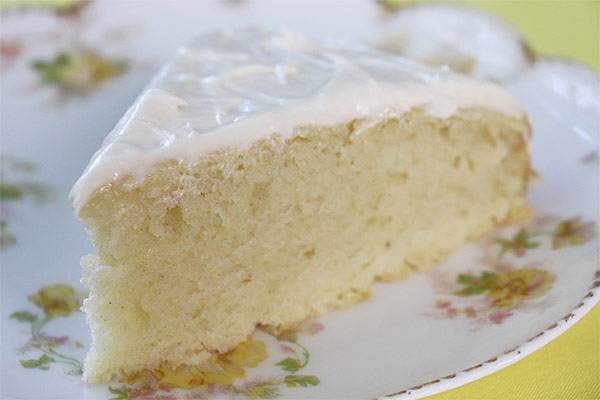 By popular demand, here is the vanilla version of my hugely popular quick & easy chocolate cake. As simple as the recipe is, it was not easy to get it right. I finally came up with a version that always turns out for me. I know it has a lot of sugar but every time I tried to use less, it did not turn out. With this "wacky" style cake, the sugar is needed for structure.
I also tried different pans, a square 8 x 8 pan and a round 8-inch pan, and was disappointed in both results. A 9-inch pan was the perfect size for a consistent cake. I suggest sticking with the recipe as written and you won't be disappointed. It's a light and delicious homemade cake that anyone can make, even amateur cooks. During the coronavirus quarantine, it's good to have a dessert that does not use eggs, or even butter except for the frosting.
I've also just posted my new 2-minute vanilla frosting, made with just 2 tablespoons of butter, although this cake is really good with chocolate frosting too. I usually cool the cake in the pan and only frost the top.
If you plan to remove the cake to a platter, I suggest greasing the pan and lining the bottom with parchment paper. You can buy packages of parchment paper rounds or cut our own. I hope everybody likes this simple yet delicious cake and I'll be waiting for the first photo! Click here for the recipe. – Jenny Jones