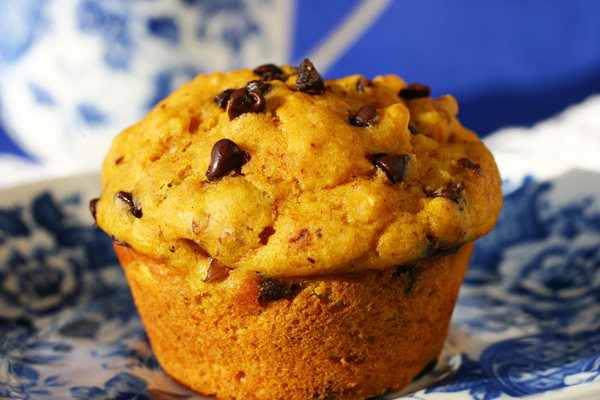 Here's an easy recipe for my pumpkin chocolate chip muffins. Even without the chocolate chips, they are still a great tasting snack. My recipe includes toasted walnuts and trust me, toasting the nuts first will send their flavor into overdrive. I use walnuts and pecans in lots of baking so I just toast a bunch of each one in the oven (see my video) and keep them in the fridge for baking.
It doesn't have to be pumpkin season to make these yummy muffins, in fact canned pumpkin has more antioxidants than fresh. Orange and yellow vegetables like pumpkin, sweet potato, and carrots have lots of betacarotene which is good for your lungs and eyes and will give you healthy hair and skin.
The most important thing about making muffins is not to over-mix. Just fold the ingredients together gently with a spatula or spoonula – I love those! This recipe was in my first cookbook and I've updated it by increasing the whole wheat pastry flour a little and switching from canola to extra light olive oil but you can use any oil of your choice.  I'm posting this recipe by request from a fellow baker (Rori) in Denver who lost the recipe. Here it is, Rori!  Click here for the recipe.
If anyone else has a recipe request, just let me know….