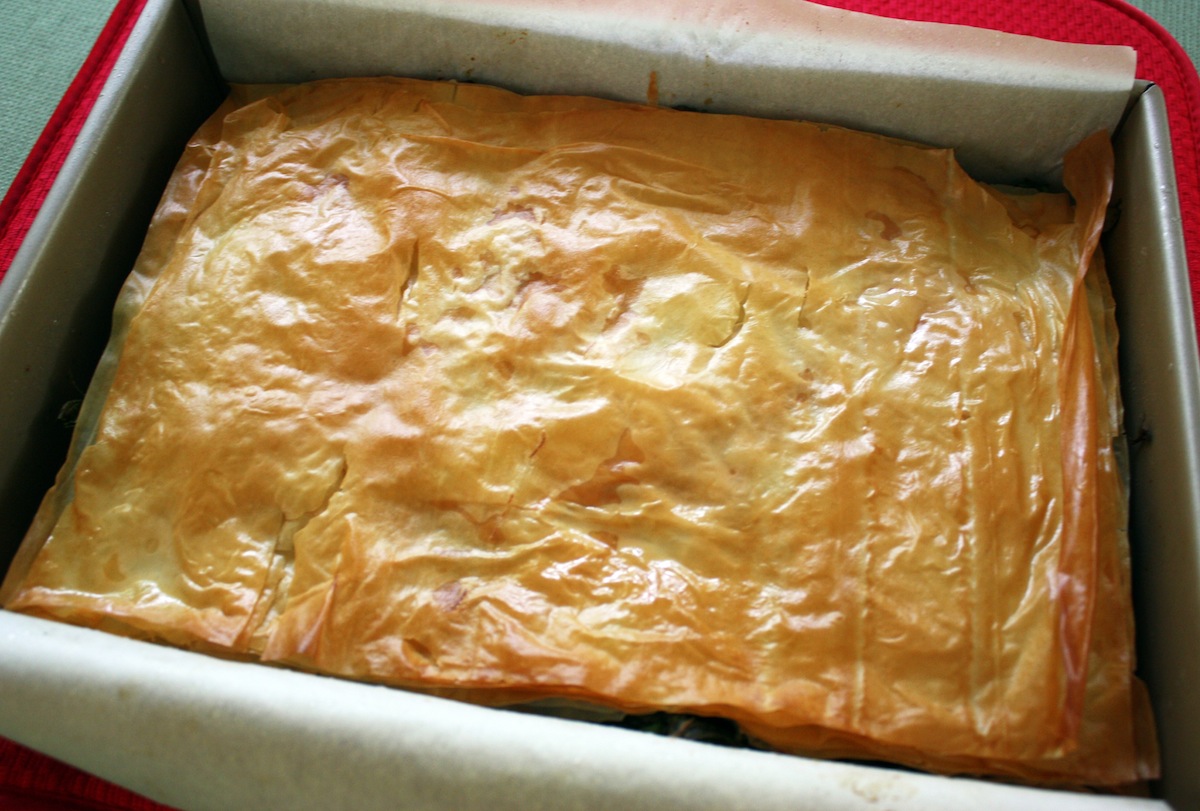 I love Greek spinach pie so much I had to come up with an easier way to make it – and I have. The old way meant washing spinach about five times to get the sand out, cooking the spinach, draining the spinach, etc., etc., and then brushing the phyllo with oil and having it stick to the brush and break into pieces. And cutting it in the pan was never easy.
But oh… I have a much easier way to make this incredibly delicious Greek treat. Here's what you won't have to do:
No washing of spinach.
No cooking of spinach.
No draining of spinach.
No struggling to cut it in the pan after it's cooked.
With the traditional method, a pastry brush is used to grease each layer of phyllo but using an oil mister makes the job easier. A mister is easier, faster, and it also keeps the delicate phyllo sheets from breaking. (my mister is made by Prepara) And using parchment paper means you just lift the whole thing out onto a cutting board for easy slicing.
My recipe uses pre-washed packaged baby spinach and I use it fresh, without pre-cooking because it cooks quickly inside the pie. Most spinach pies have a dense spinach filling from either pre-cooking or even worse using frozen spinach. Using fresh baby spinach is less work and it makes a less dense filling with a delicious light texture.
You must plan ahead if you're going to make this recipe because the phyllo comes frozen and you need to thaw it overnight in the fridge and then bring it to room temperature before using. I forgot to thaw it once and just placed it on the counter top for a few hours and it did thaw, but it kept breaking into pieces.
The reason I make Greek spanakopita is because once I tasted my own with the fresh filling and the flaky layers of phyllo, I can never buy it anywhere again. Nothing comes close. If you like Greek food, you must try this recipe. I won't say it's easy but it's definitely easier than most and the pie is so incredibly light, I've been known to eat four as a snack. Yes… four. Click here for the recipe. – Jenny Jones