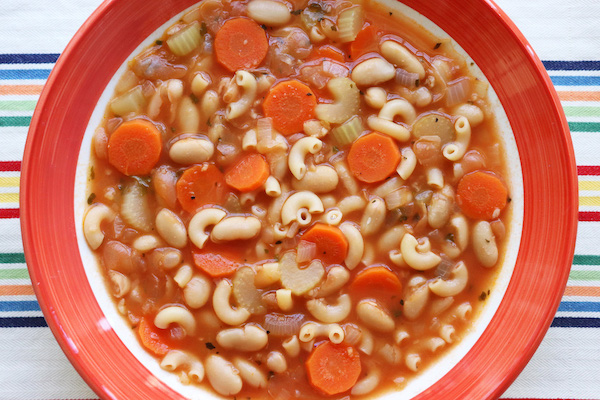 It takes less than 30 minutes and just a few basic ingredients to make this easy pasta fagioli soup from scratch. Cannellini beans and ditalini pasta are traditional  for this popular Italian soup. I use canned cannellini beans but I can never find ditalini so I use a different small pasta, DeCecco small elbows (no. 81).
For the tomato, I use Pomi Strained tomatoes that come in a box. Once opened, I freeze 1/2 cup portions specifically to have on hand for this delicious soup. One box gives me six 1/2 cup portions. I also use my own homemade chicken stock (there's always some in the freezer) but you can use store bought stock.
I thicken the soup by dividing the beans in half and mashing one half with a fork, which takes less than a minute and I focus on the broken ones for mashing (the whole ones look better for serving).
And this is good: You'll only have one pot to wash. Most recipes cook the pasta separately but I cook mine right in the soup. Prep your vegetables first because this easy recipe  comes together quickly. Sometimes, it's all I need for a meal – just a big bowl of pasta fagioli and a slice of my crusty bread. If it's all you're having, this recipe makes two large servings. Otherwise, it will serve three. Click here for the recipe. – Jenny Jones