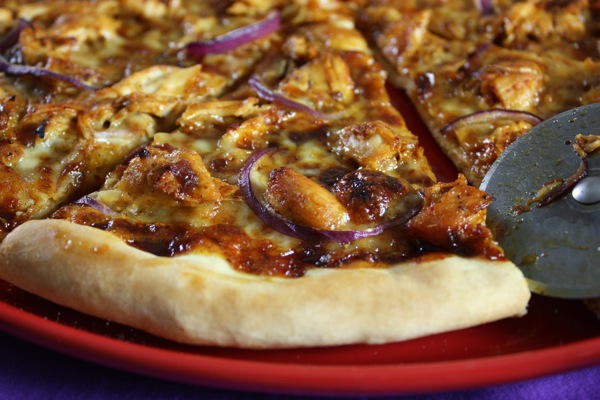 I've reinvented by barbeque chicken pizza! It used to take almost 2 hours but now… 50 minutes! That's right. Less than an hour from start to pie hole! I make homemade pizza so often that I've learned how to make it faster and better. I no longer let my pizza dough rise for an hour. A ten minute rest is enough to make a fantastic crispy crust and healthier pizza than most. I always use reduced fat mozzarella and with this pizza, it's lean chicken breast so it's a healthier, low fat pizza and that means I can eat it more often.
I made this one on a pizza stone, which is a great way to get a crispy crust but if you don't have a pizza stone and wooden peel, I also make this recipe using a regular pizza pan. The best kind of pan is the perforated one with the holes to help make it crispy (like the one in my pepperoni pizza video). My kind of pizza is crispy. I never use a fork… I just pick up a slice and eat. Oh wait… I do use a fork… for my salad. I always have salad with pizza.
If you ever have some leftover chicken, especially barbeque chicken, use it to make pizza. When I don't have leftovers, I just cook a chicken breast and shred it with two forks. And a note on cheese: I know they sell pre-shredded pizza cheese and I have one way to handle pre-shredded cheese: with a ten foot pole! They put something in that stuff that makes it dry and it will never melt like real cheese, so take a minute and shred your own like I do. I makes a big difference.
You don't have to make this pizza the quick way. You can always take longer and let the dough rise for an hour but I just don't do it any more. Who wants to wait for pizza?! Not me! To try my barbeque chicken pizza, click here for the recipe. – Jenny Jones