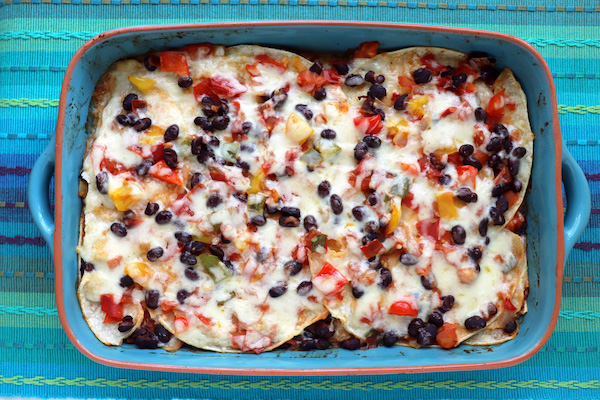 I love casseroles. Cook once / eat twice /or three times. And casseroles are always flexible: a little more of this, a little less of that, and they still turn out. This is a little like my Spicy Mexican Casserole but made not spicy using an Anaheim pepper, with corn tortillas and added vegetables. I always try to include as many vegetables as possible in every meal, besides the salads I make every day.

Vegetables are the key to good health so besides lots of fresh tomatoes, I include antioxidant-rich bell pepper along with the Anaheim green chili pepper. Anaheim peppers (also called long peppers) are green and measure about 7 inches long.
These peppers are great for anyone not liking anything too spicy but who does like a flavorful pepper. Of course you can use Jalapeño peppers instead but the Anaheim pepper is perfect for me.
This recipe is high in fiber from the black beans and corn tortillas. All corn tortillas are not the same, in fact they can be very different. I tried Whole Foods 365 brand and they were dry and disappointing. My preference is Guerrero brand if you can find them.
You can make lots of variations with this recipe, using cheddar cheese instead of monterey jack, pinto beans instead of black beans, and you can add spices if you like, but I do recommend staying with the fresh tomatoes. They add moisture and fresh taste to this easy casserole.
UPDATE June 3, 2020: I found myself using less and less tomatoes in this recipe and I now prefer it that way. It also means less chopping! 👍 I suggest trying it with only about 3/4 pound of tomatoes.
Click here for the recipe. – Jenny Jones